Japan to invest in a bigger way, but wants better climate
Says top official of Jetro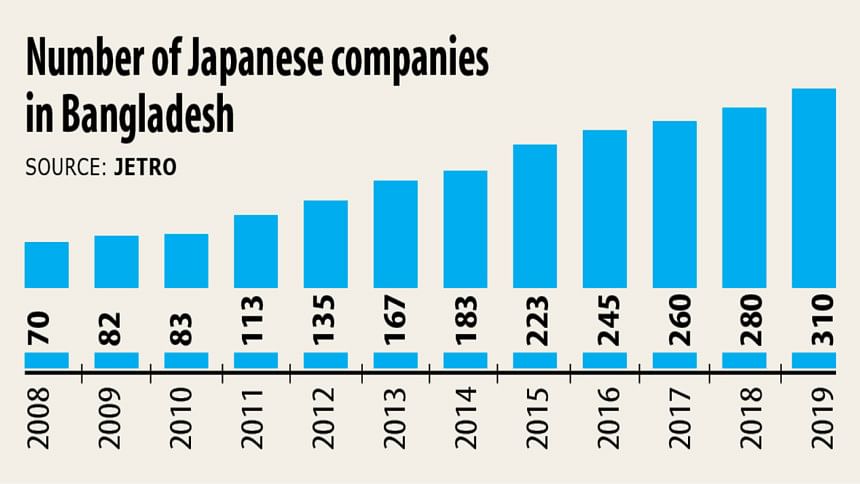 Every year 50 Japanese companies will come to Bangladesh to do business if the country improves its investment climate and develop infrastructure further, said Yuji Ando, country representative of Japan External Trade Organisation (Jetro).
Some 310 Japanese companies have presence in Bangladesh and they have invested around $3 billion here, he said yesterday.
"Around 70 per cent of the Japanese companies are interested to increase their investment in Bangladesh. They now want an environment, which is friendlier towards Japanese companies."
The lack of infrastructure is one of the bottlenecks, which is reducing Bangladesh's possibility of getting a smooth flow of Japanese investment, said Ando, also the president of Japan-Bangladesh Chamber of Commerce and Industry.
"It should be a win-win situation for both the countries."
He spoke while exchanging views with the executive committee members of the Economic Reporters Forum (ERF) at the ERF office in Dhaka.
He also expressed his willingness to work in collaboration with the ERF and other stakeholders to help the government improve the climate for investors.
The number of Japanese factories to relocate from China will not be as many as has been predicted, he said.
Keeping the Japanese factories in China, new production units will be established in other countries and the member countries of the Association of Southeast Asian Nations will get priority in case of factory relocation, he said.
ERF President Saiful Islam Dilal, General Secretary SM Rashidul Islam, AFP Bureau Chief M Shafiqul Alam and former Reuters Bureau Chief Serajul Islam Quadir also spoke among others.