Integrated connectivity to bolster trade in South Asia
Gowher Rizvi tells Maritime and Logistics Forum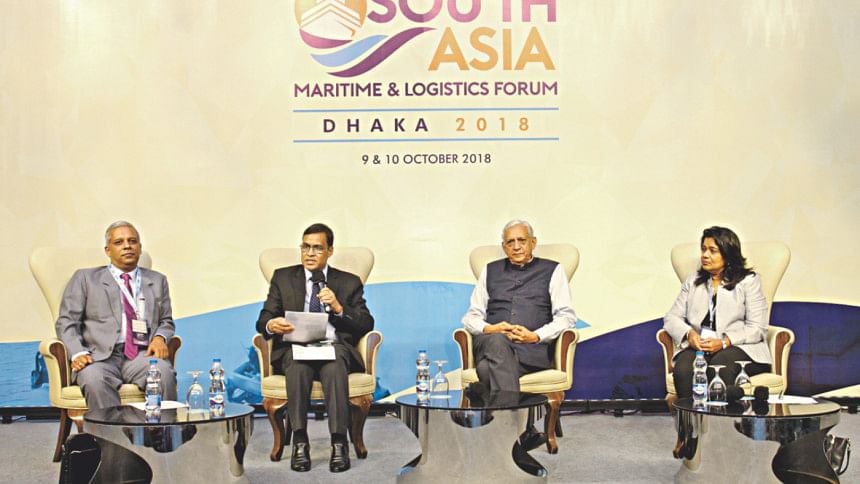 South Asia will be benefitted if seamless trade can be ensured, land ports are integrated and related rules are harmonised, said Gowher Rizvi, international affairs adviser to the prime minister.
"We need to harmonise the rules and regulations so that goods can move from one place to another in a seamless border trade to take advantage of the sub-regional connectivity."
He spoke at a session at the second South Asia Maritime and Logistics Forum-2018 organised by the shipping ministry at Le Méridien Dhaka yesterday.
The adviser said South Asia was a very integrated region economically and logistically before 1947. But the connectivity was destroyed after 1947, he said.
"Now, we will rebuild the integrated connectivity," Rizvi said.
"Not only geographical coherence in this region, we have also shared culture, civilisation, commerce and trade and almost the same language that eased the communication in the region. These are the great advantages for South Asia."
Although the region has common laws and education system, it has the least integrated regional trade and least interconnectivity, he said.
Prime Minister Sheikh Hasina has attached top priority to the sub-regional connectivity after coming to power in 2009, he said.
India has also announced giving focus on improving ties with its immediate neighbours, said the adviser.
He said the political debate is over on different issues such as transit, connectivity and cross border electricity purchase, as they were settled politically.
He said the private sector can play a significant role to establish infrastructures for integrated connectivity and boost trade. Sanjay Swarup, director for international marketing and operations at Container Corporation of India, said Bangladesh and India have a great opportunity to carry cargo through rail connectivity, which would reduce time and cost of doing business.
He suggested India and Bangladesh introduce cargo trains for export and import.
Businesses in Bangladesh can use the Krishnapatnam Port Container Terminal in India's Andhra Pradesh to import cotton and goods as it has sophisticated facilities, said Vinita Venkatesh, director of the port.
The Indian Customs also gives certificate for exports and imports from the terminal, she said.
Venkatesh also believes Krishnapatnam port has immense business potential with Pangaon Inland Container Terminal and Ashuganj river ports, which will be cost-effective for both the sides.
Sajjadul Hassan, secretary of the Prime Minister's Office of Bangladesh, and Shashi Bhushan Shukla, member for traffic of the Inland Waterways Authority of India, also spoke.