Impose duty on Indian yarn: Bangladeshi textile millers urge govt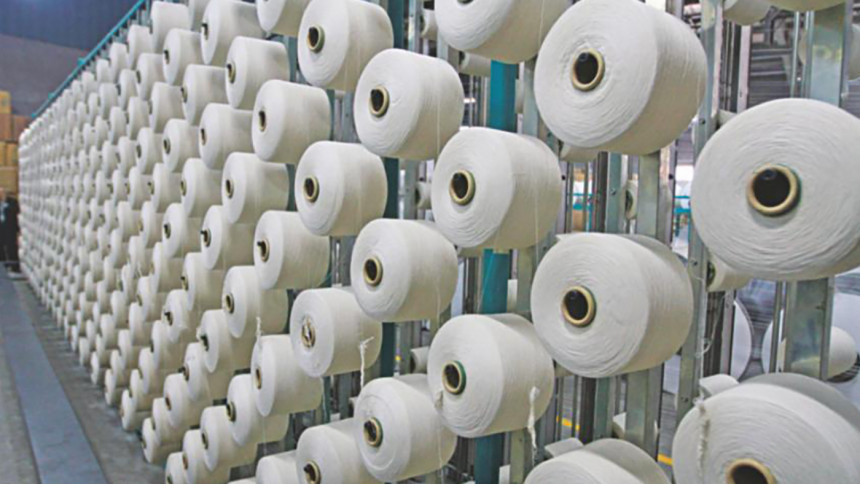 Primary textile millers in Bangladesh have called upon the government to impose anti-dumping duty on Indian yarn imports to protect the $8 billion domestic textile industry.
The call comes soon after Indian clothing manufacturers recently suggested their government impose more duty on Bangladeshi clothing items.
Bangladesh Textile Mills Association (BTMA) sent a letter addressed to Finance Minister AHM Mustafa Kamal, Commerce Minister Tipu Munshi and Textiles and Jute Minister Golam Dastagir Gazi for taking necessary measures to stem the entry of cheap Indian yarn to the country.
In the letter, the BTMA also demanded cash incentives be increased to 10 percent from the existing 4 percent.
It also asked the authorities to scrutinise import prices of yarn at land ports along the Bangladesh-India border.
Local garment manufacturers are importing low-price yarn from India to make apparel items for export.
Local millers sell the widely consumed 30 carded yarn at a price between $2.80 and $2.90 per kilogramme, while the same quality Indian yarn is sold between $2.60 and $2.70 per kg in Bangladesh, according to BTMA.
The Indian yarn is highly subsidised as their government provides incentives in cotton purchase and production of yarn at the mill level, said BTMA Secretary Monsoor Ahmed.
The Indian yarn is cheaper also because of stockpiling of unsold yarn in the inventories of hundreds of mills in India amid the global pandemic.
"In Bangladesh also, yarn worth $1.4 billion has remained unsold at the factory level over the last two months," Monsoor told The Daily Star.
Bangladesh's annually produces yarn worth $12 billion and the local millers supply 85 percent raw materials to the knitwear sector and 35 percent to the woven sector.
In the letter, BTMA President Mohammad Ali Khokon said Bangladesh exported $566 million worth of garment items to India in the fiscal years 2017-18 and 2018-19, but imported $7.74 billion worth of textile related items including raw cotton, cotton yarn, cotton fabrics and textiles during the same period this year.
So, the Indian clothing manufacturers need not to be worried as they have already urged their textile minister to impose additional duty on import of apparels from Bangladesh.
Rakesh Biyani, president of the Clothing Manufacturers Association of India (CMAI), in a letter to Indian Textile Minister Smriti Zubin Irani on May 22 said the domestic clothing industry in India is under threat because of duty free import from different countries including Bangladesh.
Bangladesh has been enjoying duty free trade benefit to Indian markets from 2011 under the South Asian Free Trade Area (SAFTA).
BTMA President Khokon said Bangladesh had exported garment items worth $35 billion in the 2018-19 fiscal.
Of the exported garment items, products worth $22 billion were manufactured from locally-sourced raw materials, resulting in a high retention value at $15 billion
On the other hand, the retention value from items manufactured from imported raw materials was only $3.25 billion, Khokon said in the letter.
The retention value on local raw materials is higher because of shorter lead time and for use of local manpower and transportation, he added.