Import of knitted fabrics on the rise
Local spinners tread a tightrope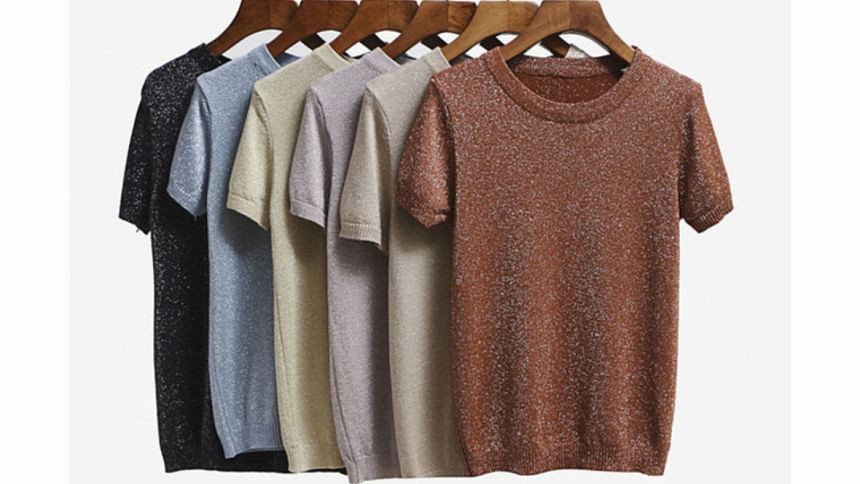 Import of knitted fabrics is spiralling thanks to the growing tendency of the Western retailers to demand the use of fabric from a particular country or vendor to manufacture apparel in Bangladesh.
In 2018, knitted fabrics worth Tk 9,590.41 crore were imported, up 27.69 percent year-on-year, according to data from Bangladesh Textile Mills Association (BTMA).
In the first four months to April 2019, imports were Tk 3,629 crore.
In 2017, the knitted fabrics import grew 49.16 percent year-on-year to Tk 7,510.62 crore, according to the BTMA data.
In 2017, Bangladesh brought in 140,142 tonnes of knitted fabrics, up from 107,903 tonnes in the previous year.
Local spinners can supply nearly 90 percent of the required yarn and fabrics for knitwear.
In case of woven fabrics, the local weavers can supply below 40 percent of the requirement because of which the woven garment industry remained dependent on foreign fabrics.
"International buyers are progressively nominating yarn and fabrics of any particular country as they place orders," said Monsoor Ahmed, secretary to the BTMA, the platform of spinners, weavers and dyeing industries.
For instance, some Western retailers recently suggested using knitted fabrics from India as the apparel products would be sold in the neighbouring country, where foreign brands have set up shop.
"It is setting a dangerous precedent," said A Matin Chowdhury, managing director of Malek Spinning Mills, a leading spinner.
This trend has led to stockpiling of yarn and knitted fabrics.
Local spinners are in big trouble due to rising import of knit fabrics, jeopardising the $8 billion invested in the primary textile sector over the years to get the industry up to speed, he added.
 "We are losing competitiveness due to buyers' nomination of fabrics. Stockpiling of unsold yarn and knit fabrics has been growing every month due to such decision by the buyers," Chowdhury said.
The buyers have been doing so in the name of cost and quality control of garment items, he said.
Meanwhile, last week the Indian Texpreneurs Federation (ITF) appealed to domestic and international brands operating in India to focus on sourcing from within and increase engagement levels with apparel clusters in the country, according to Fibre2Fashion.
The appeal comes in the wake of a 53 percent jump in imports of garment products from Bangladesh.
The increase in import has cost approximately Rs 7,500 crore in garment business in India, according to ITF.
"It would have created an additional 6,000 jobs in the spinning sector, 500 jobs in the processing sector, 100,000 jobs in the garmenting sector and another 40,000 jobs in the printing and embroidery sector of textile value chain," ITF convenor Prabhu Dhamodharan told Fibre2Fashion.