Home delivery boom churns out 1 lakh jobs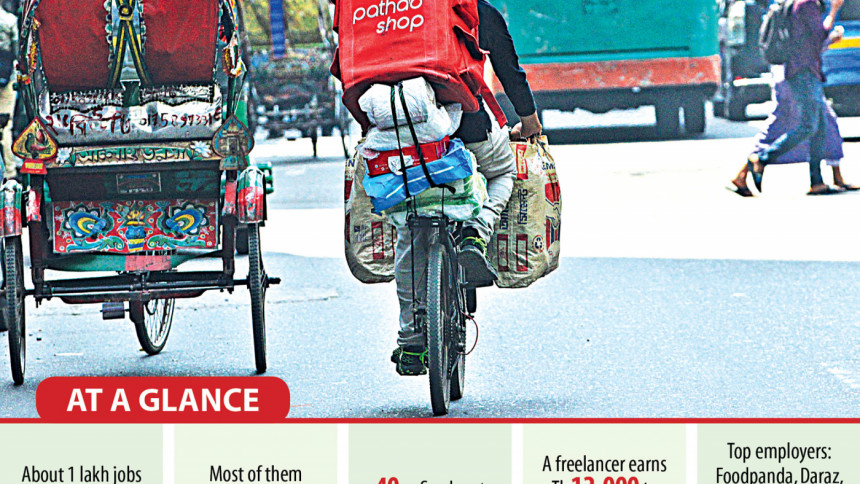 Online shopping, grocery and food orders, which are growing at a fast clip, have emerged as a saviour for many during the pandemic as around one lakh people received jobs in the last year to cater to the delivery juggernaut.
Food delivery and e-commerce platforms and their partner logistic aggregators hired thousands of delivery personnel as the crisis turbocharged online orders. They also have given much-needed options to millions to buy products and services from home without being exposed to the highly contagious virus.
Many people are flocking to the delivery segment to work as delivery staff or fulfil other positions, giving a relief to the country where millions of jobs were lost because of the pandemic-induced downturn in the business.
For example, the blow of the pandemic was felt by Faysal Hossain Khan at the very beginning of March last year as he was laid off from his job as a salesperson on the day the government announced lockdown to contain the spread of the lethal pathogen.
A few days later, he saw a hiring advertisement for delivery personnel at Evaly in a Facebook post. He applied and got the job.
"It was like a war delivering groceries to the customer's home in the beginning of the pandemic. But we did it," Khan told The Daily Star recently.
He now makes around 10-12 deliveries every day and receives Tk 70 for each delivery, which allows him to earn about Tk 800 daily.
The job opportunity for the youth on the digital market is expanding when one in every 10 youths are unemployed.
More than 2 crore youth aged 15- 29 are in the labour market. Of them, 21 lakh are unemployed, according to the Labour Force Survey 2016-17.
Digital shop operators say home delivery has boomed since the pandemic, providing e-commerce companies with the biggest prospect yet to expand their footprint.
Many jobless, especially students, used to earn a living by teaching at coaching centres and working as a private tutor before the pandemic. They lost the income-generating opportunities. This segment has entered the delivery industry to sustain. 
"Since the beginning of the pandemic, the e-commerce sector has employed more than one lakh people," Zunaid Ahmed Palak, state minister for ICT, told The Daily Star.
Evaly has added more than 700 fixed employees, of which 45 per cent are women. More than 5,000 new delivery personnel were also hired by the company to make the deliveries—from grocery to food to luxury items—in eight districts, including Dhaka.
"To deliver thousands of orders during the pandemic, we had to expand our workforce," said Arif R Hossain, chief marketing officer of Evaly.
"E-commerce is keeping the country's economy afloat in these difficult times and is employing many people."
According to industry insiders, most e-commerce and logistics companies have onboarded delivery makers as freelancers. For a single delivery, they receive Tk 20 to Tk 75.
In the food delivery segment, one of the biggest employers is Foodpanda, which witnessed 300 per cent year-on-year growth last year, the highest since it was launched in Bangladesh in 2013.
In the last one year, more than 10,000 new regular freelancers were added to Foodpanda, and its grocery delivery arms Pandamart and Shop, taking the number of regular freelancers, who are working across 64 districts, to more than 20,000.
"We get Tk 38 for a delivery, and the payment increases when the distance is longer," said a deliveryman of Foodpanda.
The deliveryman, an undergraduate student at a college in Dhaka, makes Tk 300-350 by working three hours every day.
A courier of Pathao said he earns Tk 5,000 in fixed salary a month and makes around 30 deliveries per day. He also receives Tk 15 per delivery.
"Pathao is committed to providing income opportunities to the daily earners, whose livelihood is now at the greatest risk," said Fahim Ahmed, president of Pathao.
Pathao has created access to incomes for several thousand food, courier and parcel delivery agents over the year, he said.
"We onboarded nearly 1,000 new people during the pandemic." 
Daraz, one of the leading e-commerce platforms making more than 60,000 deliveries a day, said it recruited 3,185 employees last year and another 4,069 people in 2021.
Paperfly, a logistics solution provider where Indian logistic behemoth Ecom Express owns the majority stake, employed more than 1,000 people during the pandemic after receiving a vast number of orders, said Rahath Ahmed, co-founder and chief marketing officer of the company. 
Chaldal, Bangladesh's leading online shopping platform for household goods, generated 1,250 new jobs to take its number of employees to 2,100 as its orders grew over 150 per cent during the pandemic and it expanded to new cities.
"In addition to delivery persons, we employed people for warehouse, processing, quality control, and sorting," said Waseem Alim, CEO of Chaldal.
In the last year, dozens of courier and logistics service providers sprung up to cater to online deliveries of e-commerce and f-commerce platform, creating employment opportunities for thousands.
A delivery person of Provati Courier, which was founded last year and serves e-commerce and f-commerce platforms, said he received Tk 7,000 per month and made 30-35 deliveries per day.
"A rapid expansion of online business is occurring because of the coronavirus. As a result, a lot of new jobs are being created. The expansion will continue in the future, and more jobs will be generated as people will keep purchasing online even in the post-pandemic era," said Sayema Haque Bidisha, a professor at the economics department at the University of Dhaka.
Youth employment in Bangladesh is more than 10 per cent, and the pandemic coronavirus has exacerbated it, she said.
"Creation of new jobs involving online business is very important, and the government should incentivise the sector to help it create more jobs."
She urged the government to bring the sector under a minimum regulation so that workers in the gig economy could receive some protection and benefits.