Higher-income country by 2041: IMF to support Bangladesh's aspirations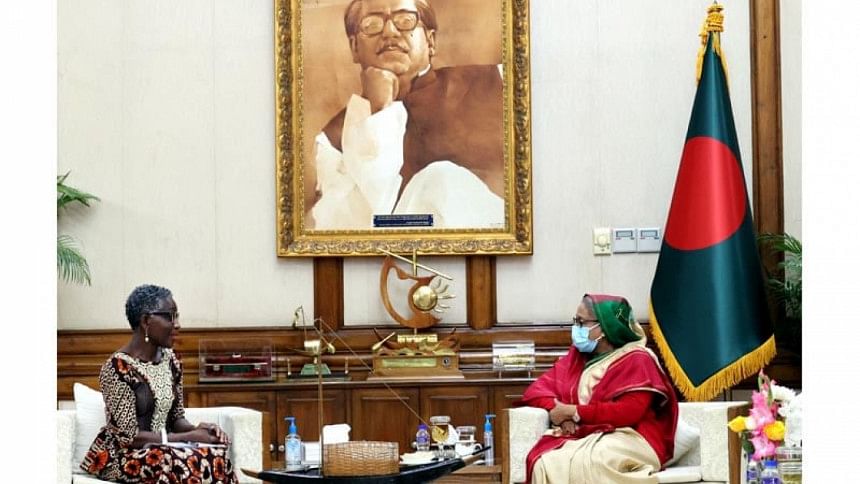 International Monetary Fund (IMF) has assured of continued support to Bangladesh's aspirations to become a developed and higher-income country by 2041.
IMF Deputy Managing Director Antoinette Monsio Sayeh made the assurance during a meeting with Prime Minister Sheikh Hasina today, at the latter's official residence Gono Bhaban.
PM's speechwriter Md Nazrul Islam briefed reporters after the meeting.
"Bangladesh aspires to become a developed, prosperous and higher-income country by 2041. The IMF will continue to support this aspiration," the IMF senior official was quoted as saying.
She said the IMF has a long-standing partnership with Bangladesh. "The IMF cherishes this partnership. I have come here to strengthen the partnership further," Sayeh was quoted.
She said the world is facing challenges due to the staggering impacts of the Covid-19 pandemic and the Russia-Ukraine war.
In this situation, emerging economies like Bangladesh are facing various problems, particularly inflation, price-hike of commodities and pressure on foreign exchange reserves, the IMF deputy managing director said.
The IMF will assist in Bangladesh's efforts to face these problems, she assured.
The prime minister said the pace of the country's progress has slowed down due to the Covid-19 pandemic, Russia-Ukraine war and resulting sanctions, counter-sanctions.
Bangladesh is also facing difficulties due to price hike of commodities, she said, adding that the government has widened the social safety net and expanded food programmes to support the lower income people.
Hasina told the IMF official that her government has undertaken development programmes targeting poverty alleviation and food security. She said Bangladesh is bringing fallow lands under cultivation to boost food production.
Lower-income people are suffering due to high inflation even in many developed countries, she added.
'Seeking IMF assistance not as bailout but pre-emptive measure'
The PM said Bangladesh has sought assistance from the IMF as a pre-emptive measure. "We have sought assistance from the IMF not as bailout, but as a pre-emptive measure," she added.
The IMF deputy managing director praised the socio-economic transformation under the leadership of Prime Minister Sheikh Hasina. She said Bangladesh has been maintaining some 6 percent GDP growth over the last decade.
Besides, women empowerment, girls' education, community clinics and ICT came up for discussion during the meeting.
Finance Minister AHM Mustafa Kamal, PM's International Relation Affairs Adviser Dr Gowher Rizvi, Principal Secretary M Tofazzel Hossain Miah, Bangladesh Bank Governor Abdur Rouf Talukder, Senior Finance Secretary Fatima Yasmin and IMF Resident Representative in Dhaka Jayendu De were present at the meeting.
At the meeting, the IMF delegation handed over two photographs to the prime minister, which were taken when Bangladesh signed the IMF's Articles of Agreement on August 17, 1972 to obtain its membership.