Govts of South Asian countries fail to devise Covid-19 recovery solutions: experts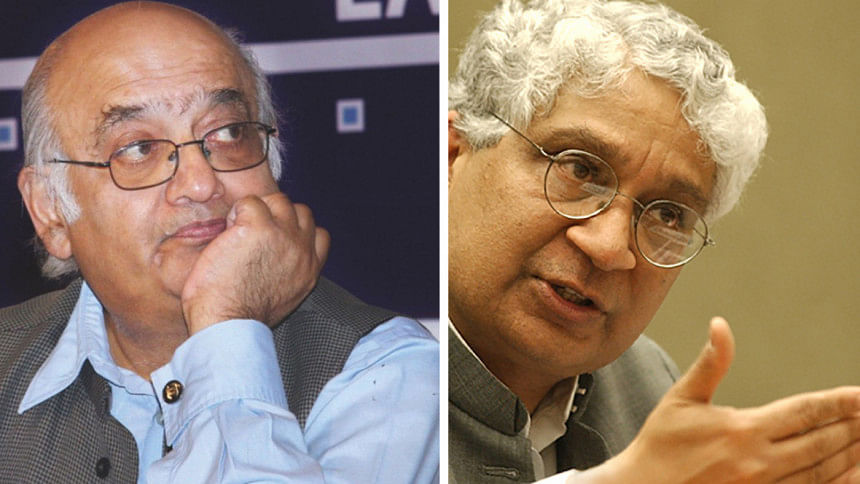 The governments of South Asian countries, including Bangladesh, have failed to play their roles in controlling the spread of the coronavirus and come up with sustainable and effective recovery solutions to the pandemic induced crisis.
Two eminent economists--Prof Rehman Sobhan, chairman of the Centre for Policy Dialogue (CPD), and Deepak Nayyar, emeritus professor of economics at Jawaharlal Nehru University, New Delhi--shared the view yesterday at a discussion on "Covid-19: Contexts and Recovery - South Asian Perspective" organised by the South Asian Network on Economic Modeling (SANEM).
Not only that, the government's weak capacity to enforce lockdowns, incapacity to contain virus transmission, collecting and administering vaccine rollout drive have worsened the situation in the region, they said.
Prof Rehman Sobhan said he does not see that the governments of the regions have come up with innovative solutions to the crisis.
He said people in bordering districts use to cross borders quite frequently even for less important reasons.
And here, there was a responsibility of governments to control movement so that transmission could be stopped, spread could be controlled.
"Collective responsibility was there but there was a collective failure," he said.
In case of Bangladesh, he said there was a lack of enforcement of lockdown.
Days after the beginning of the lockdown, traffic jams were seen in Dhaka. As a result, the lockdown is seemed to have a questionable impact, he said.
He said Bangladesh has the lowest level of testing records and as a result, it is difficult to know the actual infection rate.
 "We have no idea of what is the level of infection is. We are operating in a no man's land in terms of infection rate," he said.
In case of death, he said, the actual number of casualty might be higher than the reported cases and added that there might be an underestimation of deaths.
Prof Sobhan also pointed out at the lack of efficacy of lockdown measures taken by the governments as those were enforced without ensuring adequate support needed for poor and low-income people.
As a result, people had to come out for their livelihoods despite risk of infection and spread. There has also been weakness in enforcement of lockdown by the government.
In Bangladesh, the authorities could neither enforce lockdown properly nor could stop people coming from lockdown areas in bordering districts, he said.
So here it is also case of no man's land, he said.
In terms of the recovery process, the hope for high-profile vaccination programme began very well with the collaboration of AstraZeneca and the first phase of the vaccine came very rapidly. But then the whole thing broke down. In the second wave, there was a big contract default on the part of Serum Institute who did not deliver two-third of its obligation, Sobhan said.
So a significant portion of the people, who took the first dose of the vaccine, could not get the opportunity of the second dose, he said.
The vaccination programme is a classic example of the failure of the Indian government, said Prof Deepak.
He said lockdown imposed in India just hours before its implementation had created a humanitarian crisis there.
Deepak said the crisis has caused increased poverty and inequality. "The biggest killer in India is not the pandemic, the biggest killer is poverty here," he said.
"Services and informal sectors are standard victims," said Rehman.
He said stimulus fund channelled through banks and most of the funds went to known regular and known clients while many who needed support might be missed out. He termed the situation as business governance failure.
Sobhan said one of the big problems in South Asia is the low allocation for social protection. "This is also the worst governed sector," he said adding that there is also intervention failure.
Prof Sobhan called for increased collaboration among civil society bodies in research and experience sharing.
"I will not bet a great deal of money on governments of South Asia," he said.
Rehman also talked about economic growth.
He said the pandemic and subsequent effect caused slowed growth in economic growth. India fell into recession. Bangladesh also suffered but it was not that much affected like India.
"Certainly, Bangladesh is in better shape than India," he said but raised doubts about the growth statistics.
"We are never really sure about the validity of statistics…. We are left in the grey area," he said.