Govt to import 5 lakh tonnes of rice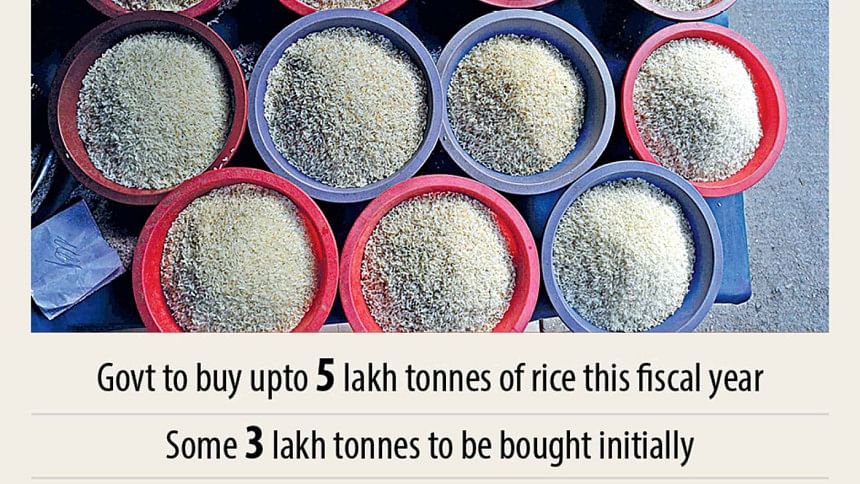 The government may import up to 5 lakh tonnes of rice to replenish the country's depleting food stocks and tame the soaring prices of the staple, according to a senior official of the food ministry.
The Directorate of Food has already floated a tender to buy 100,000 tonnes of parboiled rice from abroad. Meanwhile, the government placed an order for 50,000 tonnes of rice last week and plans to purchase another 100,000 tonnes from foreign sources soon.
"We will buy more rice from the international market instead of depending too much on local millers," Food Secretary Mosammat Nazmanara Khanum said yesterday.
The food ministry aims to buy 300,000 tonnes of rice from abroad in the first phase.
"And we have a target to purchase 500,000 tonnes of rice in total this year," she added.
The food ministry has decided to increase rice imports due to a lack of interest among local farmers and millers to supply the cereal grain to state warehouses. This is a result of reduced yields caused by inclement weather and recurrent flooding.
The Directorate of Food has decided to buy 200,000 tonnes of paddy from local growers and 600,000 tonnes of rice from millers for the current Aman rice season.
But since the beginning of the procurement period last month, it could buy only 507 tonnes of parboiled rice and 27 tonnes of paddy as of December 2.
The food ministry is trying its best to reach the previously set target to ensure fair prices for the farmers, Khanum said.
Asked about the reluctance among millers to supply rice to state warehouses, Khanum said they have not asked the local producers to supply rice to the warehouses.
"Instead, we are bringing it from abroad since they [local farmers] cite shortages in the domestic market. Let them supply it there," she added.
This is the first time in three years that the government turned to overseas markets to refill food stocks and intervene in the market through various social safety net schemes to curb a spike in the price of a staple food.
Food stocks dipped 43 per cent year-on-year to 7.9 lakh tonnes as of December 2 this year, according to the food ministry.
Khanum also said the government has started providing cash under some of the social safety net programmes such as Test Relief, Food for Works and Vulnerable Group Feeding in a bid to move away from the previous practice of providing food grains.
"So reduced food stock is unlikely to become a problem," the food secretary said.
In order to contain artificial price spikes, the food ministry has kept watch so that no one can hoard the grain, she added.