Govt to buy Tk 527cr LNG from spot market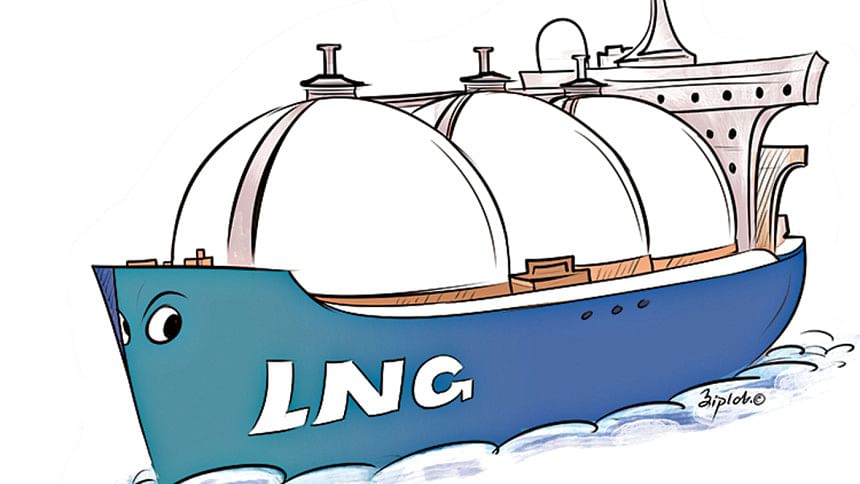 The government yesterday approved two proposals to import more than 67.2 lakh MMBTUs liquefied natural gas from the spot market for Tk 527.24 crore.
This is the third initiative from the government to buy the fuel from the spot market.
The cabinet committee on purchase approved the proposals in a meeting chaired by Finance Minister AHM Mustafa Kamal.
The meeting gave its consent to a proposal of Petrobangla to buy 33.6 lakh MMBTUs (million British thermal units) of LNG from Singapore-based Vitol Asia Pte Ltd at the cost of Tk 248.53 crore. Each MMBTU will cost $7.44.
The committee also gave the go-ahead to another proposal to procure 33.6 lakh MMBTUs of LNG from AOT Trading of Switzerland for Tk 278.70 crore. The price is $8.345 per MMBTU.
On February 17, the government gave its nod to two proposals to buy 67.2 lakh MMBTUs of LNG from the spot market through Vitol Asia for Tk 623 crore to meet the growing demand for the super-chilled fuel.
In September last year, the government moved to the spot market for the first time to purchase the fuel at a cheaper rate.
In a spot market, financial instruments, such as commodities, currencies and securities, are traded for immediate delivery.
Bangladesh also buys LNG from Qatar and Oman under a government-to-government agreement.