Govt to buy LNG at 16% lower price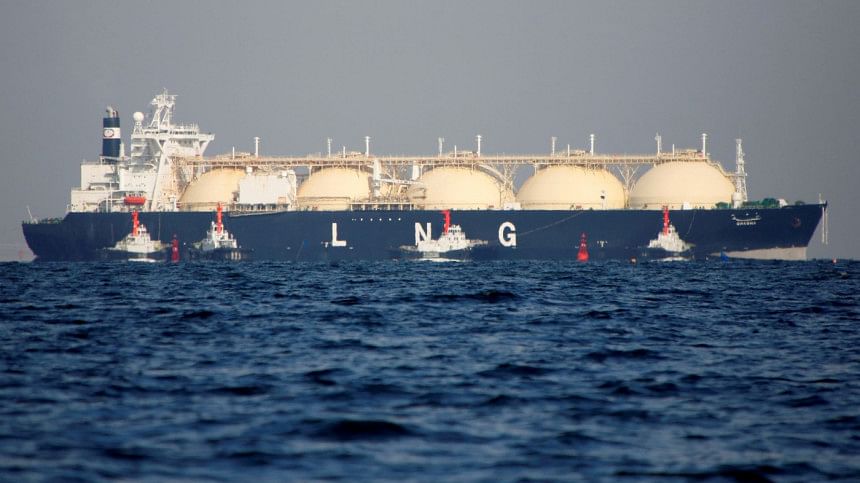 The government yesterday decided to buy 33,600 Million British thermal units (MMBtu) of liquefied natural gas (LNG) from JERA, a Japanese energy company, as it looks to ensure adequate supply ahead of the coming Ramadan and summer months.
Petrobangla, which manages the country's LNG imports, will get the fuel for $16.5 per MMBtu, down by some 16 per cent from a previous purchase, according to the Cabinet Committee on Purchase.
Just two weeks ago, the state-owned Rupantarita Prakritik Gas purchased LNG for $19.74 per MMBtu from TotalEnergies, a French energy and petroleum company.
The offer from JERA, a major LNG reseller, is the lowest received from the spot market.
The LNG cargo of 33,600 MMBtu will be delivered between March 10 and 11.
The government will have to pay the equivalent of Tk 690.4 crore to the supplier, as per official documents.
Bangladesh depends on imported natural gas for about three-quarters of its power generation, but was forced to ration gas supplies last year as global prices were driven up by Russia's war in Ukraine.
Since the start of the year, LNG prices have plunged by more than 70 per cent from August's record $70 MMBtu on slower demand and high inventory levels in Europe and North Asia.
At yesterday's meeting, the cabinet committee also gave the nod to the Trading Corporation of Bangladesh (TCB) to buy 1.10 crore litres of soybean oil from City Edible Oil Ltd at Tk 174.5 per litre.
Besides, a Turkish company will supply 8,000 tonnes of lentil to the state-run TCB.