Golden Harvest stocks jump on news of JV with IFC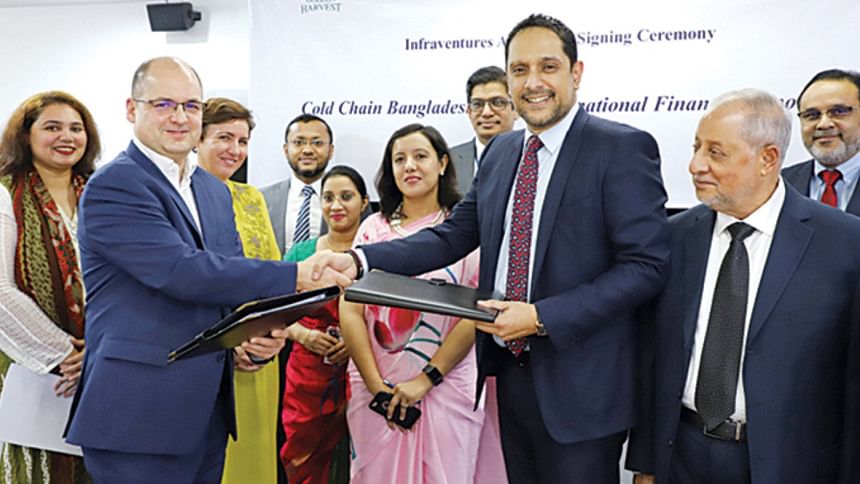 Golden Harvest stocks leapt 9.73 percent yesterday after news broke that the food processor is setting up a cold storage network in a joint venture with the International Finance Corporation (IFC).
To be called Cold Chain Bangladesh Limited (CCBL), the company will provide temperature-controlled storage and transport services for perishable products, such as pharmaceuticals, frozen food, dairy and meat, fruit and vegetables, bakery and confectionaries, and ice cream.
This integrated cold chain and temperature-controlled, third-party logistics services will be the first of its kind in Bangladesh.
"Every country needs such an infrastructure in its development process, and for a developing nation it is a must," said Rajeeb Samdani, chairman of Golden Harvest Group.
Such facilities are available in India for a long time, but in Bangladesh this will be a first, he said, adding that the cold storage would help ensure fair prices for farmers for their produce. 
IFC lnfraventures, a global infrastructure project development fund of the IFC, the private sector lending arm of the World Bank Group, and Golden Harvest's two subsidiaries -- Golden Harvest Ice Cream and Golden Harvest Foods -- will own CCBL.
CCBL's equity will be $22 million, of which the IFC will have 30 percent stake and Golden Harvest the rest.
The venture will increase food safety and quality of delivered products, reduce spoilage and contribute to the development of the country's logistics infrastructure.
It will also benefit export-import activities and the economy as a whole.
Meanwhile, Dhaka stocks bounced back yesterday after a slide of two days.
The DSEX, the benchmark index of the Dhaka Stock Exchange, rose 16.73 points, or 0.33 percent, to close at 4,968.46.
Turnover, another important indicator of the market, jumped 3.2 percent to Tk 411.73 crore.
Monno Ceramic topped the gainers' list with a rise of 9.95 percent, followed by Golden Harvest, Sonar Bangla Insurance, Bank Asia, and Eastern Cables.
National Tubes was the most-traded stock with a turnover of Tk 15.27 crore, followed by Grameenphone, National Polymer, Singer Bangladesh and Fortune Shoes.