Gold jewellery: a love lost in pandemic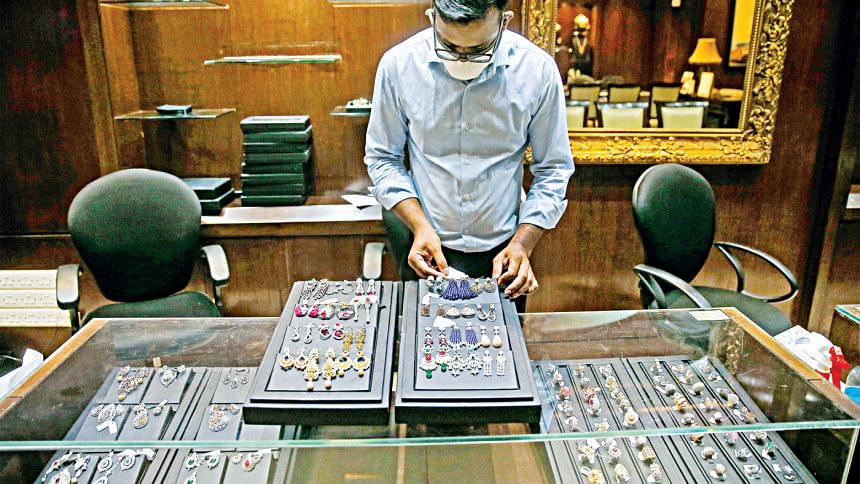 The chatter of well-heeled ladies as they try out glistening bangles or necklaces typically filled the air of the sprawling flagship showroom of Jarwa House on the capital's Gulshan Avenue.
Now, it has been replaced by ennui and gloom.
With much safety precautions and great expectations, the country's oldest jewellery store had opened its doors to affluent customers on an appointment-only basis soon after the countrywide general shutdown was lifted on 30 May after two-and-a-half months.
Since its clientele largely hails from the affluent class, whose purchasing power has not taken as big a hit as those not as well-off as them, Jarwa House, which has two showrooms in Dhaka and one in Chattogram, was hoping it would be returning to a version of normality when it reopened.
The reality though has been starkly different.
"I have never seen such a downturn in business in my 40-odd years in this business," said Badal Roy, managing director of Jarwa House, a third-generation jeweller.
Jarwa House, whose roots date back to the 1900s, has regained only 20 per cent of its sales since reopening, with small-ticket items like rings selling the most.
While Roy can absorb a slump in business, for the smaller jewellers, the drop in footfall could be potentially cruel.
One such jewellery shop is Parineeta Gold, housed in the capital's Pink City shopping centre. Parineeta Gold's sales plunged to 15 per cent of what it was before the pandemic.
"There is no sign of our business bouncing back. People's financial condition is very bad," said Pijush Kanti Paul, the owner of Parineeta Gold.
Weddings account for the lion's share of Parineeta Gold's sales. And there are hardly any weddings taking place nowadays. As black diamond Jewellery is comparatively cheaper than normal diamonds, people are getting inclined towards buying black diamond rings for weddings and engagements.
"People are getting married amid the pandemic but without any ceremony. So, there is no need for jewellery."
If the trend continues, Paul said he will be in deep trouble. And what's worse, the 35 goldsmiths that supply Parineeta Gold with its wares have become jobless.
In Bangladesh, goldsmiths are not salaried employees but are paid for each piece of jewellery they make.
And the pandemic along with its accompanying economic depression has left thousands of such artisans down on their knees.
"If the business does not return to normal in the coming month, a dire situation awaits the jewellers, especially the small ones, and the goldsmiths," Roy said.
While it is an unfortunate development for goldsmiths, for aspiring jewellery buyers the cocktail of circumstances in the form of the government request for staying at home to flatten the curve on coronavirus and the squeeze on disposable income could be a stroke of good fortune too because the gold prices are moving from strength to strength, making affordability an issue.
On 5 August, the price of each bhori 22-karat gold stood at Tk 77,216 -- a record high.
One bhori equals 11.664 grams.
On 13 August, the price came down to Tk 73,716, but it is still more than the rates prevailing at the beginning of the year and before that.
The price of per bhori of gold was Tk 60,361 on 5 January. Five years earlier, it was Tk 43,014, according to data from the Bangladesh Jewellers Samity (BAJUS).
"As the price of gold in the international market has been rising for the last few months, we have also had to raise the price of gold again and again," said Enamul Haque Khan, president of BAJUS.
Between 1 January and 4 August, gold price increased more than $500 per ounce in the international bullion market, he said.
Gold prices have been volatile in the international market since July last year due to the US-China trade war, US-Iran tensions.
At that time, the price of the yellow metal in the local market increased several times and reached as high as Tk 58,000 from about Tk 50,000, said Khan, also the owner of Sharmeen Jewellers in capital's Baitul Mukarram. The jeweller's business has collapsed by about 85 per cent.
"The pandemic has made it worse," said Dilip Kumar Agarwala, managing director of Diamond World, which has 22 stores in Bangladesh and has recovered only just over 30 per cent of its sales in July.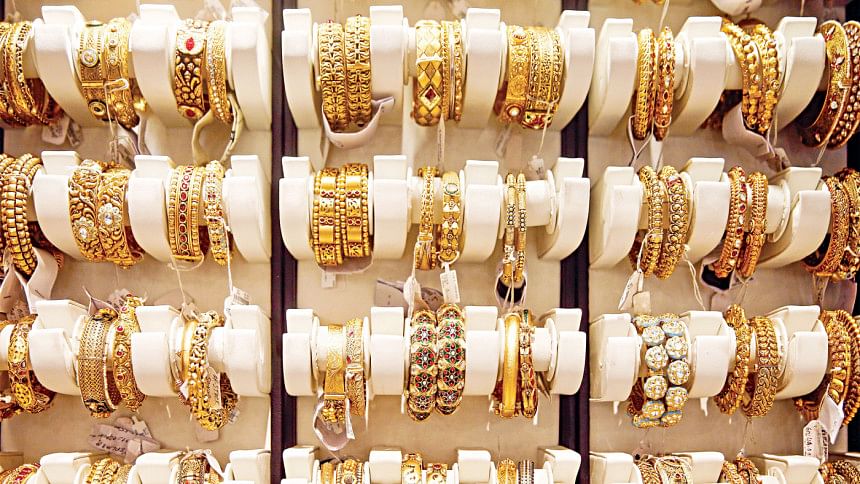 There is another angle to the story.
The Indian subcontinent's love for gold is known far and wide. For many women in India, Bangladesh, Pakistan and Sri Lanka, gold holds a certain cachet that no other fills.
So it is not uncommon for women in small towns and villages to gather all their life's savings to purchase a small gold trinket, as they view it as a safer investment and also an object to cherish for life.
But with the economy not bouncing back fast enough and millions of people losing their jobs, poorer Bangladeshis are pawning their gold jewellery to make ends meet.
Take the case of Laili Begum, who managed to buy a pair of gold bangles and earrings when she worked as a house help in Oman a decade ago.
With the onset of the pandemic, her husband, who worked as an office clerk with a private company, lost his job.
While the family of four got by initially with their savings, last month they were confronted with an uncomfortable scenario: from where would they gather the funds to continue with their two children's college education?
This prompted Begum to sell off her much-treasured jewellery. While the goldsmiths made some deductions, the amount she got for the items were much higher than what would have been the case had she sold them at the beginning of the year.
"My children's education must continue, come what may. It is worth the sacrifice," said Begum, who has become handicapped from her stint in the Middle-east and is unable to get gainful employment.