Germany's Cube teams up with Meghna to make high-end bicycles
Exports may rise five-fold to $500m in five years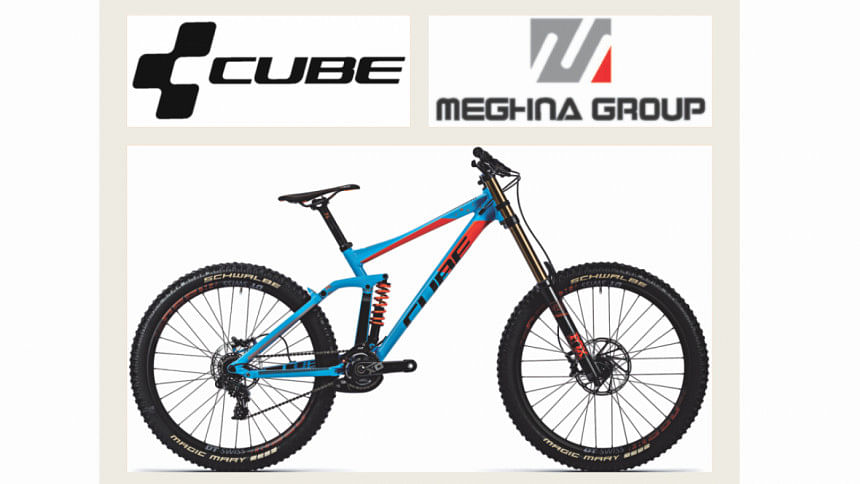 Cube, the biggest bicycle manufacturer in Europe, has teamed up with Meghna Group to produce high-quality cycles in Bangladesh.
In June, the two companies formed a joint venture company named Hana System Ltd with about Tk 100 crore in investments.
Germany's Cube owns 70 percent stake and Meghna 30 percent in the new entity, which is likely to begin exporting from early next year.
"Cube is famous for making high-quality bicycles and the entry of the company into Bangladesh will attract a lot of foreign buyers," said Mizanur Rahman, chairman of Meghna Group, which manufactures and exports bicycles.
Industry people say with the entry of Cube, Bangladesh's export to the European Union will jump manifold after hovering around $100 million a year for nearly a decade.
High anti-dumping duty, standing at 48.5 percent, imposed by the EU against China and duty-free export benefits have created a bright prospect for Bangladesh to boost the shipment to European countries.
Presently, Bangladesh produces low-end bikes that are sold at $60 to $150 a piece in the export destinations. But the bikes that will be produced at the joint venture company will be sold at a minimum $231 (200 euros), according to Rahman.
In phases, carbon and electric bikes will be produced at the factory and will be priced $1,500 and $1,000 a unit respectively, he said.
Bangladesh has long been trying to diversify its export basket in order to cut the country's overreliance on the apparel sector and the success has been limited largely because of its inability to produce value-added items.
The country shipped goods worth $36.66 billion in 2017-18, of which garment exports accounted for more than 80 percent, data from the Export Promotion Bureau showed.
Bicycle exports fetched nearly $86 million last fiscal year, down from $126 million in 2014-15. The government has set a target to earn $91 million by exporting the item in the current fiscal year.
Bicycle exports will reach $500 million in the next five years, said Rahman.
Meghna Group, the leading bicycle exporter of Bangladesh, sent 400,000 units to the 28-nation bloc last year. Alita and Pran-RFL are the other two exporters. Starting next year, the joint venture plans to ship another 240,000 units per year. Backward linkage industries of bicycle will also grow as the joint venture will buy half of its necessary materials from the local market, Rahman said.
According to the Eurostat, the EU imported more than 6.8 million pieces bicycle in 2017, up 1.32 percent from a year ago. Cambodia was the top supplier sending more than 1.4 million units. Taiwan shipped 1.31 million units, the Philippines 0.83 million units, Bangladesh 0.8 million units and China 0.63 million units.
The EU trade rules allow Bangladesh and Cambodia to export bicycles, parts and accessories to the EU without having to pay 14 percent duty on bicycles and 4.7 percent duty on accessories. The global bicycle market is expected to grow to $35 billion by 2022, up from $30 billion now.