Garment work orders coming back slowly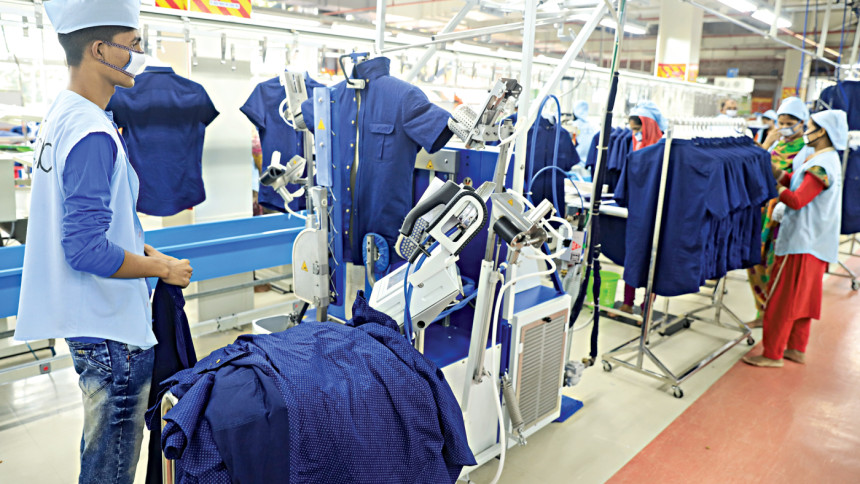 With the reopening of outlets of major clothing retailers and brands in the EU and US, the inflow of work orders at local garment factories has been on the rise, albeit on a limited scale.
Local factory owners said most of them are running at 80 per cent capacity as the buyers are coming back with work orders.
The apparel suppliers also said the volume of fresh work orders is less as the buyers are either reclaiming goods already manufactured or executing old work orders.
So, the inflow of new work orders is still not at the expected level although they are hoping that the situation would improve further at the end of this year if the coronavirus pandemic can be controlled.
Garment manufacturers now fear that retail sales in the EU and US will slow down again if a fresh wave of infection spreads at those major export destinations.
A slump in sales in the western world for any reason will have an effect on the inflow of work orders for Bangladesh.
The large units have been receiving a handsome volume of work orders but the country's small and medium apparel companies are still suffering.
Suppliers said they would be able to achieve at least 80 per cent of their target for exports at the end of this year if the current inflow of work orders remains stable.
"Inflow of new work orders is low. We are catering to old work orders now. There will be a nearly 30 per cent gap in receiving work orders this year compared to last year," said KM Rezaul Hasanat, chairman and CEO of Viyellatex Group, a leading garment exporter.
The outlets have been opening up gradually but the presence of customers is still thin because of Covid-19, Hasanat told The Daily Star over phone.
"Up till August, the current inflow of work orders will make due at my factories. But September onwards, the volume of confirmed work orders is reducing. I am negotiating with my buyers for new work orders," said MA Jabbar, managing director of DBL Group, another leading garment exporter.
"The inflow of work orders is not steady now. I can achieve nearly 80 per cent of my annual target of export at the end of this year," he said.
With local suppliers getting ready to begin full-scale operations, the number of new coronavirus patients in the US has increased by more than 40,000 a day, especially after July 4, when restrictions on public movement were withdrawn to mark the country's Independence Day.
So this new wave of patients in the US might force its government to prolong the shutdown procedures for retailers.
"More than 50 per cent of my goods are shipped to Germany. So far, the inflow of work orders in my factory is good," said Fazlul Hoque, managing director of Plummy Fashions, a Narayanganj-based garment factory.
Suppliers sending garment shipments to Germany are in an advantageous position as they faced less order cancellations in March, April and May.
Not only that, there is also a steady inflow of work orders to their factories even amid the Covid-19 pandemic as the German economy has been comparatively less affected by the virus till date.
"I can achieve 85 per cent of by export target by the end of this year," said Hoque.
The major problem is that nearly 100 western retailers and brands have filed applications seeking salvation from bankruptcy. Of the applicants, most purchase apparel items from Bangladesh, Hoque said.
Similarly, Bakhtiar U Ahmed, chief operations officer at Fakir Apparels, said his buyers were now reclaiming their old orders. So the volume of new orders is relatively low now, he said.
Buyers stated that they would not cancel any work orders but they would take some time to take goods that have already been manufactured, he said.
They will increase the volume of new work orders once the old inventory was sold, he added. So at the end of this year there will be nearly 10 per cent lesser work orders compared to the same time last year, he also said.
Mahmud Hasan Khan Babu, managing director of Rising Group, said he has an adequate number of work orders for knitwear items but in case of woven items, he could not take orders because he needed to import fabrics, mainly from China.
So currently, he can execute 85 per cent of knitwear orders and use 60 per cent of the capacity for woven, Babu said.
Tariqul Islam, managing director of All Weather Fashions, said he closed his factory in March as he was facing a crisis of new work orders from the buyers.
He shut down his unit which employed 473 workers as he was also facing challenges in paying bank loans as well.
Before closing his factory, he used to export goods worth Tk 50 crore annually. However, the value of his exports dropped to Tk 37 crore in 2019 because of a slump in work orders at his small factory in Pubail.
Between January and March this year, he could export garment items worth Tk 12 crore, said Tariqul, adding that he would reopen his unit again in September this year as buyers were coming back.
KI Hossain, president of the Bangladesh Garment Buying House Association, said local buying houses were facing a crisis of work orders as most retailers and brands did not prefer to travel to factories or hold meetings either virtually or any other third destination, except Bangladesh.
"We are in an uncertainty now," he said.