Fundamental reforms needed to support next wave of digital development: WB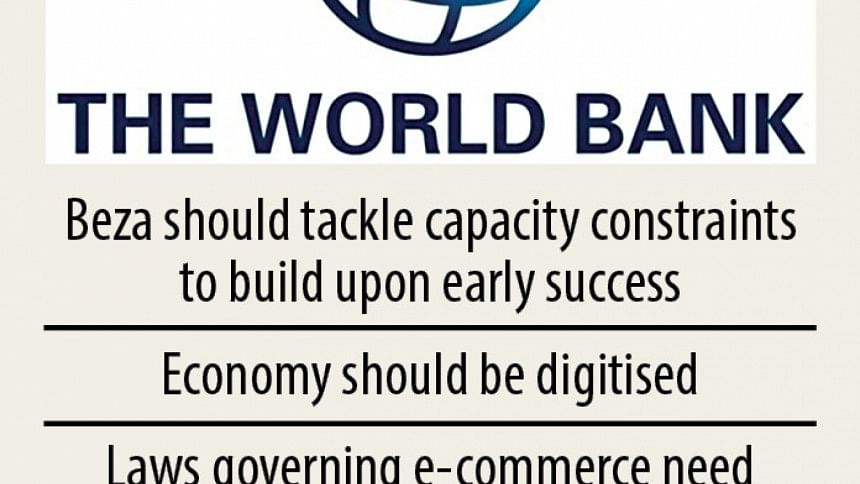 The World Bank has urged Bangladesh to bring in fundamental reforms in order to digitalise the economy and support the next wave of digital development.
"Extensive and fundamental reforms are needed to strengthen the legal and regulatory enabling environment to support the next wave of digital development," it said. 
The call from the Washington-based development lender came as it approved three projects involving $1.05 billion to help Bangladesh create quality jobs for its rapidly expanding working age population and lay the foundation for a digital economy.
The projects are $500 million Private Investment and Digital Entrepreneurship (Pride) Project, $295 million Enhancing Digital Government and Economy (Edge) Project, and $250 million Second Programmatic Jobs Development Policy Credit.
"These projects will help the people and the economy bounce back by creating more and better jobs and promoting direct private investment in specialised economic zones while enhancing the foundations for a digital economy," said Mercy Tembon, WB's country director for Bangladesh and Bhutan, in a press release.
The Pride Project will promote and attract about $2 billion direct private investments and strengthen social and environmental standards in selected public and private economic zones and software technology parks.
It will also develop the Bangabandhu Sheikh Mujib Shilpa Nagar II in Mirsarai-Feni, including road networks with stormwater drainage, solar-powered street lights, climate-resilient water, sanitation, and power network.
The project will also establish Dhaka's first digital entrepreneurship hub in the Janata Software Technology Park and turn it into a green building. The project will help the economy to rebound from the impacts of the coronavirus by attracting domestic and foreign private investment, including in the IT and IT-enabled service sectors.
The Jobs Development Policy Credit Project will help in building resiliency of the economy, of workers and of vulnerable populations to future shocks.
The financing will help Bangladesh create large-scale jobs for citizens, including women, youth, and migrant workers.
The project —second in a programmatic series of three—supports reforms to modernise the trade and investment regime, build a stronger system of expanded safety nets and labour protections, and help vulnerable population access better jobs, especially during crises.
"Bangladesh's structural challenges to creating good jobs are now aggravated by the increasing impact of the Covid-19 crisis. Jobs and income losses in both the informal and formal sectors have put livelihoods of several millions at risk in both rural areas and urban spaces," the WB said.