Foreign buyers keen to source processed foods from Bangladesh
Local participants at FoodPro International Expo say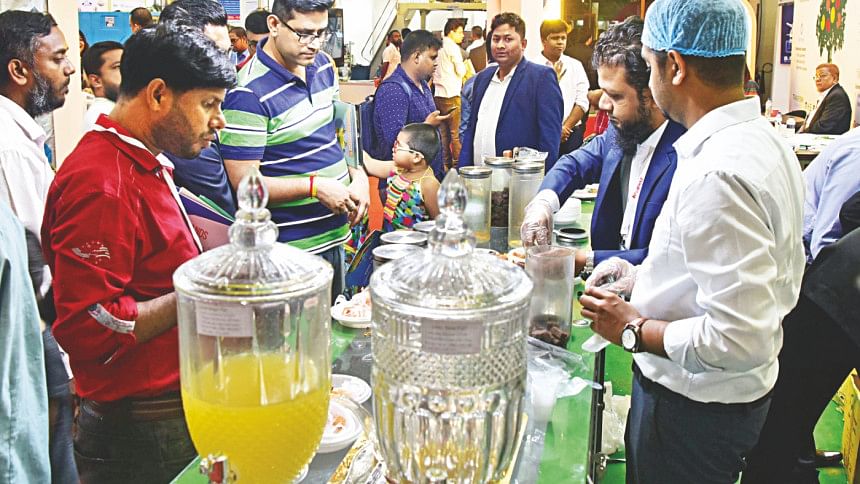 Local food processors received good response from the foreign buyers at the 7th Bapa FoodPro International Expo 2019 that concluded yesterday, industry people said.
Md Masudur Rahman, manager for sales and marketing at Eurasia Food Processing Ltd (Euro Foods), said some international buyers contacted them and discussed to ink deals to buy frozen foods.
Euro Foods exports seafood, meat, poultry, vegetables, and desserts to the US and European markets. It introduced at least 12 chicken items at the fair.
The products are new addition to its product list, Rahman said, while speaking on the last day of the three-day fair at the International Convention City Bashundhara at Kuril in the city.
Kazi Abdur Rahman, general manager for international market at Sajeeb Group, echoed the same.
The company has recently started exporting finger toast to India and the Middle East. Some Malaysian buyers discussed to buy the product from the company along with other products, he said.
"Product variation and continuous improvement of quality will boost exports and domestic consumption of processed food."
The Bangladesh Agro-Processors' Association (Bapa) organised the fair. The association consists of 569 members who are selling products in 144 countries with a combined export value of over $800 million. This is expected to rise above $1 billion by 2021.
Participants displayed food products, food processing and packaging products and machinery. It attracted all stakeholders from the retail and wholesale food and beverage sectors, and generated new connections.
According to the food processors, the fair created a bridge between the local market and the international market and familiarised local entrepreneurs with modern technologies and products.
Anselm L Martin, business coordinator of Banga Flavour & Fragrance (Pvt.) Ltd, said they have exhibited two new products at the fair: lime ginger and lime mint.
Both products drew attention of local customers as they are processed from ginger and mint giving them natural flavour.
''We do research to develop different types of ago-based foods to enrich our local food,'' he noted.
Arifuzzaman Mian, a junior executive at Olympic Industries, said a number of foreign buyers from Europe and Canada talked to the company's management and expressed interest to buy their products.
The company launched orange and lemon flavoured cake for the local market, and dairy chocolate for the international market.
Speaking at a discussion at the fair, AFM Fakhrul Islam Munshi, president of the Bapa, said food processors are committed to manufacturing quality products to expand the market.
At the closing session, Commerce Minister Tipu Munshi assured the food processors of cooperation so that they can boost exports.
He said he became impressed seeing the hundreds of varieties of products that local processors produce.
A total of 234 agro-processors, technology providers, financial institutions, and many other related companies from 15 countries exhibited their products and services at the fair.