Footwear retailers eye Tk 3,000cr sales this Eid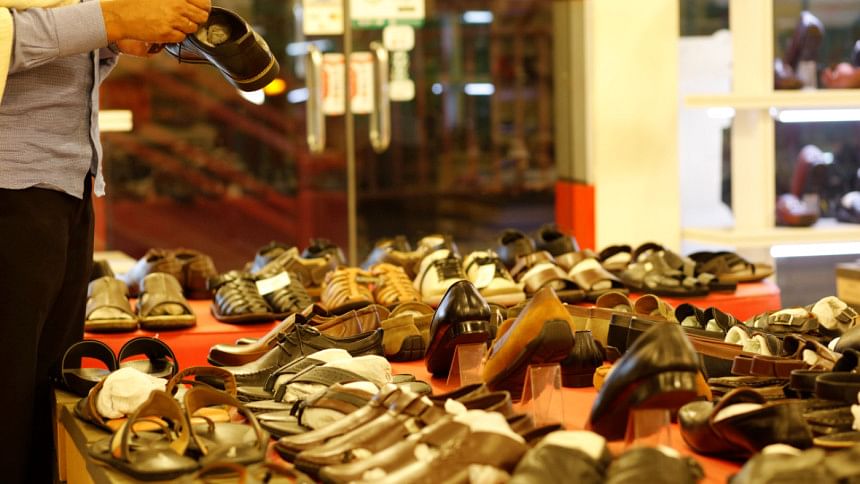 Footwear manufacturers and retailers are looking to rake in Tk 3,000 crore in sales this Eid-ul-Fitr as sandals and shoes are high on the shopping lists of customers from all walks of life. 
"All brands are witnessing a happy Ramadan as sales have increased," said Nasir Khan, managing director of Jennys Shoes Ltd.
Renowned brands such as Apex, Jennys, Bata, Bay, Zeils and Leatherex as well as imported footwear, especially non-branded Chinese products have been found to be high in demand for their lower prices and pretty look.
A third of the total annual sales of all branded and non-branded footwear is sold ahead of Eid-ul-Fitr. Local sales fetched Tk 10,000 crore to Tk 12,000 crore in 2018, according to Khan.
The sector has been growing at an average of 12 percent for the last one decade, drawing in new investors, both local and foreign.
As per Khan's estimate, footwear items worth at least of Tk 3,000 crore will be sold on the occasion of this Eid, way higher than the full-year sales a decade ago.
Retailers at the Tropical Alauddin Tower and the Rajlaxmi Complex in Uttara say Chinese products have a good demand among the women and ladies customers.
They say local brands are competing well with international brands attracting substantial customers, especially in the gents and ladies footwear segments.
In the kids segment, Chinese products top customers' choice, retailers said. A wide range of footwear items for gents, ladies and kids made from leather, canvas and clothes, rubber, plastics, artificial leather and polyurethanes are available in the markets.
To drive sales in the biggest spending season of the country, local brands have been offering 10 percent to 20 percent discount throughout the month of Ramadan.
Apex footwear is offering 20 percent discount for the credit cardholders of Mutual Trust Bank. Bata is offering 10 percent discount.
Mahbub Hossen, a salesman of the Apex Showroom in Farmgate, said after 15 Ramadan, the sale has increased significantly and they hope the momentum will continue until the eve of Eid.
Naushad Hassan, communication officer of Bay Group, said their sales have been good so far in all of the company's outlets.
He said the sales are better this year compared to those in previous years, giving hopes that the sales target would be fulfilled this year.
Mahidul Islam Shaon, in charge of the Kazi Nazrul Islam Avenue outlet of Leatherex, said male customers prefer sandals to match with panjabi and female customers have a preference for slippers.
"Our sales got momentum from the second week of Ramadan."
Walkar, a footwear brand of RFL Group, has introduced diversified products with attractive designs on the occasion of Eid. It is displaying products in more than 600 designs for ladies, gents and kids customers. The brand is offering 10 percent discount.
Kamrul Hasan, chief operating officer of Walkar Footwear, said, "Customers of all ages want to put on a new pair of shoes on the Eid day. Considering this, we have introduced shoes in 200 new designs."