Factories can pay wages for 3 months from stimulus package
Finance ministry sends guideline to BB for implementation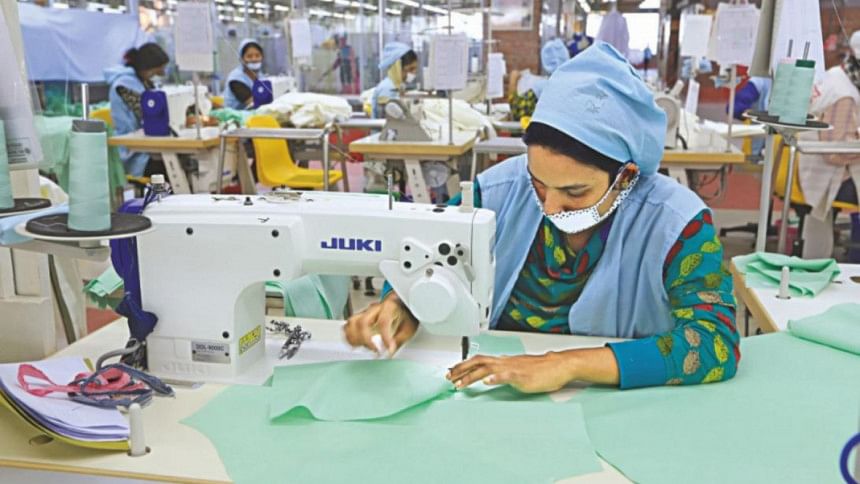 The owners of export-oriented companies and factories can pay wages to their workers for up to three months from the Tk 5,000 crore stimulus package unveiled by Prime Minister Sheikh Hasina.
The finance ministry has formulated a guideline for disbursement of the stimulus package aimed at helping exporters tide over the economic fallout of the global coronavirus pandemic. It sent the guideline to the Bangladesh Bank yesterday.
Now the BB will publish a notice to this end, so that the owners can take out the soft loan.
The interest-free loan will carry 2 per cent service charge and has a repayment period of two years, including a grace period for six months.
As per the guideline, factory owners would have to submit the salary sheets of workers from December to February of 2019, the list of workers and their banking or mobile banking accounts to banks.
Once the verification is complete, banks will disburse salaries for the month of April to the workers' mobile banking or bank accounts, according to the guideline.
Factories that export at least 80 per cent of their products would be eligible for the loans.
The government has come up with the rescue package as the export sectors have been reeling from the impact of the global coronavirus pandemic, which has ground economic activities in its major export destinations such as the EU, the US and the UK to a screeching halt in recent weeks.
"If the government considers the stimulus package as a loan, it will not serve the real purpose," said Shahidul Haque Mukul, managing director of Adams Apparels.
Moreover, the 18-month repayment period is too short for the factories. It should be 10 years and there should be a one-year moratorium on the repayment.
"The factory owners are already in trouble because of the coronavirus, so they will not be able to take the burden of loans. The conditions should be relaxed," he added.
Many workers do not have any mobile financial service or bank account, said M Shahadat Hossain Sohel, chairman of the Bangladesh Terry Towel and Linen Manufacturers and Exporters Association.
"What will happen to them?"
A functional mechanism should be devised soon so that workers can receive salaries without much hassle, he added.
"Our biggest concern is for the workers and we will use the funds to pay their wages. We take the responsibility of our workers," said Rubana Huq, president of the Bangladesh Garment Manufacturers and Exporters Association (BGMEA).
As of yesterday, $2.95 billion worth of orders were cancelled by international retailers, according to data compiled by BGMEA.
But, a few more retailers including Primark, KappAhl, Benetton and Decathlon have agreed to take delivery of goods made under the current work orders, following the lead of H&M, Inditex, PVH, Target, Kiabi and Marks & Spencer.