Export of plastic products rises as new markets emerge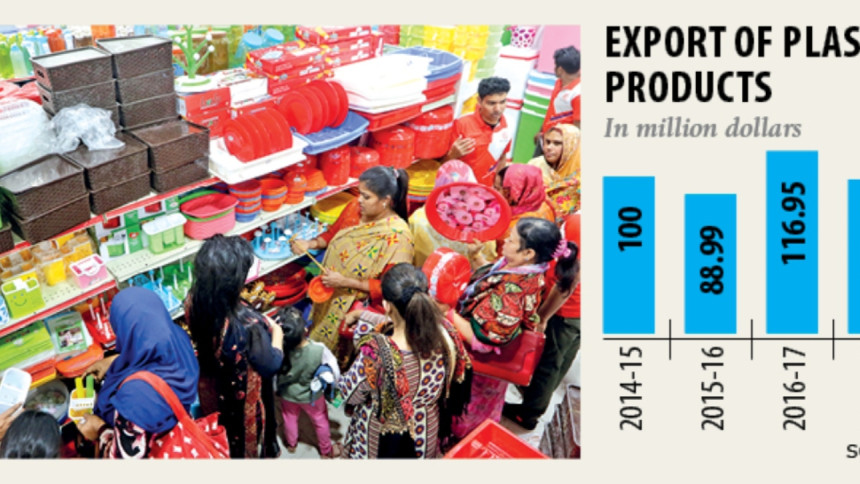 Shipments of plastic products rose 22 percent year-on-year to $120 million in fiscal 2018-19, something manufacturers and traders attribute to the emergence of new export destinations.
In fiscal 2017-18, the export had seen a 16 percent year-on-year drop when China stopped importing PET (polyethylene terephthalate) bottle scrap, according to the Export Promotion Bureau.
"New buyers are coming from Europe, particularly Germany-based supermarkets which source household plastic products from Bangladesh, aiding the export rise," he said.
German buyers used to place orders with Chinese manufacturers but now they are sourcing from Bangladesh to avail cheaper, quality products, said Md Jashim Uddin, president of the Bangladesh Plastic Goods Manufacturers and Exporters Association.
He also said the export volume would increase even further if the government provides policy support along with cash incentives.
Currently there are around 100 plastic product manufacturers who also aid export earnings of almost $800 million per year through direct and indirect backward linkage supplies to different sectors, especially the apparel sector, Jashim Uddin noted.  
The association president said the plastics sector was quite dependent on raw material import, for which global competitiveness had an influence on their business.
The main raw material for producing plastic goods is polyolefin, which is derived during the refining of crude oil and cracking or distillation of natural gas liquids. The PET resin pellets are availed by type-based sorting, shredding, cleaning and melting of waste plastic.
Despite having no polyolefin manufacturing facility, Bangladesh currently manufactures over 142 plastic items and mainly exports intermediate products like film plastic, household items and garment accessories.
According to Jashim Uddin, the sector's sales is growing by about 20 percent every year on the back of spiralling demand from domestic and export markets.
According to his estimate, domestic market sales hit Tk 30,000 crore in fiscal 2018-19, up from Tk 25,000 crore in the previous year.
KM Iqbal Hossain, chairman of Thai Delux Plastic Industries, told The Daily Star that the export volume would double within a couple of years if the government help them in establishing a plastic industrial park.
He also said the plastic industry was directly contributing to multiple export-oriented sectors.
However, a 5 percent advance tax during raw material import is pushing the sector towards difficulties as a huge amount of investment has to be made, he said.
Hossain also said International Finance Corporation and other international financers did not offer them low-cost loans, for which they had to borrow loans at high interest from the banking sector.
Kamruzzaman Kamal, director for marketing at Pran-RFL Group, said south Asian countries have been witnessing an increase in plastic product export for the past four years.
He said Bangladesh was producing world-class household plastic products and exporting to over 70 countries.
Pran-RFL Group achieved 30 percent export growth last fiscal year, he said while declining to disclose the figures citing company policy.