Export earnings fall by 18.29% in March: EPB data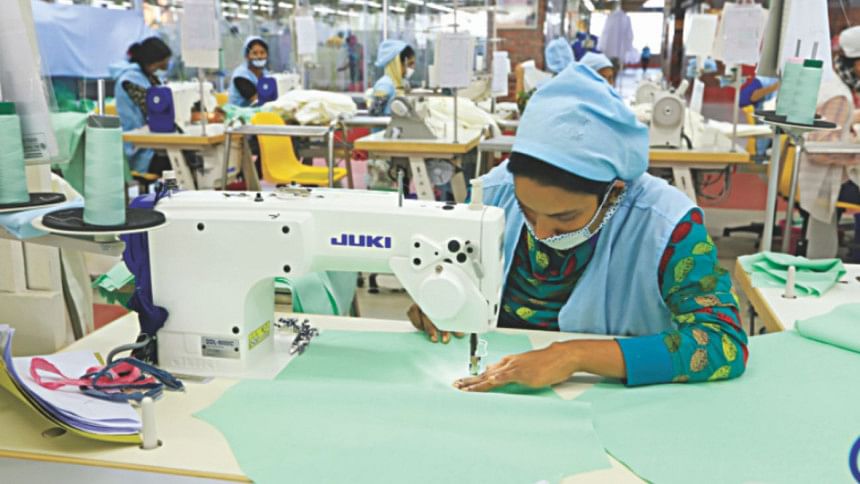 Export earnings in March declined by 18.29 percent year on year to $2.73 billion due to a fall in shipment of apparels, according to data from the Export Promotion Bureau (EPB).
This was, however, not a dirtect result of the current Covid-19 outbreak, an expert said.
The earnings for March 2019 were $3.34 billion, the EPB data also said.
This year's March receipts was also 28.61 percent lower than the monthly target of $3.82billion.
Furthermore, the overall earning fell by 6.24 percent year on year between July and March period (the first nine months of the current fiscal year) to $28.97 billion.
The earning from the nine months of current fiscal is also 14.52 percent lower than the periodic target of $33.89 billion, according to the EPB data.
The earning between July and March of the fiscal 2018-19 was $30.90 billion.
The receipts from garment shipment between July and March of the current fiscal year also declined by 7.12 percent year on year to $24.10 billion, which is 15.29 percent below of the periodic target at $28.45 billion.
Of the total earning from garment items, $11.95 billion came from knitwear shipment and $12.14 billion from woven garment export, registering year on year fall of 6.61 percent and 7.61 percent respectively during the nine months of the current fiscal year.
Export of frozen foods declined by 3.91 percent year to year to $402.6 million, agricultural products by 0.1 percent to $721.98 million, leather and leather goods by 10.78 percent to $688.51 million, terry towel by 29.12 percent to $30.04 million and home textile by 7.59 percent to $598.19 million, the EPB data said.
However, exports of some goods also increased between July and March of the current fiscal year.
For instance, jute and jute goods shipment increased by 23.49 percent to $775.63 million, carpets by 23.61 percent to $18.06 million, pharmaceuticals by 6.50 percent to $106.22 million and footwear by 25.17 percent to $242.07 million.
The real impact of coronavirus outbreak on export cannot be realised based on March export receipts, Ahsan H Mansur, executive director of Policy Research Institute (PRI), told The Daily Star.
The March receipts were based on shipments made earlier, while coronavirus outbreak started affecting the production in the local industries from the beginning of April, when majority of the production units had to shut down.
Mansur's observation is also reflected on the shipment of garment between April 1 and April 15.
For instance, garment export drastically fell by 83.74 percent year on year to $194 million in the first 15 days of April compared with the same period of last year, according to data from Bangladesh Garment Manufacturers and Exporters Association (BGMEA).
During the same period in 2019, the earning from garment shipment was $1.19 billion, the data also said.
Majority of western retailers and brands shut down their stores in the Europe and the US due to coronavirus pandemic.
Many international retailers and brands have already cancelled work orders from different local factories, worth more than $3.11 billion as of this week.
The worst-affected countries from coronavirus, such as Italy, the UK, the US, France, Spain and Germany are the prime destinations of Bangladesh's export of garment items.
Mansur, however, suggested to continue the export even if it is possible to export 20 percent if not full, as there is a demand for Bangladeshi goods to international buyers.
"During this long time we should not sit idle. We need money and employment," Mansur said.
Many of the countries like Spain and China have been opening up their factories and markets, he said.
It will, however, take a lot of time to restore of normalcy worldwide, Mansur said.
The trade bodies have been developing a guideline for opening up the factories.
"We have to keep in mind that the factories opening is very dependent on the global situation rather than our domestic one. The demand is there for Bangladeshi goods. We have to think about it," Mansur also said.
However, Bangladesh should speed up the testing of coronavirus patients to know the depth of the situation, which will help to take a more informed decision, Mansur said.
The government should form a consulting forum consisting of experts, which will counsel in this regard. The traditional bureaucratic decision making might not work well, he added.