Export dev fund being raised to $5.5b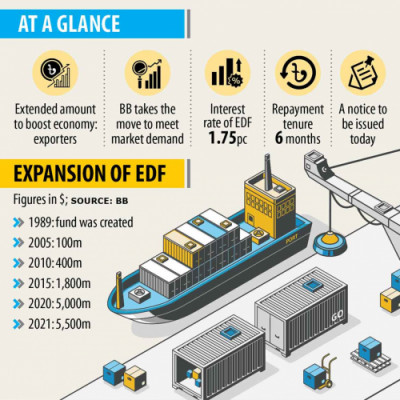 Bangladesh Bank has decided to increase the size of its export development fund (EDF) as it reaches out to businesses tackling slowdowns from a recent resurgence in daily Covid-19 cases, the highest since last July.
The fund will come to stand at $5.5 billion upon the addition of $500 million, said a central bank official.
A notice is scheduled to be issued today stating the decision would take immediate effect.
The fund last saw a raise in April 2020 from $3.50 billion soon after the coronavirus was first detected in the country.
The increase is expected to help exports rebound, given the fund had been depleted recently amidst immense demand for loans from the fund.
In addition, the central bank is allowing "Type-B" companies of export processing zones (EPZs) to avail foreign currency loans from the fund since last week.
Firms with 100 per cent foreign ownership are considered "Type-A". Joint venture companies with foreign and Bangladeshi ownerships are treated "Type-B" and those with 100 per cent Bangladeshi ownerships "Type-C".
Several years ago, the central bank allowed "Type-C" companies to enjoy loans from the fund.
The EPZ decision fuelled demand for the fund, said the BB official.
 "This is a time-befitting decision beyond a doubt as it will make the whole economy vibrant," said Kutubuddin Ahmed, chairman and founder of Envoy Group, a conglomerate focusing on readymade garments and textile manufacturing.
The economy faces setbacks from time to time due to different causes but taking proper measures in tackling the situations is important, he said.
If the country's export sector suffers from a problem, it will have a spill over effect on the whole economy, Ahmed added.
Exporters use the fund to settle import bills on time to secure raw materials smoothly.  
Loans from the fund had to be paid back within three months from the date of disbursement but the central bank recently increased the repayment tenure to six months.
The extension is due to stay in effect until June this year.
The central bank earlier also brought down the interest rate on the loans.
Banks now receive the fund from the central bank at 0.75 per cent interest rate and will be allowed to charge borrowers a maximum 1.75 per cent.
The previous rate was 2 per cent.
The revolving fund was introduced in 1989 by way of taking support from World Bank.
The central bank, however, injected money 2-3 years later.
The whole fund now comes from the central bank's foreign exchange reserves.
The swelling of foreign exchange reserves to more than $43 billion at present also influenced the central bank's recent decisions.