Electrical products' market growing fast
Credit goes to rapid urbanisation, increasing power generation and rising income of people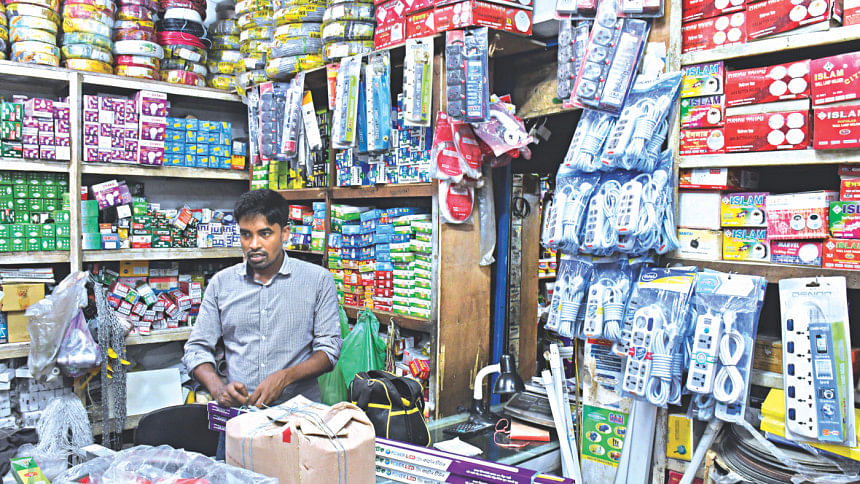 The domestic market of electrical products and wiring solutions is growing fast thanks to the rapid urbanisation, increased availability of electricity and rising purchasing power of the general mass. 
Such products now have a market of Tk 5,000 crore, which was hardly around Tk 1,500 crore in 2010, said Kamruzzman Kamal, director for marketing of Pran-RFL Group, the owning entity of a major market player RFL Electronics. 
MM Arslan, head of marketing at Bangladesh Lamps Ltd, thinks increasing power generation and massive electrification in rural areas have played the vital role for the market to grow in the last 10 years.  
On May 29, Bangladesh produced 12,893 megawatts of electricity, the highest ever and a straight fourfold increase from what it was in fiscal 2009-10, according to the power division. 
The government data says a staggering 93 percent people now have access to power and the number of beneficiaries has doubled within a decade.  
Moreover, per capita income more than doubled during the period, from $751 in 2009-10 to $1,909 last fiscal year, according to budget documents.  
The new tax incentives introduced by the Industrial Policy 2016 have also encouraged the local entrepreneurs to make new investments in the sector, Arslan said. 
Arslan said his company—a concern of Transcom Group—manufactures electric light bulbs, compact fluorescent lamps, tube lights and other lighting products. 
Manufacturers of branded products cater for 50 percent of the local demand while the non-branded local and imported goods meet the rest, he said. 
Most of the consumers do not care about the quality and safety issues of electric products, he said. "They only look for low-priced products." 
The quality of local electronic goods is better than the imported ones and the price is reasonable, said Nurul Aktar, CEO and a director of Energypac Electronics Ltd.   Local manufacturers, however, are facing unhealthy competition from non-branded imported products, he said, adding that his company produces home wiring accessories, light-emitting diode (LED) bulbs and tube lights and ceiling fan. 
Despite a rise in the purchasing power, a large group of people still prefer using the substandard and low-priced goods available in the market, Aktar said. 
"But customers should go for buying quality products for the sake of safety." 
RFL Electronics started its operation in 2012 and it currently meets about 10 percent of the total demand for electrical products and its annual growth is around 15 percent, Kamal said. 
Now, RFL manufactures cables, switches, fan, LED bulb, circuit breakers and electrical accessories under four brands, namely Click, Bizli, Proton and Vision, he said. 
Walton began manufacturing electric accessories and appliances in 2016 and within three years, it captured around 15 percent of the market share, said Augustin Sujan, deputy director of the company. 
The company has set a target to double the market share by next year and hopes to be the market leader in the segment in the coming years, he said.  
Other noted manufacturers of electrical products are Super Star Group, MEP Group and ACI.