Domino's to roll out 30-minute pizza delivery
American chain has eyes on the top spot in Bangladesh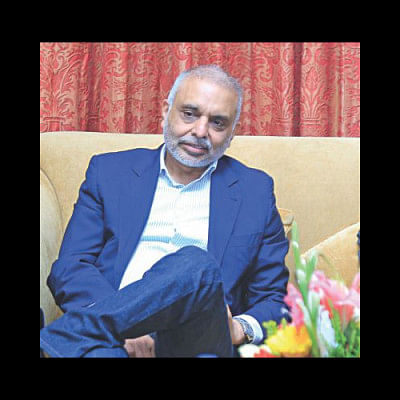 Domino's, the world's leading pizza chain, is planning to introduce 30-minute pizza delivery service in Bangladesh within the next three months, in a development that can fuel competition in the country's restaurant scene.
"Domino's delivers pizza within 30 minutes all over the world," said Hari S Bhartia, co-chairman of Jubilant FoodWorks, the master franchise holder of Domino's in India, Sri Lanka, Bangladesh and Nepal.
Jubilant teamed up with Golden Harvest QSR, a subsidiary of local Golden Harvest Agro Industries, to introduce Domino's to Bangladesh. It will have a 51 percent stake in the company Jubilant Golden Harvest and Golden Harvest the remaining 49 percent stake.
Bhartia, who is also the founder and co-chairman of India's $5 billion Jubilant Bhartia Group, sat down with The Daily Star for an interview on the eve of the inauguration of the first Domino's restaurant in Bangladesh.
The restaurant located in capital's Dhanmondi opened its doors on March 15.
With Domino's, the total number of American pizza chains that have set foot in Bangladesh comes to four.
"I think we are late in entering in Bangladesh as we were so focused on India. We should have come here earlier."
The other brands that are already here have created a market for pizza and it is a blessing for pizza brands like Domino's.
"But Domino's has a very special proposition: we are very good at delivering."
Food delivery is becoming very popular all over the world as people have lesser time to spend on preparing a meal at home due to the hum of modern life.
Quizzed about the part the infamous Dhaka traffic would play in maintaining Domino's 30-minute delivery timeframe, he said: "There is traffic everywhere in the world."
Besides, Domino's offers the 30-minute timeframe to those areas that are within a certain radius of its stores.
"When there is traffic, we increase the density of stores."
The company plans on setting up five restaurants in the first year of its operations by shelling out Tk 10-15 crore and focusing on accelerating growth after that.
Jubilant Golden Harvest has already set its sights on making Domino's the number one pizza brand in Bangladesh over the next five years.
Being one of the fastest growing economies in the world, Bangladesh offers great growth prospect, Bhartia said.
More importantly, the country has a very large population base, a sizeable youth population and a strong middle-class.
According to estimates of Jubilant, the fast food market in Bangladesh is growing at 13-15 percent every year. And pizza accounts for one-fourth of the market, which stands at Tk 1,000 crore.
"You can see the energy. When a country grows at 7 percent annually, this business has to grow at double digit," said Bhartia, a chemical engineering graduate from the Indian Institute of Technology (IIT), Delhi.
Both India and Bangladesh have the opportunity to grow because of having a large local market.
"It's not about only exports. And in today's environment, when a lot of barriers of trade have emerged, having a large local market will give you protection."
The key thing for Domino's in Bangladesh would be the affordability of its famed hand-tossed pies.
"You should make it as affordable as possible and give value to the customer so that they have pizza not once in two years but more often. And more people should try."
The starting price of Domino's pizzas in Bangladesh is Tk 149. Most of the ingredients are sourced locally; those that are not available here would be brought in from abroad.
"But we would definitely like to develop a supplier base here. Even if something is not available, in the next five years the efforts will be to develop it locally."
As part of Domino's charm offensive, it has also developed some local flavours such as spicy curried beef apart from the regular international flavours.
Most of the staff at Domino's restaurants would be hired locally and trained by foreign experts.
Bhartia, also a former president of the Confederation of Indian Industry, has been associated with India's Ministry of Human Resource Development.
"In India and so in Bangladesh, we need to build more occupational skills," said Bhartia.
Jubilant FoodWorks, which also holds the franchise of Dunkin' Donuts in the four countries, is the market leader in pizza segment and with a network of 1,200 Domino's Pizza restaurants across 271 cities in India.
In 2018, Domino's surpassed Pizza Hut to become the largest pizza chain in the world. The company reported $12.20 billion in global sales for 2017, edging out the former titleholder that logged in $12.03 billion.