Contracts signed with Japanese firms for Matarbari port project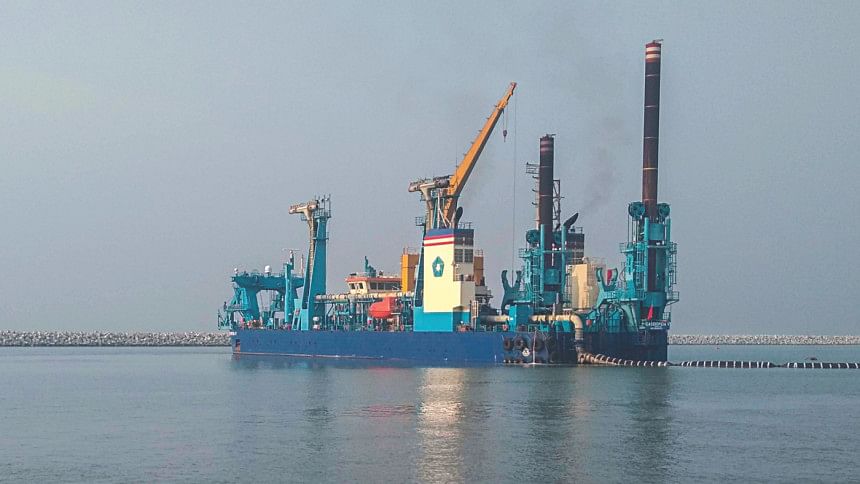 Bangladesh yesterday signed two agreements with the joint ventures led by two Japanese firms to appoint consultants for the engineering and consultancy services for the Matarbari Port Development Project.   
Nippon Koei Joint Venture of Japan has been selected as the top-ranked consulting firm to render engineering-related services with a negotiated contract price of Tk 234 crore.
A joint venture of Oriental Consultants Global Co Ltd, DDC Ltd and BCL Ltd has been selected as the consulting firm to render services related to the Roads and Highways Department (RHD)'s component of the project with a negotiated contract price of Tk 466 crore.
The Chattogram Port Authority (CPA) inked the deal with the Nippon Koei JV and the RHD struck the other agreement with the JV of Oriental Consultants Global at a programme at the Hotel Intercontinental in Dhaka, the shipping ministry said in a press release.
While attending the ceremony virtually, Khalid Mahmud Chowdhury, state minister for shipping, appreciated the findings of a study that placed the Matarbari deep seaport on the same channel developed by the ultra-supercritical coal-based power plant project with a little modification.
He said this could be a lesson on how to maximise the benefit of investment and value for money strategy.
The port would broaden the country's rights in the Bay of Bengal, said Planning Minister MA Mannan.
Yuho Hayakawa, chief representative of the Japan International Cooperation Agency in Bangladesh, said the Jica is happy that the contract for the consultancy services of the project was signed.
The Jica's mission has been working closely with the shipping ministry, the CPA and the RHD from the inception of the project and is ready to work until its completion, he said.
The Matarbari project in Cox's Bazar is expected to complete by 2026. Once officially launched, ships that can ply in the sea waters as deep as 18.5 metres and carry about 8,000 twenty-foot equivalent unit of containers would anchor at the port. This would bring down the transport cost by about 15 per cent.
The project would cost Tk 17,777 crore. The Jica would provide Tk 12,892 crore in loans, the CPA Tk 2,213 crore and the government Tk 2,671 crore.
Shipping Secretary Mohammed Mezbah Uddin Chowdhury and Japanese Ambassador Hiroyuki Yamaya were present.