Complex regulatory regime may hinder 5G: Banglalink CEO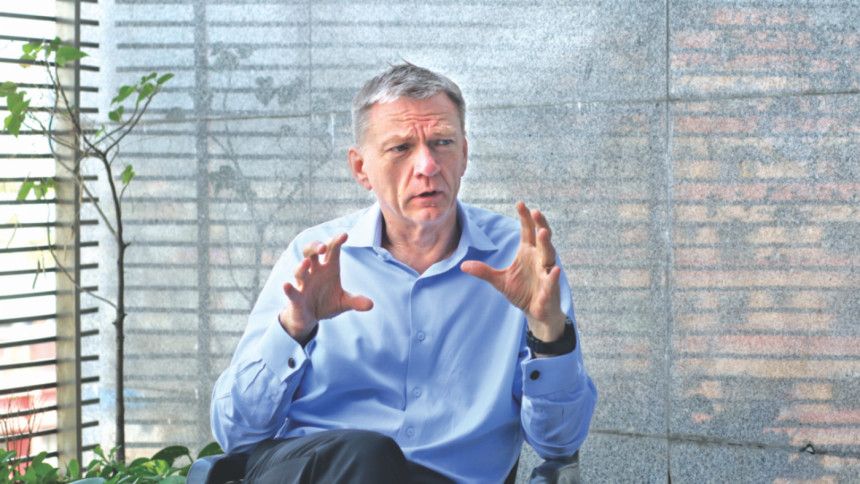 Bangladesh's current complex telecom regulatory regime, which has already prevented the sector from achieving its full potential, is not conducive for efficient functioning of 5G service, said the top executive of Banglalink.
The government is aiming to roll out the latest generation of cellular mobile communications by 2021 and has already carried out test runs in July last year, becoming the sixth country in the world do so.
"It will be almost impossible to deliver 5G service in a cost-efficient way with the current telecom regulatory regime," Erik Aas, chief executive officer of Banglalink, told The Daily Star in an interview on Tuesday.
There are so many telecom licences and regulations in Bangladesh that can't be found anywhere in the world.
"Regulations related to tariffs, penalties and so many other issues create complexity in the system. When the industry is trying to serve customers with a simple technology, the regulatory regime is still pushing us to use old-fashioned technology."
Like in many other countries, mobile operators in Bangladesh also want to offer free voice calls if users buy high volume of data.
"But the telecom regulator is not allowing that to happen. I think the complex regulatory regime has delayed the industry's development."
Aas, who has vast experience of working in Asia, the Middle East, South East Asia and Europe, said the way people are now using internet and voice is fundamentally different than what it was five years ago and the technology behind this is totally different.
Telecom services have also changed.
"But the regulation is still the same."
There are some unnecessary licences in the telecom system in Bangladesh and one of them is related to the international gateway operators (IGWs), which manage both incoming and outgoing international calls.
"The IGWs have nothing to do with the telecom business but 29 licences have been given out," said the Norway national, who took helm of Banglalink, the third-largest mobile phone operator in Bangladesh, in December 2015.
Similarly, the interconnection exchanges (ICXs), which manage local calls, are irrelevant and only raise the cost for customers, he said, adding that ICXs get Tk 0.03 for every minute of a voice call.
Some other challenges confronting the mobile operators include the world's highest spectrum price and a policy that bans them from laying fibre optic cable on their own and building towers.
The network ecosystem is already creating problems for 4G and it will become even more visible when 5G is rolled out, Aas said.
"We need three times more spectrum than we currently have but the price is so high that we can't afford it. Spectrum price needs to be in line with the country's economic position."
The quality of fibre connectivity is very poor in Bangladesh.
"And there is not enough competition on who will lay the cables. As a result, we are compelled to use the links of very bad quality. I don't understand why the telecom regulator has forbidden the operators from developing their own fibre connectivity."
About the restriction on mobile operators from setting up telecom towers on their own, he said the issue has reached a deadlock as only four players have received licences but they are not coming up with competitive prices and quality.
Aas, who was the CEO of Grameenphone from 2004 to 2007, said his former charge is the only profitable telecom operator in Bangladesh.
He went on to welcome the Bangladesh Telecommunication Regulatory Commission's move to slap Grameenphone with the tag of significant market power (SMP) -- a policy that prevents a dominant player from expanding.
About 85 percent of the countries have adopted the policy to enhance competition, he said.
"Controlling financial matters is the only solution to enhancing competition. But there is no need to control advertisement or some other stuff that are not relevant."
About Banglalink's service quality, Aas said the operator is not too worked up about call drops as the young generation, which form a major portion of its subscriber base, is not too bothered about it.
"They want quality data -- and ensuring the expected service is a challenge for the industry."
Aas, who has been observing Bangladesh since 2001 as the board member of Grameenphone, said the country has grown aplenty over the years and telecom services now help change the lives of users.
The turning point for the telecom sector came in 2004-05 when the price of handsets went down drastically, he said.
About the tax incidence, he said: "If a customer spends Tk 10 for telecom service, half of it goes to the national exchequer. This is something that has impacted the industry."
In 2018, Banglalink logged in Tk 4,365 crore in revenues, down 6.07 percent year-on-year. Its business has been growing since the last quarter of 2018.
The operator invested heavily from the last quarter of 2017 through to 2018, which is yielding positive results now.
When Aas joined Banglalink three years ago, it had about 2,400 employees. Now it employs 1,100 people as the operator engineers to reshape itself.
He also took the opportunity to deny a rumour that Banglalink was selling its business to India's Reliance Jio.