Chinal: the fruit of the hills and a new source of income for many
Research says it can now be cultivated on plain land
Chinal is a jhum fruit. The people of Chittagong Hill Tracts have planted this fruit for years as a companion crop with others.
Agriculture scientists now say it will not only be cultivated on jhum land but will also be cultivated in the plains from now on.
Chinal is grown in different countries of Asia including China, Laos and Cambodia and in Chittagong Hill Tracts, it is usually cultivated on hill slopes. It is now highly valued in various parts of the plains as well for its sweet taste and fragrant smell.
It is known by different names in the hill tracts. The Chakmas call it Chindira, Tanchangya people call it China, the Marma call it Sugusi, and the Tripura people call it Taichumu. In English, Chinal is essentially known as Honeydew Melon and is cultivated in all three hill districts.
Agricultural scientists have discovered a new variety of Chinal which they have termed 'Bari Chinal'.
On a recent visit to the Raikhali Hill Agricultural Research Center in Kaptai upazila of Rangamati district, this correspondent saw that the fruit was cultivated experimentally on their land and produced a good yield.
According to scientists of the Hill Agriculture Research Center, the production of this fruit was not so well known. As a result, it has simply been grown in the hills for many years without gaining much popularity outside. Research on this fruit started in 2008 under the supervision of the Hill Agriculture Research Center.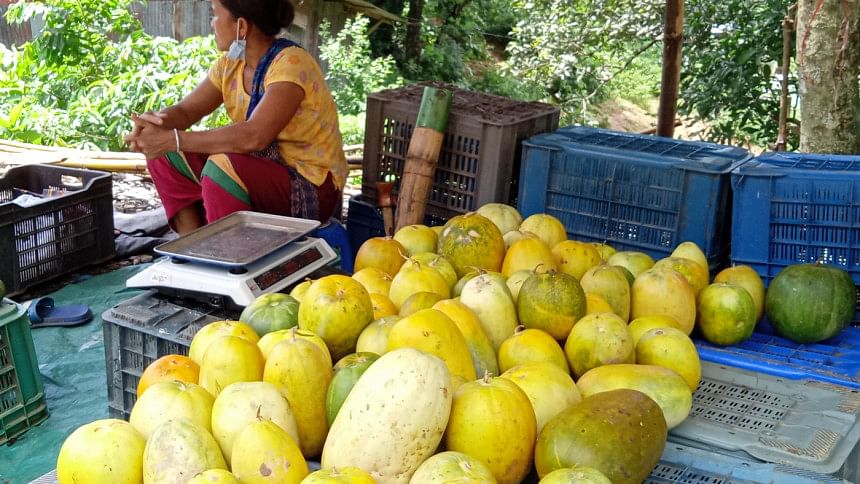 Md Altaf Hossain, Chief Scientific Officer of Raikhali Hill Agricultural Research Center, said "Our center conducted research from 2008 to 2015 on how this fruit can be cultivated in the hills as well as in the plains. Later we invented a new variety called Bari Chinal-1. It can now be cultivated on plain land as well."
In the local markets, jhum farmers are selling Chinal for TK 40-60 a piece. The fruit can be eaten both raw and ripe.
Department of Agricultural Extension (Rangamati office) said March and April are the proper time to sow seeds of the Chinal. Its seeds are sown by mixing at least 20 to 30 vegetables including paddy, sesame, maize, chilli, beans and eggplants. There are five to six types of chinal in the hills. The weight of a ripe chinal can range from half a kg to 3kgs.
Under the paddy, eggplant and chilli plants, the chinal vine bears fruits in the soil.
Jhum farmer Mangal Dhan Chakma of Rangamati sadar upazila said "there was a time when chinal was not sold in the markets. So, I used to cultivate only according to my own needs. But day by day, the demand for ripe chinal is growing."
"Wholesalers are selling it not only to local bazaars in the hills, but are also supplying to different places of the country including Dhaka-Chattogram" he added.