Boro harvest begins amid falling rice price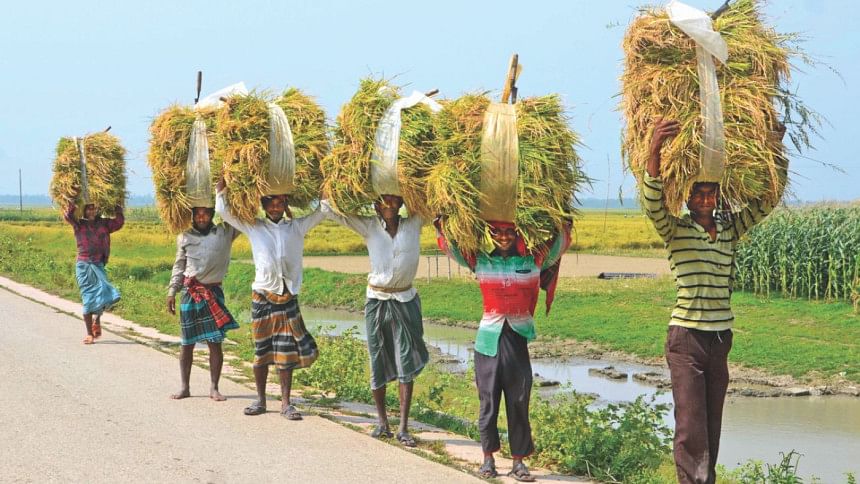 Farmers have started harvesting the biggest paddy crop, boro, in various parts of the country but the declining prices of the staple have stoked concerns of losses.
The prices of rice have been falling for the last several months owing to good harvests in the previous three crop seasons.
On April 22, the wholesale price of coarse grain of boro rice was Tk 26-Tk 28 per kg in Dhaka Sadar, down from Tk 27.50-Tk 29 a month earlier. Three months ago, it was selling for Tk 30-Tk 32, according to the Department of Agricultural Marketing.
This time last year, the coarse boro grain was selling at Tk 37-Tk 38 a kg at the wholesale level.
And millers say the prices are likely to fall further once the freshly harvested rice is added to the existing stock of 12.68 lakh tonnes.
"There is plenty of stock of rice and appetite for the cereal from traders is low," said Nirod Boron Saha, a rice and paddy wholesaler and commission agent at Naogaon, a major rice trading hub in the northwest.
Amid the scenario, farmers in northeast Bangladesh, particularly those regions marked by backwater swamp, have recently started harvesting paddy as a precautionary measure to sudden onrushes of water, which is expected soon.
"The market is down and the presence of buyers is still low," said Jyotimohon Das, a farmer in Sunamganj, located in northeast Bangladesh.
At present, the just-harvested coarse paddy is selling for about Tk 500 per maund, which is less than last year.
Take the case of Rajib Talukder, a grower in Netrokona, who could bag only 16 maunds of paddy from nearly two acres of land. He sold each maund of paddy for Tk 475, which is almost 21 percent lower than last year.
Farmers have planted paddy on 49.33 lakh hectares area in the current boro season, according to the Department of Agricultural Extension.
KM Layek Ali, general secretary of the Bangladesh Auto Major and Husking Mills Association, expects the overall yield would be good this season if there is no natural disaster.
In such a scenario, the prices of paddy are unlikely to cross Tk 500 a maund, he said, while demanding the government allow export of two lakh tonnes of fine rice.
"Otherwise, the government will have to buy more rice to protect growers from losses this season," he said.
The government earlier announced it would purchase 12.50 lakh tonnes of rice during the current boro season.
However, Saha said the government could export rice instead of allowing the private sector to do the job.