2020: a turbulent year for apparel
Vaccines rekindling hope as apparel exporters wade through all odds to stay afloat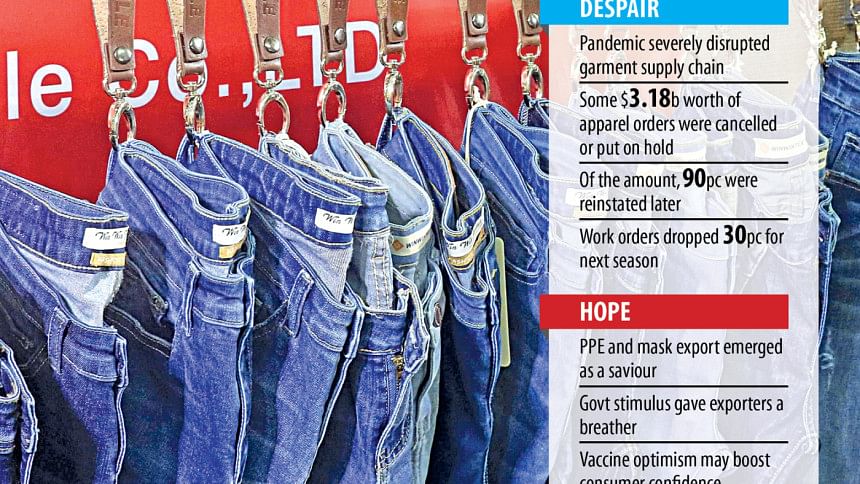 For many, 2020 has been a year of despair. The unprecedented effects of Covid-19 have jolted economies and supply chains worldwide with Bangladesh being no exception.
As a major player in the garments sector, Bangladesh has been severely affected by the coronavirus fallout.
Primarily, the supply of raw materials to local garment factories was disrupted when China—Bangladesh's main source for such goods—halted all shipments between March and April due to the coronavirus outbreak.
But despite all the gloom and doom, Bangladesh's apparel exporters hope for brighter days ahead with the arrival of a Covid-19 vaccine that would save both lives and businesses.
They also look forward to fresh investments that would help add to their nearly $750 billion contribution to the industry's global value chain.
During the March-April period, the garments sector faced order cancellations and delays worth about $3.18 billion.
The government had imposed a nationwide 'general holiday' between March 26 and May 30, when all economic activities across the country were shut down.
However, garment factories were allowed to continue operations if they had sufficient work orders from international buyers or if they wanted to produce Personal Protective Equipment (PPE).
But the sector plunged into deeper troubles when numerous international buyers offered lower prices and deferred their payments at a time when restrictions on movement caused delays in shipment.
As a result, many workers lost their jobs as the factory owners were forced to shutter their units following a drastic fall in production.
Besides, amid the threat of a second wave of Covid-19 infections, exporters received 30 per cent fewer work orders for next season (December to March) compared to the pre-pandemic levels.
What followed were heated protests at major industrial hubs such as Ashulia, Gazipur, Savar, Narayanganj and Chattogram, where terminated workers took to the streets with a demand to get their jobs back.
At the same time, PPE production breathed new life into the sector as the demand for such items has gone through the roof amid this time of crisis.
"It has been extremely difficult for us to battle the coronavirus fallouts as the economic uncertainty worldwide had a negative effect on us," said Rubana Huq, president of the Bangladesh Garment Manufacturers and Exporters Association (BGMEA).
The BGMEA chief highlighted three important issues that could prove crucial for the sector's future growth and sustainability.
First, the sector needs product diversification, including the production of man-made fibres.
Second, the workforce needs to be reskilled so that they can cope with the advent of modern technology.
Third, Bangladesh needs to be branded as a shining example for the global garments sector, Huq said.
Around 300 small-and-medium garment factories were shut down in Dhaka and Narayanganj, affecting the jobs of roughly 48,000 workers, according to BGMEA data.
Of the closed factories, not a single one has reopened yet, said BGMEA Director Md Rezwan Selim.
The Daily Star could not independently verify the exact number of displaced workers but Selim, who is responsible for monitoring labour affairs, said the majority of these workers had been re-employed following the return of work orders and capacity expansion at certain factories.
The small and medium enterprises (SME) did not get funds from the government's stimulus packages in a timely manner due to the stringent conditions placed on the benefit and also because they were engaged in subcontracting, according to Selim.
Around 1,200 SMEs are in big trouble as they either lack the work orders or financial strength to deal with the lower price pressure from buyers because of the absence of funds from the stimulus packages.
The Covid-19 fallout also forced the garment sector to adopt new policies for the first time in its four-decade history.
For instance, factory owners disbursed about Tk 3,000 crore to their workers every month through various mobile financial services (MFS) in a bid to maintain social distancing.
"Making sure that the workers were paid through MFS was an important achievement since registering so many people with the system within such a short period of time was truly remarkable," said MA Razzaque, chairman of Research and Policy Integration for Development (RAPID).
Although the stimulus package for wage support in the export industry was an effective policy response, perhaps more proactive support measures could be considered for the informal sector workers and other vulnerable groups, he added.
If the world economy recovers fast in 2021, then Bangladesh's garment sector would benefit from it as well.
"I would also like the Biden administration to smooth over our existing trade disputes while the World Trade Organisation could renew its commitment for multilateralism," said Razzaque, also the research director of the Policy Research Institute (PRI).
2021 will be a significant year for Bangladesh as it will celebrate its 50th year of independence and qualify for graduation from a least developed country (LDC).
Razzaque went on to say that 2021 should be a year where promoting the country's export competitiveness will be a top priority.
"A clear LDC graduation action plan should be formulated alongside a much bigger push for export diversification in 2021," he said.
Meanwhile, the global outlook depends on how fast developed countries in the west manage to vaccinate their population.
"I also hope foreign direct investment will also pick up," Razzaque added.
On the export front, Bangladesh's garment shipments fell to $0.37 billion in April, the lowest monthly total in the country's history since 1978, when the first consignment of formal woven shorts were shipped.
However, exports started recovering following the arrival of a stimulus package totalling Tk 10,500 crore for paying the wages and allowances of garment sector workers.
According to the Transparency International Bangladesh, the textile and garment sectors have received about Tk 62,887 crore as stimulus funds from the government and private organisations.
In the January-November window of 2020, Bangladesh's total garment exports stood at $24.83 billion, a 17.64 per cent year-on-year fall from $30.15 billion, according to data from the Export Promotion Bureau (EPB).
However, shipments of knitwear items are on the rise following a change in the global fashion sense amid Covid-19, when most people prefer comfy clothes to stay at home with.
Of the total earnings from garment shipments in July to November, $7.13 billion came from knitwear items, which registered 4.8 per cent year-on-year growth.
Meanwhile, woven items fetched $5.75 billion, a decline of 8.29 per cent, according to EPB data.
Kutubuddin Ahmed, chairman of Envoy Group, said he has no plan to expand his business next year as he is now trying to make his business more sustainable by recycling yarn and other wasted clothing items.
"We thought that the business would return to normalcy by December but then the second wave started in the UK and all business with the country got subsequently halted. We may be optimistic but the reality is different."