Beximco Pharma shares perk up on vaccine deal
Its stock price soared 58pc in three months; DSEX rose 2.16pc last week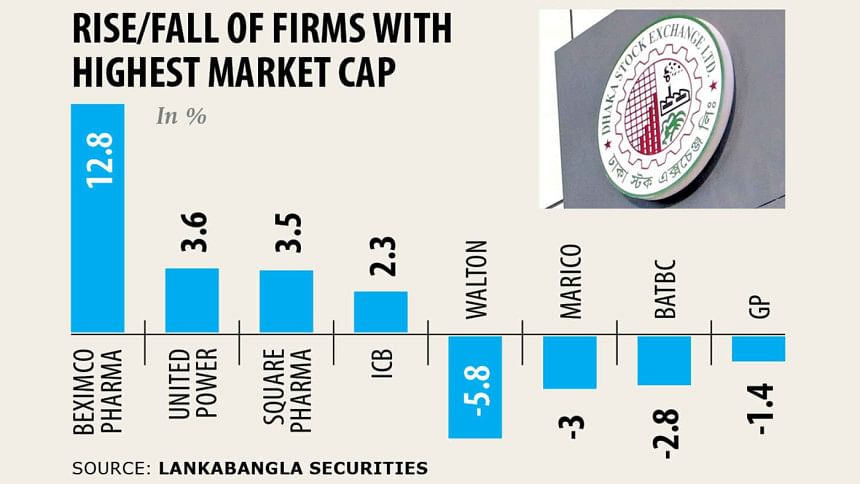 Beximco Pharma has been the top choice for stock investors in the last few weeks as they believe the drug producer will make higher profits in the days to come with the administering of a Covid-19 vaccine in Bangladesh.
Stock price of the local drug maker rose 58 per cent to Tk 174 in a span of the past three months.
Piggybacking on the upward trend in pharmaceutical and insurance sectors, the DSEX, the benchmark index of Dhaka Stock Exchange, rose 110 points or 2.16 per cent before closing the week at 5,218.
During the period, average daily turnover, another important indicator of the stock market, rose around 23 per cent to Tk 1,124 crore from that the previous week.
Business for pharmaceutical companies did not fall, rather their prospects rose thanks to the emergence of Covid-19 and thereby prices of their shares increased, said Md Sayedur Rahman, managing director of EBL Securities.
"On the other hand, stock of Beximco Pharmaceuticalswas undervalued considering its earnings," he said.
Net sales of the company—that holds an 8.5 per cent share of the country's Tk 230 billion pharma market—rose 12.3 per cent year-on-year to Tk 2,561 crore in 2019-20.
Its profit rose 16.6 per cent year-on-yearto Tk 354 crore in the last financial year, according to its annual report.
Moreover, Beximco Pharma's vaccination agreement with the government boosted investors' confidence, he said. "Its price has been rising since the last few months and last week was not an exception."
On November 5, a trilateral memorandum of understanding (MoU) was signed among the government of Bangladesh, Serum Institute of India and Beximco Pharmaceuticals to collect three crore doses of Covid-19 vaccines from Serum.
Pune-based Serum has an agreement with AstraZenea to manufacture the vaccine being developed by the Oxford University.
Once the vaccine is approved for human application, Beximco Pharma will buy each dose from Serum for $4 and then supply it to the government for $5.
The three crore doses will be delivered in phases with 50 lakh doses every month, according to the agreement.
In a Daily Mail report that was published on December 21, the Medicines and Healthcare products Regulatory Agency (MHRA) has been doing its final review of the vaccine for three weeks now since November 27, with a decision expected by next week.
Beximco Pharmaceuticals launched Bemsivir which had some impact for the treatment of Covid-19.
Beximco, that holds around 29 lakh shares of the drug making company, topped the turnover list of the DSE last week followed by Beximco Pharmaceuticals, IFIC Bank, LafargeHolcim and Orion Pharmaceuticals.
Beximco led the gainers' list also with a 44 per cent rise in share price in a week while Dominage Steel shed the most with an 18.78 per cent fall.
Among the market capitalisation leaders, Beximco Pharmaceuticals rose 12.8 per cent and Square Pharmaceuticals 3.5 per cent last week.
Among the sectors, non-life insurance companies topped the gainers' list. Stocks of the insurance sector rose 6.38 per cent while pharmaceuticals soared around 3 per cent.
The insurance industry has been suffering from an anarchy, which has been solved recently, said Rahman, also president of Bangladesh Merchant Bankers' Association.
Agent commission in the industry has been hovering between 60-70 per cent for a long time, which used to eat up a big pie of the insurance company's profits, he said.
Thing started changing when the insurers started abiding by the regulator's order to disburse highest 15 per cent commission to the agents, he said.
Monitoring became a lot easier when the Insurance Development and Regulatory Authority made it mandatory for the insurers to pay agent commission through bank accounts, he said.
The insurance regulator has also brought in some other reforms, which improved investors' confidence to a great extent, added Rahman.