Betel leaf export to EU resumes after 6 years
Likely to generate $50m a year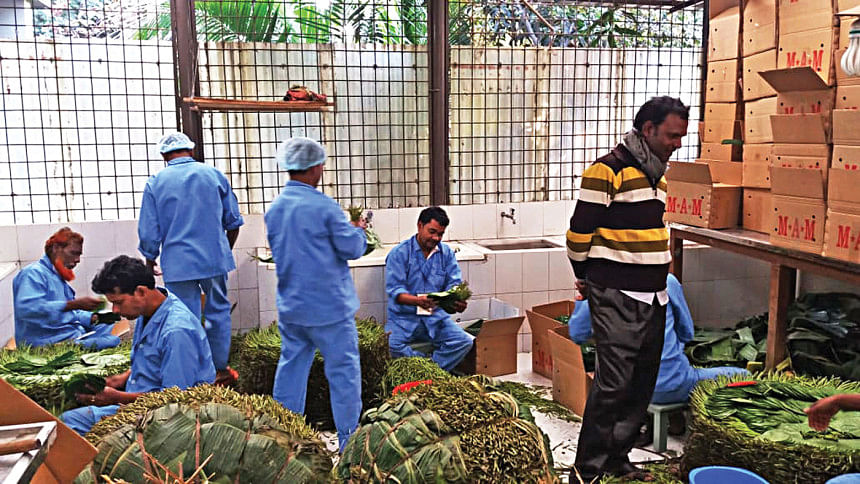 After a long six-and-a-half years, betel leaf export to the European Union has resumed following a recent lifting of its ban, with the first consignment of one metric tonne being sent off for the United Kingdom yesterday.
Agriculture Minister Muhammad Abdur Razzaque sent off the consignment through a programme titled "Safe and Quality Betel Leaf Export to Europe" at a Central Packing House of the Department of Agricultural Extension in Shyampur of Dhaka.
In February 2014, the EU imposed a ban on betel leaf exports from Bangladesh till June 30, 2015 due to the presence of harmful Salmonella bacteria in the leaves.
They also set some conditions, including supplying Salmonella free betel leaf and providing associated health certificates and following good agricultural, hygiene and manufacturing practices from production to shipment.
The restriction was gradually extended to 2020 as Bangladesh could not meet the conditions.
The ban was withdrawn on May 15 based on some conditions after Bangladesh sent documents verifying meeting the previous conditions.
The new conditions include resumption of the ban if anomalies were discovered, that 50 per cent of the leaves would be checked for Salmonella and that every shipment be provided with health certificates from international-standard testing labs.
The ban caused Bangladesh to lose the opportunity of exporting betel leaf to 29 countries, reducing import earnings to $1.90 million (2019-2020) from $29.48 million (2013-2014).
Addressing yesterday's programme as chief guest, Razzaque said the recent developments gave hope and were very crucial and that the ministry would continue ensuring unhindered export of betel leaves.
He said the export resumption would enable Bangladesh to earn around $50 million per year.
"Considering the fact that we earn $40 to 45 billion from overall exports, $50 million is very little. But together we export $900 million worth of agricultural products, which is very significant," he said.
Razzaque said there was a lot of potential for agricultural product export and efforts were underway to increase shipments to developed countries, including Europe.
"Work has already started to implement a good agricultural practice policy in the country. Non-toxic vegetables are being produced all over the country through integrated pest management. Accredited labs are issuing certifications," he added.
The event was organised by the Department of Agricultural Extension (DAE), Bangladesh Fruits Vegetables and Allied Products Exporters Association and Business Promotion Council of the Ministry of Commerce.
Shamsul Alam, additional director of Plant Quarantine Wing of the DAE, and the association's adviser Manjurul Islam presented a paper highlighting the context of safe and quality betel production and export.