Behaviour change during Covid-19: Could social marketing do it differently?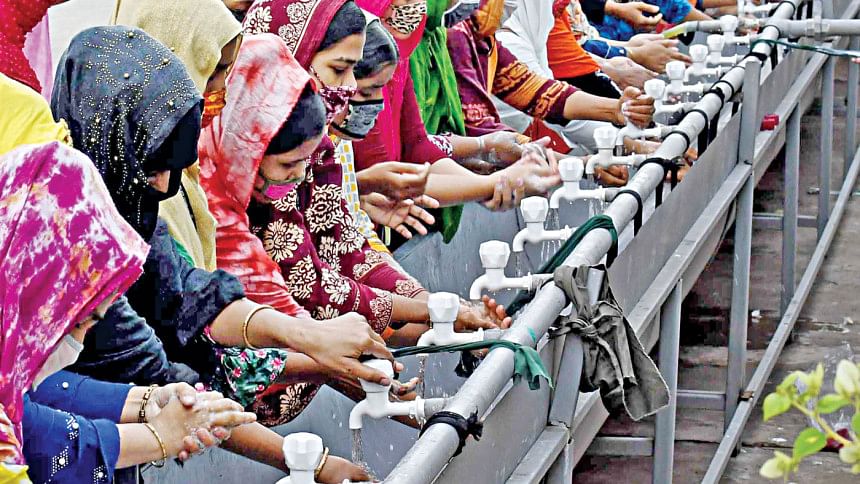 Human behaviour is complex, dynamic, unpredictable and it has both positive and negative impact on individual, community and environment. In this pandemic, WHO prescribed certain individual behaviour change like washing hands, wearing mask, maintaining health etiquette and keeping social distance to prevent the spread of Covid-19 thereby positively impact the lives of individual, community and environment.
In response to these guidelines, different government wings, corporate houses, non-profit organisations and mass media of Bangladesh undertook different communication campaigns.
However, the campaigns seem to yield little satisfactory impact on changing the behaviour of the masses.
In the context of Bangladesh, adoption of the mentioned behaviours for mass is new and competing with their existing lifestyles. Simply telling people to change, or giving them information and expecting them to act on it, may not work here. Unless, there is a voluntary behaviour change by individual, positive outcome is difficult to achieve.
However, voluntary behaviour change is far more complex and challenging; requires a truly consumer-centred approach to understand why, how and in what context the behaviour is situated. In this backdrop, the knowledge of 'Social Marketing', a discipline that draws on psychology, sociology, economics and anthropology can facilitate the understanding of the underpinning reasons of people's behaviours.
The governments of many countries have been successfully deploying social marketing techniques to achieve diverse strategic social objectives through behaviour change intervention programmes (e.g., smoking cessation, road safety, disease prevention and screening, physical activity and environmental issues).
Social marketing is a systematic process of influencing behaviour change of different target market segments by utilising a planning process that applies marketing principles and tactics to deliver positive societal benefits. Unlike commercial marketing, the primary objective is not to sell goods and services rather influence the desired behaviour of targeted markets.
Target market behaviour can be influenced in one of the four ways: accept a new behaviour (e.g., wear mask); reject an undesirable behaviour (e.g., expose to crowd); modify a current behaviour (e.g., wash hands frequently) and abandon an old undesirable behaviour (e.g., coughing here and there). It thus appears that, the demand of behaviour change in response to this pandemic is diverse and requires a careful, context specific all-inclusive behaviour change intervention programme.
A carefully designed social marketing/programme in this context should accommodate at least five broader aspects: first, a clear definition of the problem at hand; second, a thorough environmental scan to segment the entire market and analyse the target audiences characteristics to influence their behaviours through the right message circulated at the right media and location; third, an analysis of social norms, potential barriers and competitions toward the desired behaviours; fourth, an identification of the opportunities of upstream social marketing to modify the physical environments in which the behaviours are taking place; and fifth, establish the monitoring policies and criteria for evaluating the intervention programme.
Although numerous awareness programmes aiming to bring WHO directed behaviours are in the air from March 2020, little changes are visible in people's behaviour and in many cases, resistance are also evident.
Exchange of people's behaviour with the previous one is based on the concept of WIFM (What's in it for me- tangible/intangible)?
In this case, the core benefit of adopting these new behaviours for mass people is 'Safety', however, different social classes of the society (e.g., upper, middle, working and lower) are not perceiving the benefits of such behavioural adoption equally.
The working and lower class that struggles to balance between life and livelihood may not consider 'safety' as their benefits because they have to sacrifice bigger benefits if they adopt these new behaviours.
As per different predictions, coronavirus outbreak is likely to go on for two years, which is evident if we take into account the second wave of this outbreak in countries that claimed to successfully manage the outbreak.
We are yet to know what is coming for Bangladesh therefore it is high time for the authorities to understand the underpinning attitudes and beliefs hold by the mass people regarding WHO prescribed desired behaviours.
Information on the current status of people's new behavioural acceptance can provide insights on the reasons behind the compliance and non-compliance.
'Coronavirus won't affect the financially disadvantaged people'; 'Youth are less likely to be affected by Covid-19' and 'Third world countries are immune to many dangerous viruses, including Covid-19' are some of the examples of existing salient beliefs of people which may hold them back in their decision to change existing behaviours.
So, evidence-based knowledge on people's salient beliefs, attitudes, social norms and decision-making autonomy can help the authorities to understand how the existing behaviour is situated within the lives of our masses.
Understanding of the behavioural problem also demanded a clear segmentation of our targeted community to whom we are communicating the message of behaviour change. Geographic (e.g., cities, neighbourhood), demographic (e.g., age, education, gender) and psychographic (e.g., attitude, beliefs, values, social norms, needs) elements are widely used variables for segmenting markets.
For example, psychographic variables can be used to segment the market into four: 1) Adopters (low information needs, highest commitment to behaviour change), 2) Status Quo (moderate information needs, high commitment to behaviour change), 3) Information seeker (high information needs, moderate commitment to behaviour change) and 4) Sceptics (moderate information needs, lowest commitment to behaviour change).
Segments due to its inherent peculiarities and uniqueness usually respond to campaign elements differently and different techniques are required to reach and motivate various segments.
In social marketing, the behaviour changes are sought to proceed in a sequence of five stages: awareness, engagement, behaviour change, make it social norm and improve social/environmental outcomes.
Therefore, the segment 'Sceptics' may need message to boost their awareness with the aim to increase their commitment toward behaviour change, whereas segment 'Status Quo' should get message to continue their adopted behaviour.
Moreover, the creativity of the message, uses of words, images and its explanation should be tailored to a particular segment's characteristics to get maximum reach of the target audience.
For example, the expression 'Social distance' needs to be explained in mass media for mass level understanding not only with words but also with various images to ensure its specific understanding.
Once, the goals for each segment is decided, an effort is needed to understand the existing social norms, potential barriers of behaviour change and competing behaviours (e.g., the behaviours those target group prefer to do).
However, the barriers like 'how to maintain social distancing in a slum', 'where to wash hands in roads', 'how to get free mask and wear it while working in intense sunlight', 'where to dispose of those mask' are not getting enough attention in those communications.
Thus, to be effective, strategies need to be undertaken to make those proposed behaviours at least as attractive as some of the competing alternatives.
Unless the environment and its infrastructure are not supporting the behaviour change, removing some of the barriers as mentioned above are difficult.
Therefore, an upstream social marketing influence also need to design and implement the downstream behavioural change. Partnerships between governments, non-profits and private sector organisations for the purpose of delivering information to citizens could be an option. Thanks to the Ministry of ICT and a2i who partnered with Facebook and launched a nationwide social media campaign to circulate health message related to Covid-19 for the people of Bangladesh.
Nevertheless, door-to-door campaign by community social service providers is also needed to reach those who are not reachable in social or mass media.
Identical to the world, Covid-19 pandemic is new for Bangladesh. Therefore, a foolproof plan of intervention programme may not be possible at a go.
Continuous monitoring is needed to improve or adapt with the targeted market requirements. Specific criteria-based evaluation of intervention programme at a specific interval can also yield actionable insights about what worked well, what didn't and what lesson we can carry forward for the next phase of intervention.
Worldwide different states, cities, neighbourhoods, businesses, educational institutions, public places have started to reopen, so also in Bangladesh.
However, the risk of infection and its spread are still there. Until, an effective vaccination is available, we have no other options other than adopting these new behaviours of wearing mask, quarantine, queuing, handwashing and so on to survive.
Therefore, a well-planned long-term behaviour change social marketing intervention programme directed by government authorities in collaboration with diverse stakeholder is a necessity to fight against the Covid-19.
The writers are working as professors at the Department of Marketing, Faculty of Business Studies, University of Dhaka.