BBS to publish quarterly GDP data from 2024
The state statistics agency will publish the GDP data from the first quarter of 2024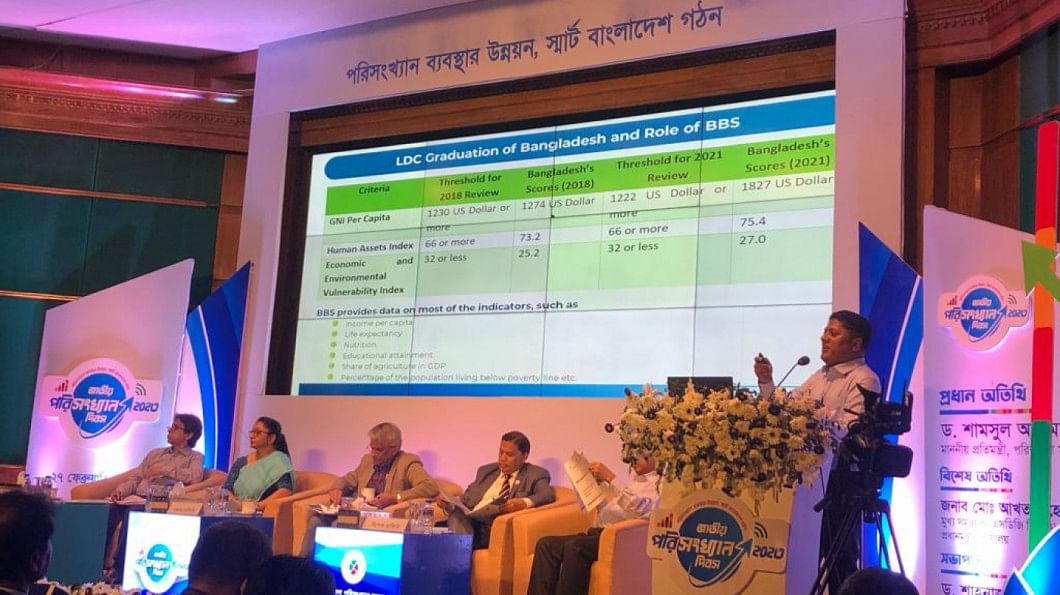 The Bangladesh Bureau of Statistics (BBS) will publish quarterly data on the country's gross domestic product (GDP) from 2024, said Md Matiar Rahman, director general of the state statistics agency.
The BBS will publish the GDP data from the first quarter of 2024, he said in a seminar on the occasion of National Statistics Day-2023 at the bureau's headquarters in Dhaka.
The BBS has taken the move to release quarterly GDP data as it was one of the conditions of the International Monetary Fund (IMF) for the upcoming $4.5 billion loan for Bangladesh.
Rahman said the BBS starts calculation after getting data from various sources of the government.
The National Board of Revenue (NBR)— one of the biggest data sources of the BBS—does not release quarterly data, which is why the BBS also cannot prepare GDP's quarterly data, he said.
The statistics bureau is also planning to change its consumer price index from July this year according to the guideline set by the IMF, Rahman said.
"Data of 722 food and non-food items under 12 categories will be taken instead of the current 412 items under 8 categories."
In the keynote paper at the seminar, Mohiuddin Ahmed, deputy director of the BBS, highlighted the challenges the bureau is currently facing in preparing and publishing national data.
The BBS is running with an insufficient organisational setup both at the centre and field levels, he said.
To meet the future challenges and ensure quality data in every state of development, the human resources of the statistical system should be strengthened, Ahmed recommended.
The BBS should also produce regional data along with the quarterly data, Shamsul Alam, state minister for planning, said while speaking as the chief guest.
Regional data will be of great help if the government is provided with it at the time of understanding the financial condition of any region, he said.
Moreover, the BBS should also update its data regularly.
Shahnaz Arefin, secretary of the statistics and informatics division, chaired the event.