Bangladesh Bank has no plans to quarantine bank notes to check coronavirus spread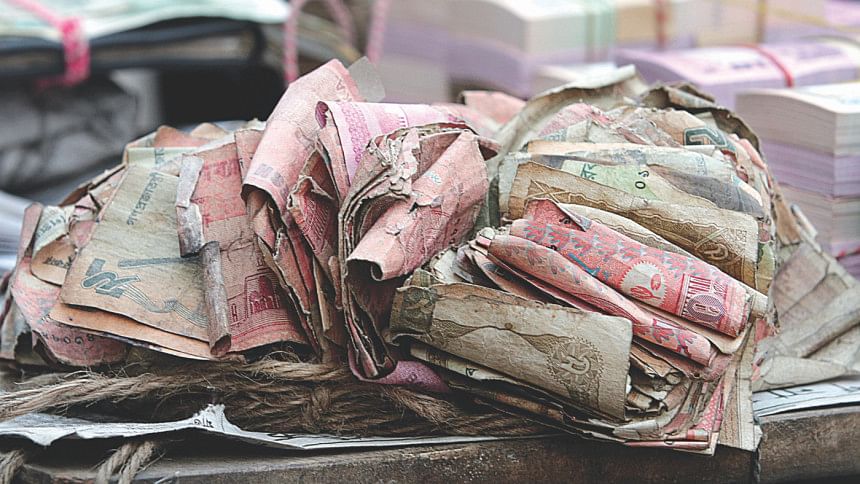 South Korea's central bank started to quarantine all bank notes on March 6 for two weeks to remove any traces of coronavirus and even burn them as part of the government's efforts to contain the outbreak.
This comes after China's massive initiative since the middle of February to deep clean potentially infected cash with ultraviolet light and high temperature, and in some cases, destroying it, to stop the spread of the virus, which has now been detected in more than 100 countries, sickened more than 116,200 people and claimed 4,082 lives.
The Federal Reserve, the central bank of the US, has also taken the same measure fearing bank notes as a vector for the disease, which is said to perish after nine days.
Although three cases of coronavirus have so far been reported in Bangladesh, the country's central bank is yet to jump in to action, even though risks of transmission of the novel virus through bank notes is high given the economy's high dependency on cash.
As of February, Bangladesh Bank has distributed paper notes worth of Tk 173,685.52 crore, and the local notes are usually filthier than those of other countries'.
Six researchers of New York Universities carried out a research in 2017 titled "Filthy lucre: A metagenomic pilot study of microbes found on circulating currency in New York City" in order to unearth probable risk of using cash.
They found that microorganisms living on the surface of cash, ranging from mouth and vaginal bacteria to flu-like viruses, create a risk of potential exchange of microbes from people to people.
The Daily Star spoke with at least 15 officials of the central bank departments dedicated to bank note management and widening the existing volume of the country's cashless payment system, to learn of their preparations to tackle the coronavirus.
But 13 of them have no idea about the probable risk of bank notes that can become a vector for the lethal, pneumonia-like virus.
The central bank removes dirty and non-issuable notes from the market on a regular basis, said Md Serajul Islam, spokesperson and an executive director of the BB.
"This is an ongoing process. There has been no crisis yet to quarantine notes," he added.
Earlier on March 2, the World Health Organisation (WHO) suggested people use contactless payment instead of cash in a bid to contain risks of transmission.
Customers should wash their hands after touching banknotes because infectious Covid-19 may cling to the surface for a number of days, the UN agency further said.
But in Bangladesh, cashless transactions holding sway over cash is an unlikely scenario.
Better than Cash Alliance, an entity of the United Nations, carried out a research on Bangladesh's digital and cash transaction system and found only 6 per cent of the total transactions are settled through the digital method. 
"The developed nations have already progressed significantly to develop a cashless society. So, it is easy for them to quarantine their bank notes. But it is a tough job to do same thing in Bangladesh," said a central bank high official requesting anonymity.
Although the central bank has taken different initiatives to give a boost towards a cashless society, Bangladesh has miles to go, he added.
The value of transactions by using the digital tools had increased to 18 per cent in 2019 but the number of transactions had not widened much, said Pial Islam, managing partner of Pi Strategy, which conducted the research on behalf of the Better than Cash Alliance.
"We should embrace the contactless payment mode in a rapid manner to tackle the deadly flu like coronavirus one."
Contactless payment through the mobile financial services (MFS) can be increased significantly if the authority concerned takes the required measures.
Pi Strategy also carried out another research last year where it found that only 6 per cent of the total MFS transactions were used for shopping, 7 per cent for utility bill payment and 5 per cent for salary disbursement.
This means, more than 80 per cent of the MFS transactions are for person-to-person transfers, Islam said, while urging lenders to encourage people to use bank cards in place of cash.
As of December last year, banks issued a total of 1.82 crore credit and debit cards, according to data from the central bank.
Banks should take prompt measures to build a near cashless society so that the country could check contagious disease like coronavirus, said Syed Mahbubur Rahman, managing director of Mutual Trust Bank.
"Coronavirus is still under control in the country. But the central bank could take a short-term plan if the disease reaches an epidemic level," he added.