Banks' non-performing loans see 16% rise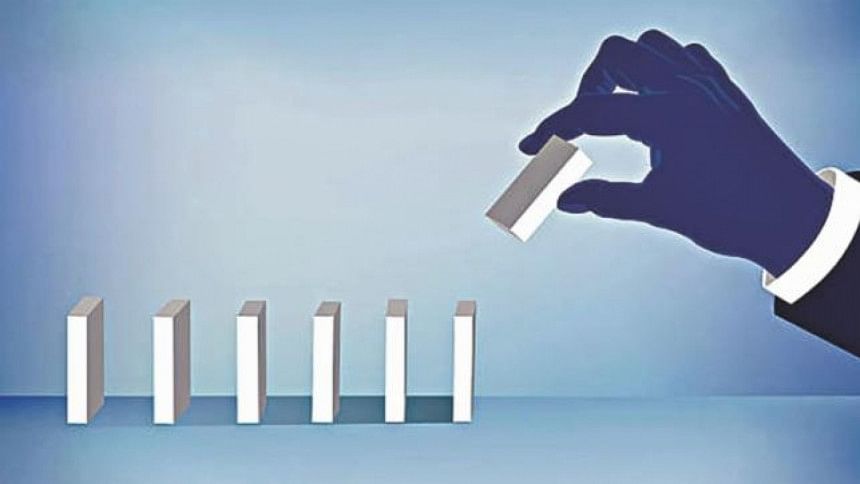 Non-performing loans (NPLs) in the country's banking sector increased 16.38 per cent year-on-year to Tk 103,274 crore in 2021 despite a relaxed loan classification policy taken by the Bangladesh Bank.
The ratio of default loans to outstanding loans and advances stood at 7.9 per cent last year in contrast to 7.6 per cent in 2020, according to the central bank data released today.
Bangladesh Bank officials said that the amount of non-performing loans would have been much higher than the existing volume had the central bank not relaxed the loan classification policy.
As per the central bank rules, borrowers were allowed to avoid the default zone by giving only 15 per cent of their total instalments of loans payable for last year.
NPLs may escalate further in the second quarter (April and June) of this year as the impact of relaxed policy will be depleted during the period, the BB officials warned.
Against the backdrop, banks should give their all-out efforts to bolster recovery of bad assets in a bid to tackle the upcoming situation, they said.
Classified loans in the banking sector stood at Tk 88,734 crore in 2020 compared to Tk 94,331 crore the year before.
Borrowers also enjoyed a moratorium facility to repay loans throughout 2020 as the central bank took the move to offset the business slowdown emanating from the coronavirus pandemic.