Bank loans still elude small women entrepreneurs: study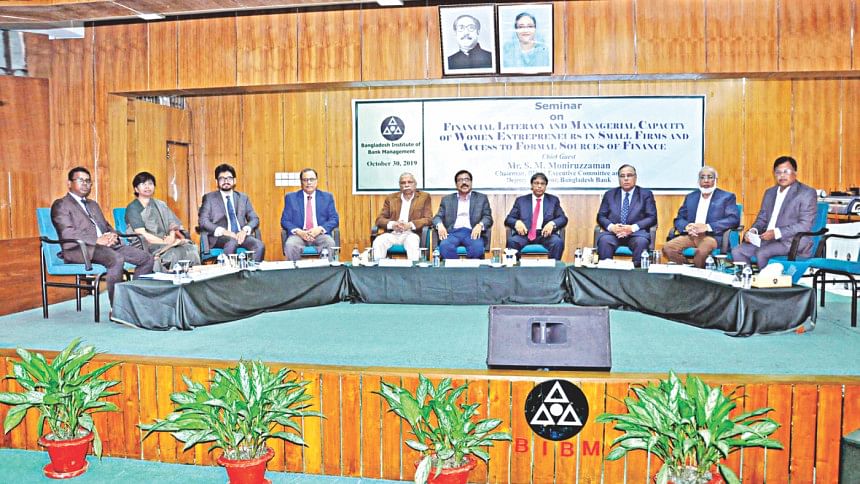 Women entrepreneurs, particularly small ones, continue to remain marginalised when it comes to getting loans from the financial sector despite various initiatives taken over the past decade to facilitate the businesses run by women.
A study presented at a seminar in Dhaka yesterday showed that women-owned small enterprises received only 3 percent of the total small enterprise loans provided by banks and financial institutions between 2016 and 2018.
Banks and financial institutions lent Tk 56,116 crore to small firms in 2016.
Of the sum, women enterprises accounted for only Tk 2,079 crore, which was 3.71 percent of the total small loans, the paper showed.
In 2018, the ratio fell to 3 percent, said Md Mosharref Hossain, an assistant professor of the Bangladesh Institute of Bank Management (BIBM), at the event.
The institute organised the seminar on women entrepreneurs' financial and managerial capacity and their access to formal finance at its office.
Hossain, a co-author of the study, said the amount of loans going to small business and women entrepreneurs has increased since 2016. Yet, women's share has not gone up in percentage of the total small-enterprise loans in the subsequent years.
"It is observed that a very tiny portion of small enterprise loans goes to women-owned enterprises," Hossain said, while presenting the findings of the study.
The researchers conducted the survey among 344 women-owned small enterprises and it found that 81 percent of women think that guarantee is the real problem for obtaining loan from the formal sector.
A lack of guarantor, low repayment and non-fulfillment of conditions were the main reasons behind the rejections of loan applications.
"It is noteworthy that 75 percent of the women did not apply for loans because of their inability to manage loan guarantors," Hossain said.
The study found that the level of financial literacy among women entrepreneurs was very low and suggested the central bank and the SME Foundation introduce cost-free or low-cost literacy programme.
"Managerial capability is one of the strong predictors for their financial access to banks," said Hossain.
Lila Rashid, general manager of the SME & Special Programmes Department of the Bangladesh Bank, said branches of banks, particularly those of private banks, are more interested in collecting deposits than lending to SMEs (small and medium enterprises).
"SMEs are a neglected part and they are not their priority," she said, adding that managing collateral is a big problem for women entrepreneurs.
The BB formed an SME and Special Programme Division for women entrepreneurs and took initiative to establish Women Entrepreneur Development Unit in banks and financial institutions. It also asked banks to lend women entrepreneurs at 9 percent interest rate under the small enterprise refinance scheme.
The study found that 6,372 women-led small firms got collateral-free loans in 2016. But it dropped to 2,827 in 2018. Despite the low disbursement of funds among women-led small enterprises, the recovery rate is good, according to the study.
BIBM Supernumerary Professor Helal Ahmed Chowdhury said banking forms are cumbersome and they should be made easy.
He said banks should be given targets on SME loan disbursement.
Dr Muzaffer Ahmad Chair Professor Barkat-e-Khuda moderated the seminar. BB Deputy Governor SM Moniruzzaman and BIBM Director General Mohammad Akhtaruzzaman also spoke.