Bank Asia arranges Tk 700cr for cement plant of Bashundhara
The conglomerate to jack up production as it sees potential in northeast India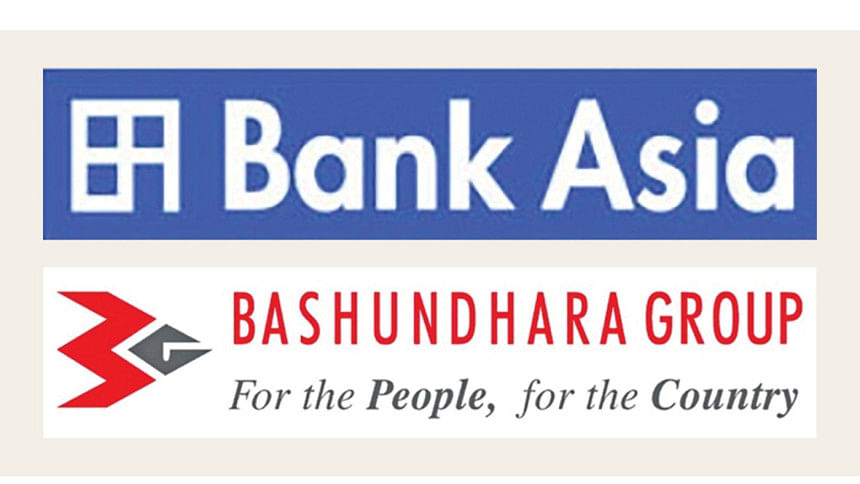 While an unhealthy competition plagues Bangladesh's cement sector for its 43 per cent overcapacity, Bashundhara Group has gone on to look beyond borders for opportunities. It found it in the India's Seven Sister states.
Now it is attempting to grab this export market in northeast India through a Tk 1,000 crore investment geared towards doubling its manufacturing capacity through the establishment of a third production unit.
This is on way to become the second biggest investment in the cement sector after the Tk 1,300 crore expansion plan taken up by Premier Cement, at least in the past two years or so.
To materialise the plan, Bashundhara is mobilising Tk 700 crore from banks.
Bank Asia is acting as the lead arranger of this syndicated term loan for Bashundhara Industrial Complex. The other participants are Dhaka, First Security Islami, Pubali, Social Islami and United Commercial banks.
Sayem Sobhan, managing director of Bashundhara Group; Md Arfan Ali, president and managing director of Bank Asia, and CEOs of the other lenders signed the agreement at Le Méridien Dhaka on September 17.
Bank Asia's assessment found potential of investment by the cement sector as there is room for expansion, said Ali.
"We considered the demand growth of cement market in Bangladesh for financing Bashundhara Group as well as their need to expand production," he said.
The banks saw that the sector has potential to increase business along with facilitating infrastructure development projects in Bangladesh, he said. 
Besides, Bashundhara Group's profile and transaction records with Bank Asia augmented delivery of the syndicated loan.
According to Ali, Bank Asia will provide Tk 150 crore while the other banks the remaining Tk 550 crore.
He said the syndicate approved the loan for a seven-year term and there is no possibility of any issues to arise over repayment as the size of the loan would not turn out to be a burden for a group with such a profile.
Through this expansion, Bashundhara's daily production capacity will reach 25,000 tonnes, Khandoker Kingshuk Hossain, chief marketing officer of the conglomerate's cement business, told The Daily Star.
The two existing units produce around 14,000 tonnes per day, he said.
"Our target is to export to the Seven Sister states in India as the demand of cement in Bangladesh and India's northern states will increase rapidly in the coming days due to development activities," he said.
According to him, their King Brand Cement annually witnessed 20 per cent growth for the past 10 years while that of the overall sector was 15.6 per cent.
However, he said, this year the growth in cement consumption would not be the same as in previous years for the ongoing pandemic.
They have already set up the infrastructure of the new unit at its existing factory in Narayanganj and are hoping to go into production by June next year, he said.
There are 37 active cement factories in Bangladesh which invested over Tk 30,000 crore to attain a combined annual production capacity of 58 million tonnes against a demand of 33 million tonnes.
According to Bangladesh Cement Manufacturers Association (BCMA), local companies dominate the market where annual sales have reached $3 billion, or Tk 25,500 crore.
Of the total consumption, individuals account for 25 per cent, real estate companies and developers 30 per cent and the government 45 per cent. 
Bangladesh's per capita cement consumption is around 181 kilogrammes. It is expected to increase to 220 kg by 2020.