Bangladeshi handicrafts ride out pandemic tide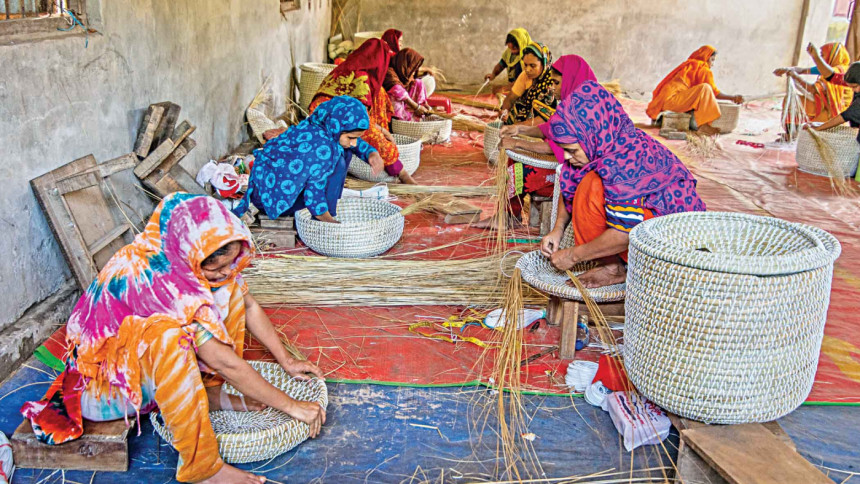 While nearly every business sector in Bangladesh has been hit by the fallouts of the coronavirus pandemic, handicrafts have continued faring well in the global market.
With exports beginning in 1980, such products which are made entirely by hand or by using only simple tools have come to create an international market of more than $20 million, as per the Export Promotion Bureau's (EPB) estimate of fiscal 2019-20.
This fiscal year, manufacturers and exporters have already attained half that figure in just four months to October, bagging $10.84 million from foreign countries. In comparison, it was $7.34 million in the same period last fiscal.
Handicrafts export has been annually increasing by $2 million to $4 million for the past five years, as per the EPB.
In the international market, the demand for Bangladeshi handicraft products has been growing day by day, even during the pandemic, said Golam Ahsan, president of the Bangladesh Handicrafts Manufacturers and Exporters Association (BANGLACRAFT).
When the coronavirus hit Bangladesh in March, all factories throughout the country had to shut before opening two months later.
"During that time, around Tk 200 crore worth work orders from foreign buyers were cancelled. We had become hopeless because we have over 400 handicrafts companies and some 92 per cent of them are exporters," said Ahsan, owner of Sun Trade.
"But the global market for Bangladeshi handicrafts has become normal now, and we are getting orders online."
Bangladesh mainly exports rugs, bags, buckets, home furniture, textiles and decoration items and storage solutions to almost 60 to 70 countries in Europe, Asia, South America and Latin America.
"We have been preparing to export even to China as the country opened up giving duty-free access to 200 Bangladeshi products," said Ahsan.
Every year Bangladesh arranged handicrafts exhibitions in Germany, Hong Kong, the US, Italy and France, from where some 50 per cent order of the year's work comes.
"But this year we were able to arrange only one exhibition in Germany before coronavirus hit the world," he said.
Orders from abroad from July to November 15 had totalled around $20 million, and hopefully, the final amount at the end of the fiscal would cross that of last year, he said. 
Classical Handmade Products BD, one of the biggest exporters, secured $6 million worth orders this fiscal year.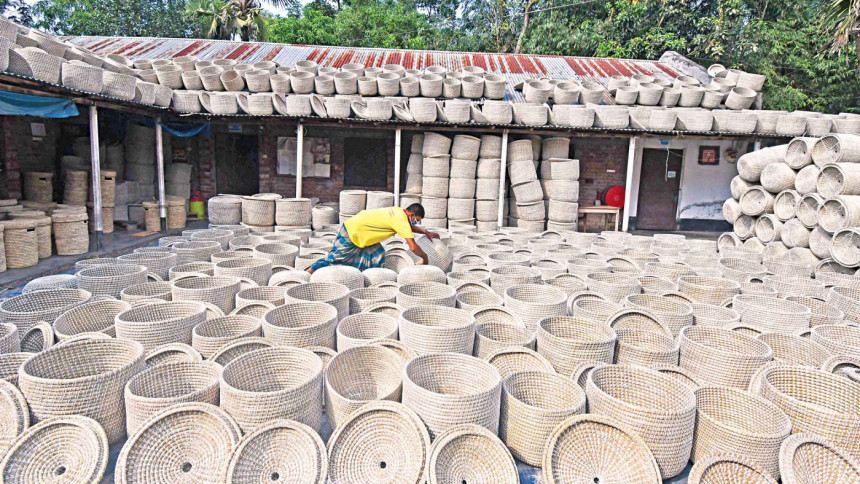 BD Creation secured orders worth $3.4 million as of November 15, said its senior manager for the commercial department, Md Al Amin.
Its Bogura factory manager, Farid Uddin, said, "We have exported handicrafts worth around Tk 1 crore every month in the past four to five months from Bogura's Sherpur upazila."
Cottage-based small manufacturing units have been considered essential industries since the early and medieval times, according to Banglapedia.
Early records show that the Gangetic muslin had reached even Roman and Greek empires. At the same time, Chinese and Arab travellers also took note of the fine cotton and silk produced in Bengal, says the national encyclopaedia.
Since the 16th century, fine hand-woven textile and ivory, silver and metal objects were prized possessions at Mughal courts and consumption by rulers and the elite promoted development.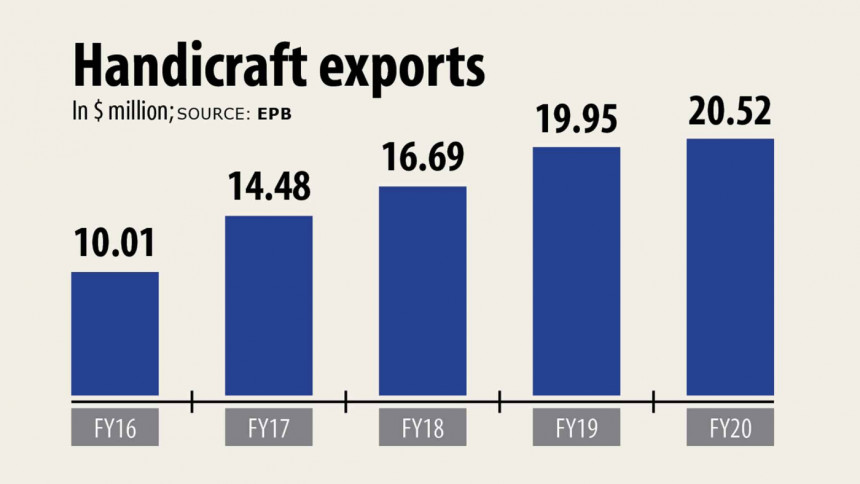 These material goods themselves were no less significant. The baskets, pottery, wall hangings, handbags, travel kits, toys, ashtrays, carpets and embroidered quilts reflected the culture, heritage and creative expressions of people with unique artistic skills.
Made out of clay, wood, cane, bamboo, metal, and later on jute and leather, these were characterised by the utility, sustainability and environment friendliness blended with aesthetic appeal and suitability for everyday use.
According to the BANGLACRAFT, there are over four lakh women throughout the country working for handicraft companies. Half of the workforce is based in their own homes.
There are around 4,000 to 5,000 women in 20 villages of Bogura's Sherpur making handicrafts in their homes.
Some seven to eight handicraft companies such as BD Creation, Classical Handmade Products BD, Sun Trade, Creative BD, Artisan BD, Ask Handicrafts, Dhaka Handicrafts, and Desh Handicrafts have set up their factories in Sherpur.
"They don't require any investment and training. We provide them raw materials like kans grass, seas grass, jute and plastic," said Ahsan.
"We provide them all raw materials and buy finish products from them," said Uddin.
A female artisan can earn Tk 250 to Tk 350 from her home every day. However, those in the factory can make Tk 5,000 to Tk 10,000 per month, he added.
"I can earn Tk 300 making baskets from 10:00 am to 5:00 pm in a day alone after finishing my household chores," said Rebeka Khan, 32, of Hapunia village.
"No woman from our village goes to garment factories as we have work available at our village since 1985," she said.
Another artisan, Jahura Begum, 35, has been working in the Classical's factory for the past five years.
"My husband has been ill for the past two years. He cannot go out to work. I earn Tk 7,000 to Tk 8,000 per month and run the family," she said.
Her co-worker Sohagi Khatun also helps her family earning Tk 8,000 to Tk 10,000 per month. "My daughter is studying in class seven in a good school in Sherpur town," she said.
Despite all its prospects, the industry people have long been facing hurdles.
Though the exporters and manufacturers are exempted from paying income tax until 2024, Ahsan says the facility should be extended to 2030 so that many of the emerging entrepreneurs could do well.
"Our main competitors in the global markets are Vietnam, Cambodia, China, India and recently Africa. In these countries, the small entrepreneurs are getting easy access to bank loans and other facilities from the government," said Ahsan.
But in our country, small entrepreneurs are not getting incentives and bank loans on easy conditions. Only four or five companies can meet the terms and conditions for getting government incentives and bank loans.
"We have no strong lobbying capacity like that of garment industries. Therefore, it creates a barrier to growth," he said.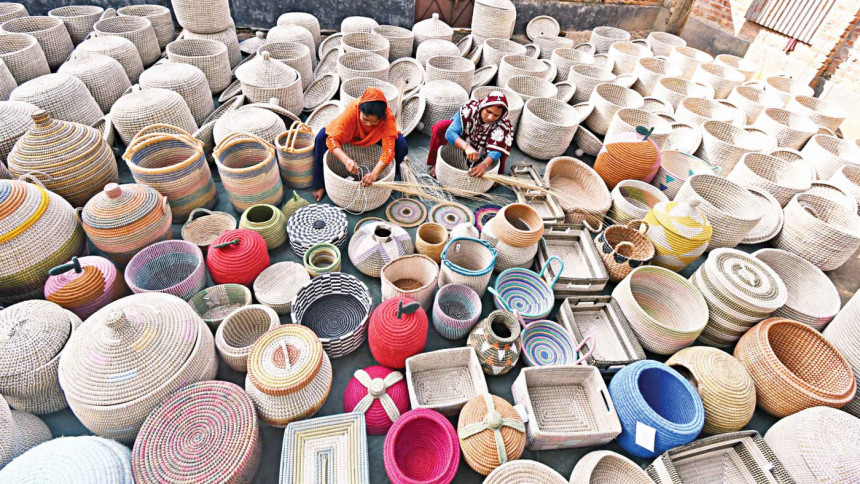 Bangladesh also lacks infrastructure, storage and transportation facilities, design development and variations. 
With government support, Bangladeshi handcrafts can expand its presence in the global market by four to five times and be worth Tk 4,000 crore to Tk 5,000 crore in the next three to five years, said the president of the BANGLACRAFT.
"If we get government assistance like that provided to the garment sector, handicrafts manufacturers and exporters can create another BGMEA," said Md Tauhid Bin Abdus Salam, managing director of Classical Homemade Products BD.
"The demand for handicraft products in local markets is increasing. If we create proper infrastructures, the sector can grow bigger," he added.
The entrepreneurs also urged the government to encourage farmers to cultivate raw materials and better protect natural sources.