CPD STUDY ON US, EU MARKETS
Bangladeshi apparel sees sharper fall in prices than Vietnamese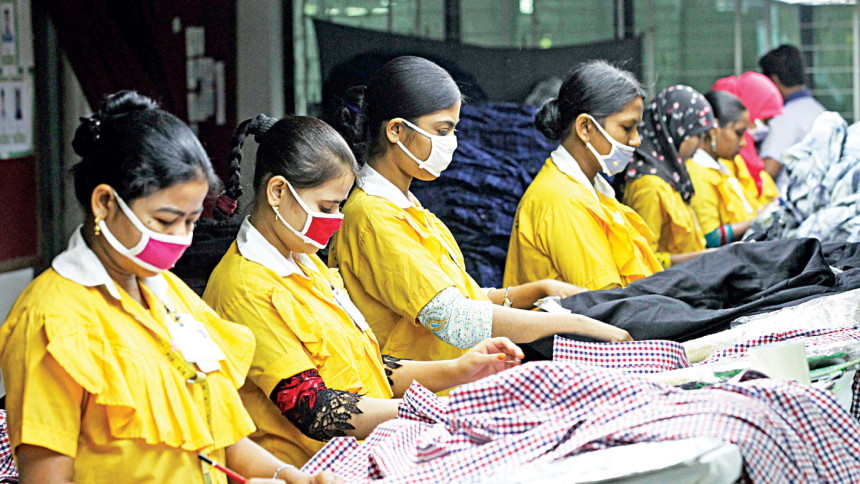 Bangladeshi apparel items have witnessed a sharper fall in prices compared to the Vietnamese products in the European Union and US markets, according to a study by the Centre for Policy Dialogue (CPD).
The price of 100 kilogrammes of made-in-Bangladesh cotton fibre T-shirt declined by 1 per cent year-on-year to 1,091.5 euros in 2020.
However, the same product manufactured in Vietnam saw a 3 per cent price rise, reaching 2,157.9 euros last year, the study found.
Similarly, the price of each 100 kg of women or girls' cotton fibre pullover made in Bangladesh decreased by 7 per cent year-on-year to 1,329.5 euros in 2020 whereas the price of the Vietnamese ones remained stable at 2,157.8 euros.
The prices of each 100 kg of Bangladeshi man-made fibre pullovers for women and girls fell by 6 per cent to 1,319.4 euros from 1,409.6 euros in 2019 at the EU markets. However, the Vietnamese variant has seen only a 3 per cent year-on-year price fall, hitting 1,906.2 euros in 2020.
In the US market, the price of a dozen of Bangladeshi T-shirts made from cotton fell by 20 per cent to $17.99 in 2020 from $22.43 in 2019 while the price of the same product made in Vietnam declined by 17 per cent to $31.9 in 2020 from $38.2 in 2019.
The price of a dozen of Bangladeshi made sweaters and pullovers declined by 2 per cent to $39.31 in 2020 from $40.23 in 2019.
However, the prices of the same Vietnamese product remained stable at $47.1 in 2019 and 46.9 in 2020.
The price of a dozen of Bangladeshi manufactured trousers for women and girls made from cotton fibre declined by 12 per cent to $64.17 in 2020 from $72.88 in 2019 while its Vietnamese variant has seen only a 6 per cent price fall, reaching $84.6 in 2020 from $90.5 in 2019.
Bangladesh's export performance was driven by both volume and value factors, according to the CPD study. Exchange rate management is emerging as a key factor, driving export competitiveness, it said.
The CPD also said the export target set for fiscal 2021 to achieve 21 per cent growth over fiscal 2020 will not be achieved.
It will take some time to even reach the pre-Covid export level of $40.5 billion.
Knitwear has performed better in the July-January period of FY21 (+3.8 per cent) compared to Woven wear (-10.9 per cent).
Jute and jute goods (+27.1 per cent) and home textiles (+44.3 per cent) have posted robust growth.
The global demand for manmade fibre apparels and synthetic leather products are rising at a fast pace.
There is a need to revisit the incentive regime in view of new export products and export market dynamics, the CPD said in its State of the Bangladesh Economy in FY20-21.
The trade balance further weakened in FY2020 with a faster fall in exports (-16.9 per cent) compared to fall in imports (-8.6 per cent).
However, the scenario reversed in FY2021, when over the first half of the fiscal year, imports fell at a faster pace (-6.8 per cent) than exports (-1.1 per cent), leading to some improvement in the trade balance.
Thanks to continued robust flow of remittances, the balance of payments position at the end of the first six months of FY2021 in December 2020 shows significant improvement.
However, the overall picture conceals a diverse range of undercurrents and multiple narratives, with the level of export earnings flattening, continued sluggish performance in case of import payments and in the backdrop of continued robust performance of remittances, the CPD study said.
"As far as the prediction of 'positive growth' is concerned, we would need to calculate the growth of 2021 based on the export figures of 2019 since 2020 was an abnormal time to compare export," Rubana Huq, president of the Bangladesh Garment Manufacturers and Exporters Association (BGMEA), recently told The Daily Star.
It is difficult to forecast the future of our exports on the backdrop of the current volatile situation but things may remain challenging for us at least till the third quarter of this calendar year.
"It's not the export market and demand only which will determine the performance of export, but the worrying financial situation of the factories here is to be factored in to assess how long it would be possible for individual enterprises to withstand the prolonged shock," Huq added.
Huq also said that the garments sector has had a consecutive downturn in export in December by 9.64 per cent, which wrapped up the annual export performance for 2020 with an unprecedented fall of 16.94 per cent.
In December, woven garment export posted the worst performance since June 2020, as it declined by 18.07 per cent.
Knitwear export managed to have a relatively stable position with -0.45 per cent growth in December, thanks to the demand for apparel for home use.
While looking at two years' trend, it shows that growth between October 2018 and 2020 was -26.03 per cent, and November 2018 and 2020 was -14.32 per cent.
"The two years change in export for the month of December is -8.55 per cent, meaning that we exported 8.55 per cent less in December this year compared to what we exported in December 2018.
"So, given the effect of lockdowns in Europe and the USA and their impact on retail and demand, the worst ever Christmas sales the world has seen, and most of all the effect of price decline, which is around 5 per cent since September 2020, it was a dark year for the industry," she said.
As the uncertainties and stresses caused by the second wave still persist coupled with the relatively poor administration and unavailability of a vaccine, and the impact on the global economy it would leave, this downtrend in export will probably continue till April of this year, Huq added.