Bangladesh starts growing genetically-modified cotton
The variety, Bt cotton, will increase local cotton production by 7.5 times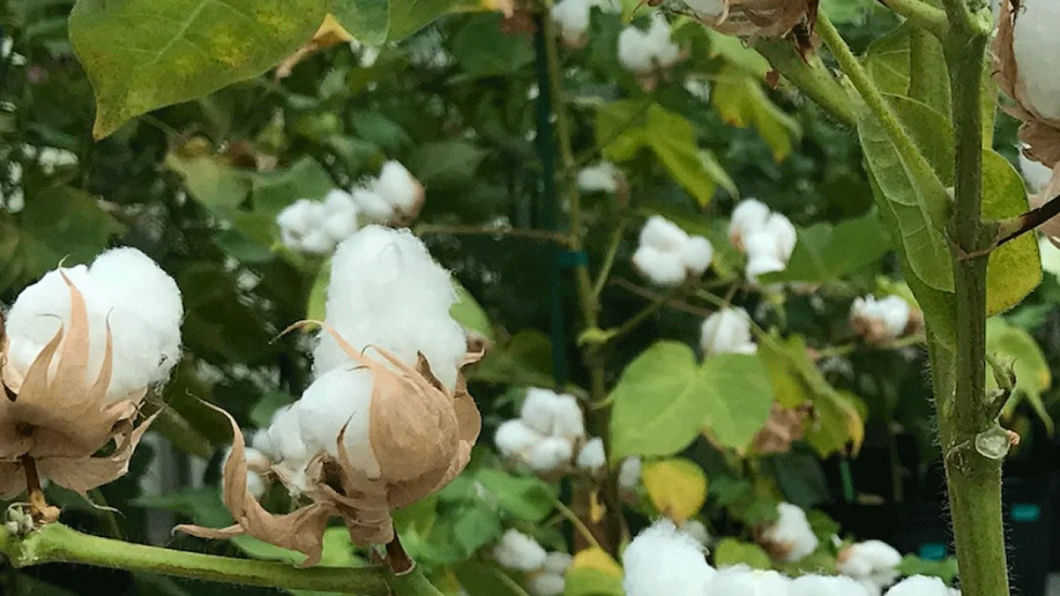 Bangladesh has started cultivation of genetically-modified (GM) cotton for the first time this year to boost yields and cut import dependence of the raw materials of yarn, a top official of the Cotton Development Board (CDB) today.
The development comes after the agriculture ministry released two varieties of GM cotton for domestic cultivation early last week.
Sowing has begun after the release of the varieties based on an approval from the National Committee on Biosafety (NCB), Md Fakhre Alam Ibne Tabib, CDB executive director, told The Daily Star in a phone interview.
The GM cotton has genetic traits taken from a soil-dwelling bacterium Bacillus thuringiensis (Bt) that effectively fights bollworm, a caterpillar responsible for damaging cotton yields.
Bangladesh joined the list of the GM-crop cultivating nations in 2014 introducing Bt brinjal, the first GM food crop in South Asia.
This is the second GM plant to be introduced in the country.
The CDB official said it is preparing 168 demonstration plots on 168 acres area in 13 zones namely Jashore, Chuadanga, Kushtia districts in the southwest and western region, Rangpur, Bogura and Rajshahi districts in the north, Dhaka, Mymensingh districts along with hilly districts — Khagrachari, Bandarban, and Rangamati — in the Chattogram region.
Sowing of cotton begins in July-August period and it is harvested in December-January period of a year.
"We saw better performance of these varieties in Jashore and Bandarban areas during field trial," Tabib said.
The average yield of Bt cotton is 4,000-4,500 kilogrammes (kg) per hectare of land, which is 15 percent to 20 percent higher than the local variety, while the production cost is 12 percent to 15 percent lower, according to the CDB.
The CDB executive director said the genetically modified varieties of cotton are resistant to bollworm and thus increases yield as the insect cannot damage the crop.
The biotech varieties are grown in various countries and GM cotton accounts for 79 percent of total cotton grown in the world, he added.
India began cultivation of GM cotton in 2002 and Pakistan in 2005. China has been using biotech varieties since 1997, he added.
The CDB chief said Bangladesh produced 200,000 bales of cotton last year and in order to increase domestic production, it plans to promote cultivation of genetically modified cotton on fallow land and in areas where cropping intensity is low.
"We want to increase domestic production to 15 lakh bales by 2030 to meet one-fifth of our local requirements," he said.
Some 16 lakh bales of cotton are required in Bangladesh for its domestic consumption and 85 lakh bales are currently required by the country's spinning and weaving industries for the production of yarn and fabrics for export-oriented garment factories, according to a press statement by the agriculture ministry issued last week.
Bangladesh annually imports around Tk 33,000 crore worth of cotton from different countries, including India, Pakistan, Brazil, Australia, Argentina and some South African and central Asian countries, according to the statement.
The CDB top official said Bangladesh saved $70 million of import cost thanks to the local production of 200,000 bales of cotton.