US-CHINA TRADE WAR
Bangladesh should get ready to tackle impacts: analysts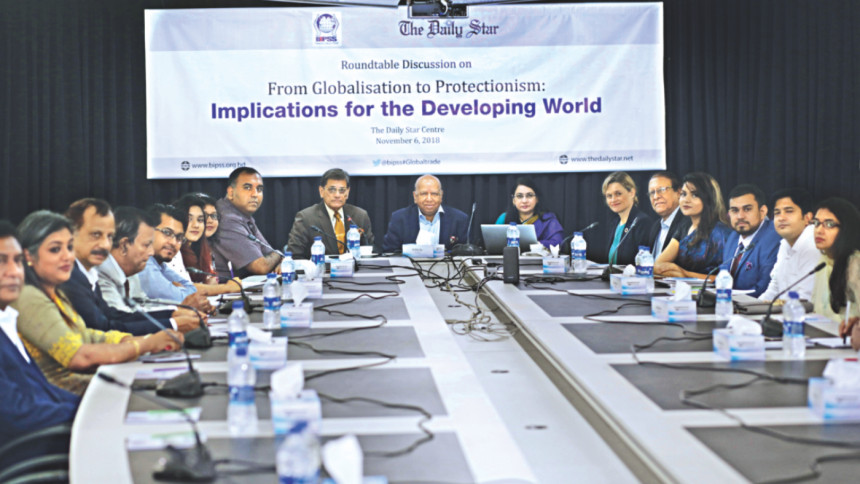 Bangladesh should take preparations to face the impacts of the US-China trade war, which worsened in January this year when the two economic powerhouses imposed new tariffs on products of each other, analysts said yesterday.
"In a globalised world, all countries are integrated through export, import, foreign investment and remittance," said Fahmida Khatun, executive director of the Centre for Policy Dialogue (CPD).
So, the trade war will surely leave an impact on gross domestic product, employment generation, investment and overall global economy, she said.
She was addressing a roundtable styled "From globalisation to protectionism: implication for the developing world" as a keynote speaker.
The Daily Star and the Bangladesh Institute of Peace and Security Studies (BIPSS) jointly organised the event at The Daily Star Centre in Dhaka. With the rise of protectionism, the trade advantages will go for every country because of the increase of tariffs by 30-35 percent, resulting in a fall in the overall trade volume, Khatun said. That is why, countries will have to prepare themselves by taking initiatives to boost competitiveness, production capacity and service quality, the economist said.
In this situation, if something happens to one or two of the biggest economies, its impact will affect the global economy, Khatun said.
"The policymakers and the private sector should prepare themselves to adapt to the changing situation."
The open trade regime has helped China lift 700 million people above the poverty line in the last 40 years, Major General ANM Muniruzzaman (retd), president of the BIPSS, said at the event.
"The open trade regime benefits the global economy."
The US trade deficit with China stood at $375 billion in 2017 when the United States exported $130 billion worth of products to the Asian country while its import figure touched $506 billion. To reduce the trade imbalance, the US imposed extra tariffs on some Chinese products, prompting China to retaliate with similar measures.
Any impact of such a big scale on the economic well-being of a country will have a direct impact on its political stability, Muniruzzaman said. In such a situation, economic uncertainty will hurt the exports of Bangladesh, which is dependent on garments, he said.
At the programme, Shahedul Anam Khan, associate editor of The Daily Star, stressed the need for the immediate introduction of one-stop services to improve the ease of doing business. Bangladesh has to move fast to create an environment which will help the country benefit from the US-China trade war, he said.
Charlotta Schlyter, ambassador of Sweden, and Shafqat Munir, research fellow of the BIPSS, also spoke.