Bangladesh needs to diversify products: H&M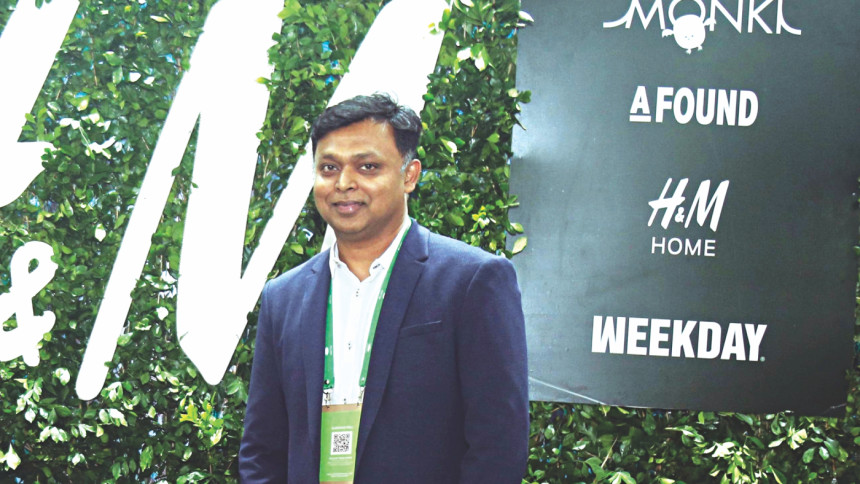 Swedish retail giant H&M is the largest apparel buyer in Bangladesh. Every year, it buys more than $3 billion worth of garment items from the country. Recently, the company appointed a Bangladesh-born country manager for the first time. Last week Refayet Ullah Mirdha, a senior reporter of The Daily Star, sat with Ziaur Rahman, head of H&M for Bangladesh, Pakistan and Ethiopia, for an interview. Here are the excerpts: 
What is your feeling for being the first Bangladeshi country manager for a brand like H&M?
Ziaur Rahman: As an employer, H&M is 100 percent fair and provides equal opportunities to all of its employees so that they can devote their merits and abilities for the growth of the company and also for personal career growth. Each and every one is treated with dignity irrespective of nationality, culture, ethnicity, gender, sexual orientation, or religious belief.  
I see this is as another responsibility as well as opportunity. Of course, working in Bangladesh is a matter of pride because it's a very important and strategic market for our company.   
Do you think Bangladesh's garment sector is heading in the right direction in terms of safety, labour rights and productivity?
Ziaur Rahman: Bangladesh has gone through a great journey. I can say, now we have world-class factories where safety and working conditions are not a matter of concern anymore. 
Productivity is an area where we have lots of scope to improve. Our average productivity (including all operation) is below 35 percent in many cases. Of course, we have some exceptions as well. If we look at other manufacturing countries, we are really behind many of them.  
Sri Lanka's average efficiency is more than 70 percent, for example. We should invest in industrial engineering. We are also lagging behind in the area of product development and diversification. We really need to invest a lot in these areas. We also have a huge scarcity of design knowledge.  
In case of labour rights, at H&M factories, we have 100 percent-elected participation committees where we have more than 40 percent women leadership. Also we have 19 factories where we have CBA (collective bargaining agent). We believe that freedom of association or freedom of voice is a fundamental right of any human being and the laws in Bangladesh also guarantee the rights.  
I think it's a continuous journey. The industry will keep growing. We should be prepared for this. Only trust, mutual understanding and respect for each other can create a better work place. Altogether, we are absolutely in the right direction. We just need to sharpen our edges for three areas: product development, diversification, and efficiency. 
Recently, you have said the global garment business will grow by 65 percent by 2030 and Bangladesh's apparel business will also grow. How much can Bangladesh's garment sector be benefited from this growth?
Ziaur Rahman: The world's consumption will go up significantly in the coming years. It's up to us what and how we play our role! Traditionally, Bangladesh is a seller's market and we are going through a transformation to become a buyer's market.  
We have more capacity than we can sell. We have competition at national and international levels. To be competitive, product development, diversification, and efficiency improvement are the main three areas that we need to improve.  
Recently, garment shipments from Myanmar and Ethiopia have grown but Bangladesh's export is declining. What is going on here and what may come for Bangladesh?
Ziaur Rahman: I have already told you that we are facing international competition where product development, diversification, and efficiency are keys. Other market dynamics are different.  
Myanmar, Vietnam or Cambodia have mainly foreign investments which acquired product development skills or knowledge from matured country like China. They offer product development services much faster than us.
Soon, we will be graduating from a least developed country to a developing country. Bangladesh as a country is doing great. Its per capita income is growing, so the living standard is improving as well. This is very positive.  
For textile, which is a highly labour-intensive industry, this development has an opposite effect. When our minimum wages are increasing, we cannot produce basic garments at a very low efficiency.  
Do you think that a lot of work orders are coming to Bangladesh's garment factories owing to the trade war between the US and China? Especially from the US and China.
Ziaur Rahman: Bangladesh has huge opportunities. We need to define our role! Pro-activeness is very important. Many Chinese suppliers have offshore production facilities, while product development is done in matured markets that gives them a unique combination of development and production. We are lagging behind in product development as well as efficiency. That is why we could not make the most of the opportunity.  
I think the US-China trade war will certainly bring some positive trade developments for Bangladesh, but it depends on what preparation we take to utilise this opportunity. 
What is your plan about sourcing from Bangladesh in the next five years?
Ziaur Rahman: At H&M, our strategy is not like travelling circus! Our plan is very solid and we are very committed. We have been here for the last 27 years and we have more than 630 people on the ground.  
We are an active participant of the ACT (Action Collaboration Transformation) where we are further committed. We were part of this industry and we will be in the future. We find it very reasonable and responsible to source from here.  
Do you think that enough diversification took place in the garment sector in Bangladesh over the years?
Ziaur Rahman: Product diversification is one where we are very poor. Our dependency on basic or bulk production is huge. The size of the orders is getting smaller because the life cycle of a product is very short. The large capacity of our factories often doesn't match to handle such dynamics.   
After the Accord and the Alliance, the RMG Sustainability Council (RSC), a tripartite compliance and safety monitoring body of the apparel sector, is coming. Do you think the RSC would be able to maintain the safety issues in the garment sector in Bangladesh?
Ziaur Rahman: We have found it to be a great local initiative. The H&M fully supports it and believes in the RSC leadership and the importance of a national monitoring mechanism.  
What is your message to the younger generation in the country?
Ziaur Rahman: The message I want to give to our youngsters is: It's your world and you can shape it the way you want. Step forward, use your talent, and be confident.  
Bangladesh has changed a lot in the last few decades. We have so many opportunities around to start a business, or work in national or multinational companies. You can be an entrepreneur and you can be a very important resource for a company. Think big, always!