Automation to cut 53.8 lakh jobs by 2041: study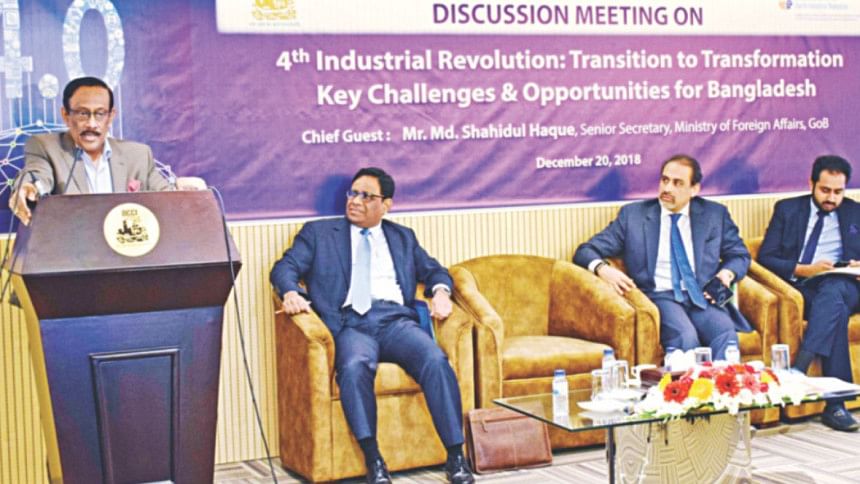 Some 53.8 lakh jobs are at risk in five key areas of Bangladesh till 2041 for the advent of automation in industries and services sector, according to a joint study by the government's a2i project and International Labour Organization (ILO).
Of the five sectors, garments will be the worst sufferer as there is a possibility of 27 lakh or 60 percent of jobs being lost, says the study's preliminary outcome. Some 4.4 million workers are currently employed in the garment sector. The full outcome will be made available in January next year, said Anir Chowdhury, policy adviser of the a2i project, at a discussion yesterday.
The event was jointly organised by the Dhaka Chamber of Commerce and Industry (DCCI) and the Bangladesh Centre for Fourth Industrial Revolution (BCFIR) at the former's office in the capital.
The discussion was titled "4th industrial revolution: transition to transformation-key challenges and opportunities for Bangladesh", seeking to assess the impacts of artificial intelligence on the country's future.
The second sector to be most affected would be of furniture with 13.8 lakh or 55 percent of workers threatened with job losses. The third and fourth are agro-processing and tourism where 12 lakh workers (6 lakh in each) are at risk of losing jobs.
Moreover some 1 lakh or 35 percent workers in the leather sector will lose their jobs, the study also said.
"These are conservative figures and my personal assessment is that the numbers will be higher," Chowdhury said.
"We are actually in the mix of the industrial revolution. We know as a country we adopt technology quickly. Job loss is going to be our biggest challenge," he said.
The adoption of technologies in the industries cannot be stopped, he said, adding that the industries would adopt technologies to be more competitive.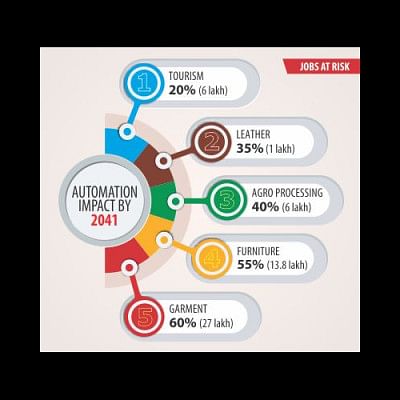 For instance, the country's garment export has been growing despite different international challenges as the industry owners have started adopting advanced technologies to cut cost of production and to be more competitive globally.
For turning the risks into opportunities, the government has also identified six areas where changes will be brought about, he added.
The six are: transforming the traditional education system, inclusive innovation, improving research and development, simplifying government policies, using skills of Bangladeshi experts abroad and branding the country as an innovative nation, Chowdhury said.
Mahboob Zaman, managing director of DataSoft, a leading software company, said although the fourth industrial revolution has already begun in the industries, people were still a vital aspect.
Bangladeshi people are brilliant naturally, he said. Currently, some experts of Bangladesh employed in his company have been performing strong in Japan, he said as an example.
Bangladesh will rather be a beneficiary in the fourth industrial revolution if the country can play the role of being a producer of machine and of not only as a user, he said.
"We do not have only bad news of job losses due to the fourth industrial revolution. We also have some good news," said Syed Tamjid ur Rahman, vice-president of the BCFIR.
Bangladesh will be able to create millions of jobs if the country can align itself with changing technologies, he said.
Bangladesh can create a lot of drone operators, e-sports commentators, virtual reality designers, sustainable energy innovators, big data analysts, robot repairpersons and so many others, he said.
"But we have to get prepared quickly as some countries like China, Vietnam and Cambodia have been doing so hurriedly," Rahman said.
Md Shahidul Haque, senior secretary to the foreign affairs ministry, said the government plans to create a laboratory for artificial intelligence and readymade garment sector.
Haque said the foreign ministry has taken an initiative to create a pool of officials who would be trained at the University of Cambridge to make them skilled primarily for the sustainability of the country's businesses.
The fourth industrial revolution is evolving fast and changing economies, businesses and industries and transforming the entire system of production, management and governance, said Abul Kasem Khan, president of the DCCI.
"In context of Bangladesh, the fourth industrial revolution will give us many challenges and opportunities," said Khan while moderating the discussion.