Asian carmakers eye bigger share of Bangladesh market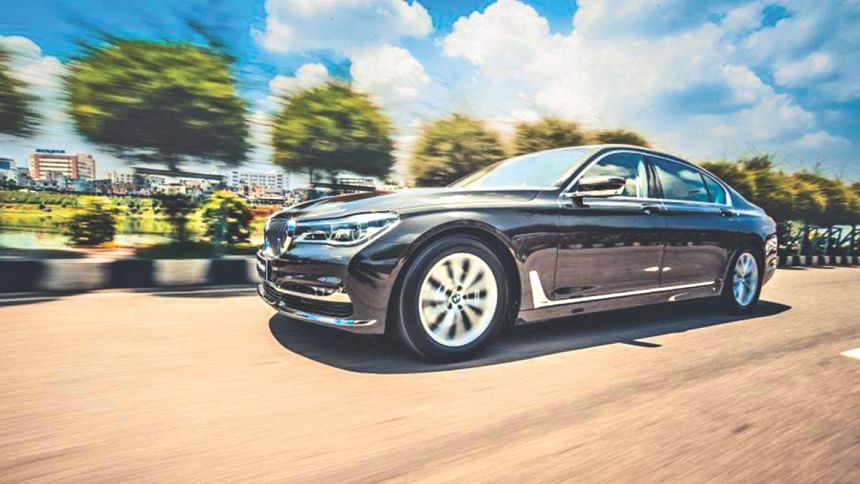 Bangladesh's growing automobile market, fuelled by consistent economic growth and rising purchasing power, is drawing in automakers from around the globe, especially the Asian ones who seek to dominate the passenger car segment.
Around 63 automobiles, including sport utility vehicles (SUVs), are now sold every day in Bangladesh while it was 29 in 2012 when the market started thriving, as per the Bangladesh Reconditioned Vehicles Importers and Dealers Association (Barvida).
According to Bangladesh Road Transport Authority (BRTA), around 9,224 vehicles were sold in 2012 whereas it was 18,227 units in 2018, meaning there has been 98 percent growth in the past six years.
In 2017, car sales amounted to around Tk 5,000 crore and the industry achieved 8 percent growth a year on an average since 2012, according to industry insiders.
The figures seem tempting enough to awaken Subaru Bangladesh into launching four models of the Japanese brand -- Forester, BRZ, Impreza, XV -- today after a five-year gap.
Another indication of automakers' attention being focused on the country is four concurrent three-day automobile-centric shows being opened by CEMS Global at the International Convention City Bashundhara from today.
The Subaru models are being launched in one of the four events, Dhaka Motor Show 2019.
"I am optimistic about achieving the expected target very soon as Subaru has a brand image in Bangladesh," said Reyad Hussain, managing director of Subaru Bangladesh.
He said REL Motors Limited started importing brand new Subaru vehicles as the government changed the import duty slab. The company postponed the imports in 2014 due to the imposition of high import duty.
Hussain said customers would get brand new mid-level SUVs in the range of Tk 36 lakh to Tk 65 lakh.
In an attempt to be the early bird, Indian automakers recently organised another auto show to increase its share of the cake.
Moreover, the Society of Indian Automobile Manufacturers (SIAM) says it was trying to motivate the Bangladesh government into formulating an automobile manufacturing policy and bring changes to an existing automobile import policy.
Sugata Sen, deputy director general of SIAM, told The Daily Star that the Indian automakers were not competing with Japanese brands in Bangladesh, rather they wanted to provide high quality, brand new cars at cheap rates.
"We want to make customers understand that Indian automakers are keen to help Bangladesh develop the industry locally for ensuring the best value for money," he added.
Acknowledging the present trend in economic growth, Sen said there was huge market potential for Indian brands as they introduced vehicles with sophisticated technologies and Bangladeshi customers would gradually realise the benefits.
On the other hand, Korean automobile manufacturers Hyundai, Kia and SsangYong Motor are also looking to increase their market share in Bangladesh after sales of their cars rose 20 percent on an average in the last four years, said industry insiders.
The share of Korean automakers in the Bangladesh market reached 6 percent in 2017 and it continued to grow in 2018, showed an analysis of data from the BRTA and local agents.
Data from local agents of Korean car retailers showed that around 1,700 of their cars had been sold in Bangladesh in 2018, up from 1,350 in 2017.
Farzana Khan, deputy director for sales of Hyundai Motors Bangladesh Ltd, said Hyundai was very keen on increasing its market share in Bangladesh.
She said Hyundai's car sales rose 20 percent on an average annually in the last three years and it acquired 5 percent share of the market.
The automaker has introduced nine models of cars in Bangladesh. Of them, two are SUVs, three sedans, two hatchbacks and two microbuses.
Besides, the Proton brand of Malaysia hit the Bangladesh market last year. PHP Group assembles the brand's vehicles at its Chittagong plant. It has so far brought together three models, Preve, Saga and Exora, by importing the parts from Malaysia.
High-end cars are neither lagging behind. Their sales grew about 17 percent annually in the last three years thanks to Bangladesh's growing affluent class.
Now, vehicles of luxury brands such as BMW, Audi, Mercedes-Benz, Lexus, Jaguar and Porsche as well as high-end models of Toyota, Nissan and Mitsubishi are a common sight on the Dhaka roads.
Some 5,555 luxury cars were sold in 2018 while it was 4,425 in 2017. The number was not more than 300 before 2014, according to the BRTA.