Are we ready to compete with global e-commerce giants?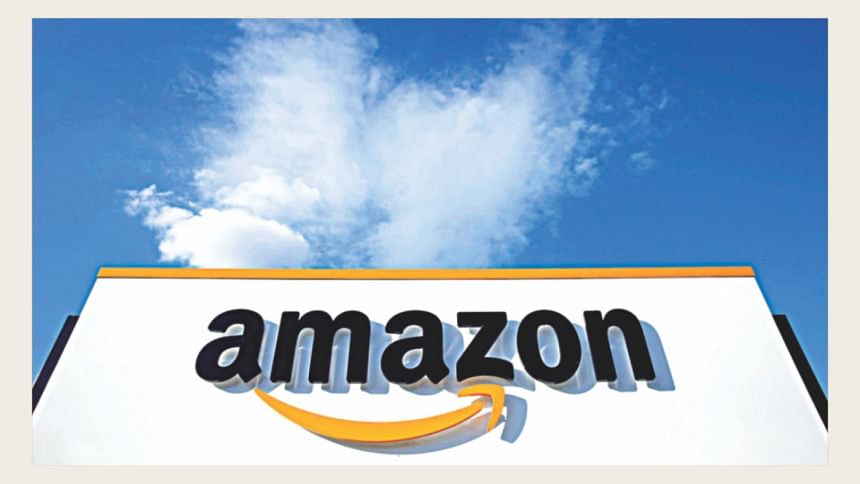 The size of the e-commerce market in Bangladesh crossed the Tk 1,700-crore mark in 2017, which is not surprising due to the rapid changes of consumer behaviour facilitated by the growing adoption of internet, smartphones and handheld devices.
Against this backdrop of evolving e-commerce market, the possible entry of the largest virtual and physical retailers Amazon and Walmart is certainly good news for customers of Bangladesh.
The two giants dominate the global retail landscape. However, between them, Amazon with its wide range of products, service offerings and delivery channels is briskly expanding throughout the world.
The company now operates in 15 countries and earned $177.8 billion in global revenue in 2017.
Nonetheless, the entry of Amazon in Bangladesh is raising many concerns for local players: should they let foreigners skim the cream off the market after all the hard work to make the customers ready for e-commerce?
Or, are we too optimistic about the growth of e-commerce market in Bangladesh considering its demographics, technology acceptance rate and economic growth?
The e-commerce journey started in Bangladesh in the late 90s, but tangible positive change in the industry came in 2009 through the implementation of the e-payment gateway by the Bangladesh Bank and the introduction of WiMax internet.
E-commerce now accounts for only 0.099 percent of the total consumers' spending, but the future looks bright.
American management consultancy firm Boston Consulting Group reported 2 million Bangladeshis will join the middle and affluent class every year for the next decade and Bangladesh will have 63 key cites by 2025 populated each with at least 100,000 people with income of $5,000 or more.
The majority of the population will own smartphones, leap towards mobile and other forms of virtual purchase and payment, be brand loyal, quality-conscious and less discount-prone, it added.
The prediction of BCG seems plausible as the dominant age group, which is 15-59 with a median range of 29.5 years, is found to be technologically savvy.
This compelled the e-Commerce Association of Bangladesh to predict that the market will hit Tk 7,000 crore by 2021.
In a market economy it is plausible that where there is demand companies like Amazon would go to serve that demand and possibly may create a significant imbalance in the market due to their sheer size, coverage, assortments, efficiency and responsiveness.
This growing interest and likeliness of strong competition, therefore, breeds a relevant query: what is the level of readiness of Bangladeshi e-commerce companies to survive/compete in a market that accommodates industry leaders like Amazon, Alibaba and eBay?
The success of Pathao, a home-grown ride-hailing platform that hit valuation of $100 million, in just four years of existence shed some light on the question. Today, Pathao is competing toe-to-toe with Uber, the global leader in ride-hailing service.
Pathao entered the market by spotting a service gap: it provided rides on motorcycles instead of cars like in Uber. The monetary, social and road network-based infrastructure fit made Pathao an instant hit with customers.
A study by Hossain and Akter (2018) on market positioning of different local ecommerce companies found that most of the respondents do not have a clear idea about the products and services of many e-commerce companies.
This suggests that the market is not adequately aware of the local e-commerce brands, including the segments they serve, their products or services and their points of differences.  Inadequate and, at times, inappropriate positioning are not helping them to be perceived as brands with unique identity and image like Amazon.
The portrayed scenario of local e-commerce brands led us to an intriguing query: how sensible would it be for Bangladesh to think that local brands of this infant industry can compete and survive equally with Amazon and its digital agility?
It is to some extent certain that investment of Amazon and eBay in Bangladesh will open up many new avenues of supporting business opportunities, development of logistics infrastructure, knowledge-sharing and employment opportunities.
It is also a possibility that such action may hurt the entrepreneurial initiatives of existing local e-commerce players in the form of removal and/or acquisition initiatives of the big foreign players.
Building brands that portray uniqueness personally and culturally could be a safeguard for the local e-commerce players against these actions.
Flipkart in India, aided by Tencent and Walmart, is still defending their market share even after the entry of Amazon.
It won market acceptance and loyalty through branding initiatives centring on cultural sensitivity and personalisation. It is also continuously making efforts to achieve higher levels of efficiency by optimising its cost for technology, sourcing, marketing and logistics.
The queries as well as the worries presented so far become more burning if we consider the proposed amendment to 'Draft Digital Commerce Policy 2018' where a dialogue is going on to grant foreigners the right to own 100 percent share in local e-commerce ventures instead of the earlier proposal of maximum 49 percent shares.
This seems to be misaligned with the current health of the local e-commerce brands.
Therefore, a government initiative is needed to shield this emerging industry from foreign competition by guaranteeing local e-commerce brands a reasonable share of the domestic market until it is able to compete on its own.
For example, the Indian government is proposing a new e-commerce law to protect home-grown companies, store Indian user data locally and modify the rules around how foreign companies sell online in India.
The Bangladesh government may adopt some protectionist approach relating to business rules for foreign e-commerce companies. This may also increase FDI in terms of product/service sourcing and transfer of technology and skills.
Once skills and market acceptance are ensured, consequent experiential knowledge about local market could work as a big impetus for sustainable competitiveness of local e-commerce businesses. This competitive strength has the power to draw inward and outward FDI.
For example, Shohoz.com received an investment of $15 million from Singapore's Golden Gate Ventures; Pathao will soon start their operations in Nepal.
Adopting a protectionist approach in this regime of free trade is difficult and may take some time.
Therefore, rather than relying solely on possible protectionism policy facilitated by government, the local players in the meantime should focus on strengthening their existing product/service breadth and depth, ensuring data and payment security and privacy of their customers.
Research cells at national/ministry and association level is needed to continuously track the changes relating to aforementioned issues and suggest best practices to industry players.
The e-CAB should be more agile and take collaborative initiatives toward the development of necessary infrastructure.
This is the time when both the government and e-commerce industry players need to adopt and implement visionary digital strategic policy equipped with a strategic trade-off between encouragement of FDI and protection of infant industry to build competitiveness and ensure positive balance of trade.
The writers are professors at the Department of Marketing, Faculty of Business Studies, University of Dhaka.