Apparel items continue to become cheaper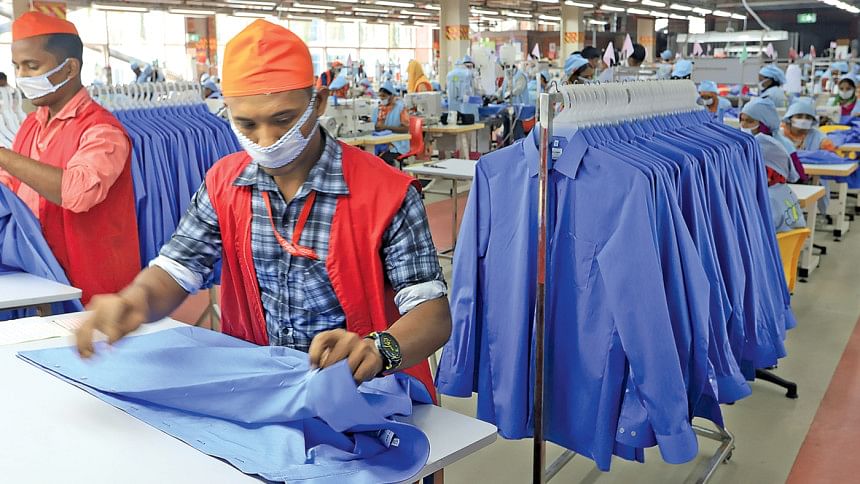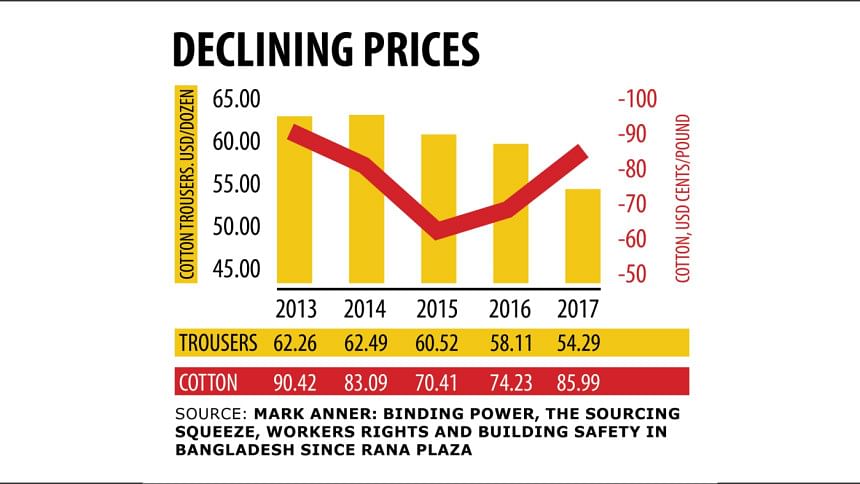 The prices of Bangladeshi made apparel items continued to fall since the Rana Plaza building collapse in April 2013 although the prices of cotton, the main raw material for fabrics, increased during the time to some extent.
In 2013 a dozen of Bangladesh-manufactured cotton trousers sold for $62.26. In 2017 the same quantity went for $54.29 per dozen, a 12.80 percent fall in five years, according to a findings by "Mark Anner: Binding Power, the Sourcing Squeeze, Workers' Rights and Building Safety in Bangladesh since Rana Plaza".
However, cotton was sold at 90.42 cents per pound in 2013 and the price of the white fibre went down to 83.09 in 2014 and 70.41 cents in 2015.
But from 2016 the price of cotton started going up again and it was sold at 74.41 cents. In 2017, per pound of cotton sold for 85.99 cents, according to the findings.
Although the prices of cotton increased during this time, the prices of Bangladeshi made garment items rather went down as the international retailers did not pay a fair price to local manufacturers and exporters.
In case of Bangladesh cotton prices matter a lot. The cotton fibered garment production in Bangladesh is still high as local spinners did not start production of man-made fibres or viscose fibre at a massive scale.
Of the total garment export from Bangladesh, nearly 90 percent are made from cotton fibres. On the other hand, other countries produce 50 percent of garment from cotton fibre and man-made fibres, according to industry insiders.
Prices have fallen by about 3.64 percent to the EU and almost 7 percent to the US over the last four years, said Rubana Huq, president of the Bangladesh Garment Manufacturers and Exporters Association (BGMEA), the garment makers' platform.
Decline of price can be associated with the constant price pressure from brands and retailers owing to the volatility of global consumption.
"At the same time, as an industry, we too have been over aggressive about price quotes in order to secure business. It's natural for buyers to take advantage of that."
"At our end, we must end over expansion leading to overcapacity. At the buyers' end, they must kindly consider us worthy of receiving premium price advantage just because we are now the most compliant supply hub of the world with regard to compliance and of course, environmental sustainability."
A clear proof lies in the number of green factories in Bangladesh exceeding 100, which was not prescribed.
"Thus, with green factories, we must get green prices at the same time," the BGMEA president also said.
Over the past four years, value addition of the industry has gone down by 1.61 percent though apparel export has increased from $28.10 billion to $34.13 billion.
This means, growth is happening in physical term only, but the value added per piece of garment produced has rather declined over the years.
The cost of production of apparel during 2014-2018 has increased by 30 percent. Furthermore, minimum wage of the garment workers has increased by 51 percent since December last year.
In a market economy, an increase in production cost without reciprocity in efficiency or value addition would either result in less demand or cheaper price, she said.
The per unit prices fell 2.12 percent in fiscal 2016-17 compared with the previous year and it experienced another fall of 4.07 percent in fiscal 2017-18, according to BGMEA data.
Ahsan H Mansur, executive director of the Policy Research Institute, said Bangladesh has little to do if the international retailers and brands do not want to pay higher prices for garment items as they are buyers.
"However, we have to move up to the value chain of the garment business for better prices," Mansur told The Daily Star by phone.