Apparel exporters brace for fresh hiccups amid second wave, US polls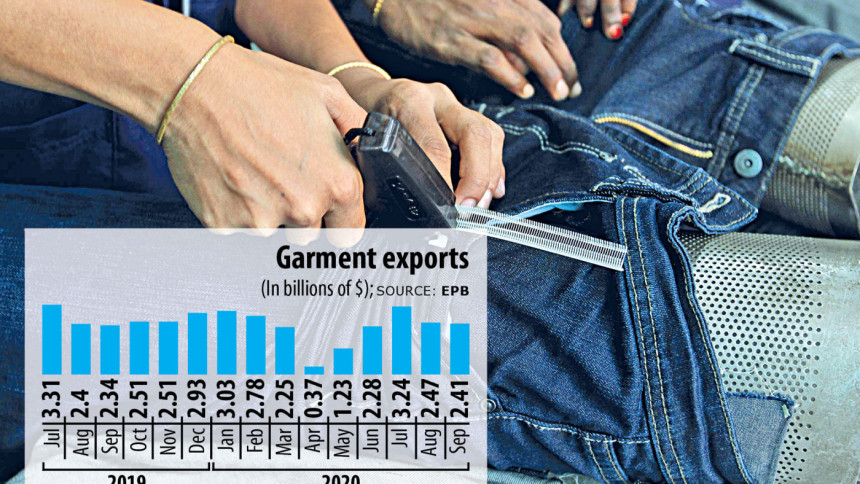 The wait for a Covid-19 vaccine, a second wave of infections in the western world and the upcoming US election may lead to hiccups in the recovery of Bangladeshi garment shipments, according to local exporters.
The shipments had started rebounding with the reopening of stores by western retailers and brands, restoring the familiar humming of machineries in factories.
Now international retailers and brands are increasingly coming up with work orders for suppliers' factories.
Prospects started brightening up in July when garment export receipts reached $3.24 billion before falling to $2.47 billion in August and totaling $2.41 billion in September, according to data from the Export Promotion Bureau (EPB).
The export of garments reached rock bottom in April to $0.37 billion as a fallout of the pandemic. Garments trade occurs at an international scale and externalities tend to affect shipments.
The local suppliers have been overcoming a lot of difficulties such as elimination of quota system in January 2005 and the steepest financial recession in the years from 2007 up to 2009.
However, every time, they overcame those challenges and took the total export of the country to be the second largest worldwide after China in a journey of four decades. This year too, the local suppliers have been overcoming the challenges of the fallouts of Covid-19.
The manufacturers have been fearing that the rebounding of export of garment items might be affected to some extent because of a possible second wave of Covid-19 and any complication centring the US election.
"Many buyers have dropped placing of work orders to some extent because of a possible second wave of Covid-19 and for delay in vaccine arrival for the mass people use," said Anwar-ul-Alam Chowdhury Parvez, managing director of Evince Group, a leading garment exporter.
The buyers are more cautious now compared to pre-Covid time, he said.
Parvez said although the US election, which was scheduled to be held next month, was not that much related to the shipment of Bangladeshi garment items but customers tend to feel uneasy over spending during such big events.
Facing the fallouts of a second wave of infections is very important for Bangladesh, he said, adding that already some states of the US have been affected with a second wave and schools were being shut down again.
So if the stores need to be shut down for the second wave, the export of garment items from Bangladesh will be affected, said Parvez, who is also a former president of the Bangladesh Garment Manufacturers and Exporters Association (BGMEA).
Mahmud Hasan Khan Babu, managing director of Rising Group, another leading garment exporter, also echoed Parvez.
Babu further said if there was a prolonging of the US election, garment shipments to American markets would be affected.
He also said the probable impacts of a second wave in the European and the US markets would defer the recovery of garment export from the country.
Because garment business is not a one-way trade, rather a two-way one. If the buyers place demands, the shipment will grow but if they do not place demand for any reason, the export will not grow, said Babu.
KM Rezaul Hasanat, chairman and CEO of Viyellatex Group, another leading garment exporter, echoed them both.
"I totally agree to what 'many exporters' are fearing of and in fact in recent days almost all my statements cover the same fear of a possible resurgence of Covid-19 infection and the obvious impact on the industry," said Rubana Huq, president of the BGMEA.
"As winter approaches nearer, the USA and European countries are witnessing new waves in infection, state of emergency has been declared in Madrid just a few hours ago and the developments in other parts of Europe is noticeable."
"It's been a tough time, we are passing through fear and anxiety," Huq told The Daily Star.
"Looking at it through the lens of exports and garments, this may be horrific for us if disruptions in the west reach a magnitude of what we suffered last season."
"This may be mentioned that whereas our total RMG export growth during this time was 0.06 per cent negative in July-August of fiscal year 2020-21, the decline in EU was by 0.38 per cent while US market grew by 8.11 per cent, and if these markets are freshly hit by Covid resurgence, Bangladesh will have to face a tough situation going ahead."
"The first blow of the Covid-19 has exposed significant drawbacks in the trade and supply chain, particularly in the area of transactions between buyers and suppliers. Right now one of the major concerns for us is the uncertainty over payments of confirmed and shipped orders, which is around $8 billion worth of receivables in any given point of time," Huq also said.
"Yes second wave already started hitting at Europe. Yet we don't know when vaccine will be ready for general public," said Syed Earshad Ahmed, president of the American Chamber of Commerce in Bangladesh.
"Another reason, our competitors (Vietnam, Cambodia, Indonesia, Sri Lanka) became more aggressive and getting advantages over us as their infrastructure are better and they could have managed pandemic situation effectively," he said.
"Bangladesh need more focus on logistics management, ports management to avoid delays in clearing imports and exports. Exporters have to maintain committed lead times," he said.
Ahsan H Mansur, executive director of Policy Research Institute, said the second wave of Covid-19 has already started in the western world.
So the second wave may have a bad impact on the shipment of garment items from Bangladesh, he said.
The uncertainty of the availability vaccine for mass people is also a factor now. Because the customers on a massive scale are not visiting the stores now and their income had also been lowered after the Covid-19 outbreak, said Mansur.
The garment export from Bangladesh is still at a recovery phase and yet to be rebounded fully. The full rebound of the shipment may happen in next March, he said.
The earning from export of garments over the last three or four months increased, as the international retailers and brands are taking back cancelled work orders. The buyers had cancelled work orders worth $3.18 billion.
If the vaccines arrived in the market, it should be provided for at least 70 per cent of people in the world, if 100 per cent is not possible, for restoration of normalcy in business, he added.
The export of garments from Bangladesh has been backed by the shifting of work orders from China. For instance, garment export to the US from China declined by 40.93 per cent between January and August compared to the same period last year.
Garment import by the US also declined by 25.47 per cent from India, 9.92 per cent from Vietnam and 14.76 per cent from Bangladesh between January and August this year compared to the same period last year, according to data from the US Department of Commerce.
Bangladesh will receive some work orders that got shifted from China, said Mansur.