Agriculture remains in neglect
Economists and agriculturalists raise alarm over poor allocation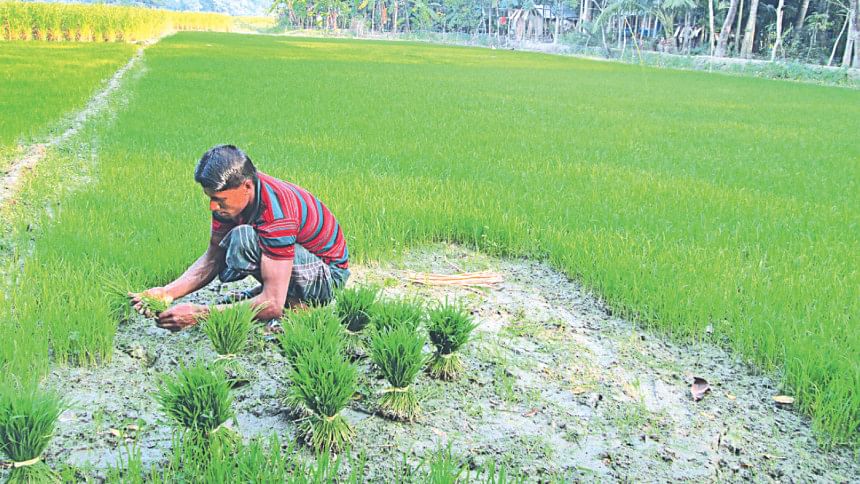 The government's expenditure on the agriculture sector is shrinking consistently as percentage of total budget although the sector needs more attention to develop new technologies to ensure food security of the nation, said economists and agricultural scientists.
Allocation to agriculture -- including fisheries and livestock, land, water and environment -- declined to 5.42 percent of the total proposed budget for fiscal 2019-20, down from 5.7 percent in the outgoing fiscal year. 
In fiscal 2017-18, the sector's share was 6.1 percent of the budget.
In terms of gross national product, financing to the sector with the biggest share of employment has been falling for the past five years at a time when the sector is registering slowing growth.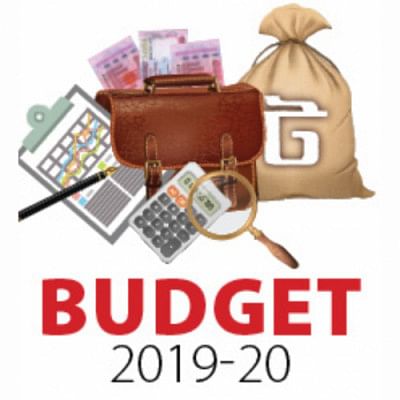 Agriculture has relation with poverty reduction, said Akhter Ahmed, country representative of the International Food Policy Research Institute (IFPRI).
"The pace of poverty reduction has slowed because of falling agricultural growth. It is alarming as agricultural growth is linked to poverty reduction," he said.
Over the last one and a half decades, the scope for expanding production has narrowed thanks to antiquated technology.
Annual average growth of agricultural GDP reduced to 2.45 percent between fiscal 2014-15 and 2018-19 from 3.62 percent in the previous five years, according to the Bangladesh Bureau of Statistics.
The annual rate of poverty alleviation also declined during the period.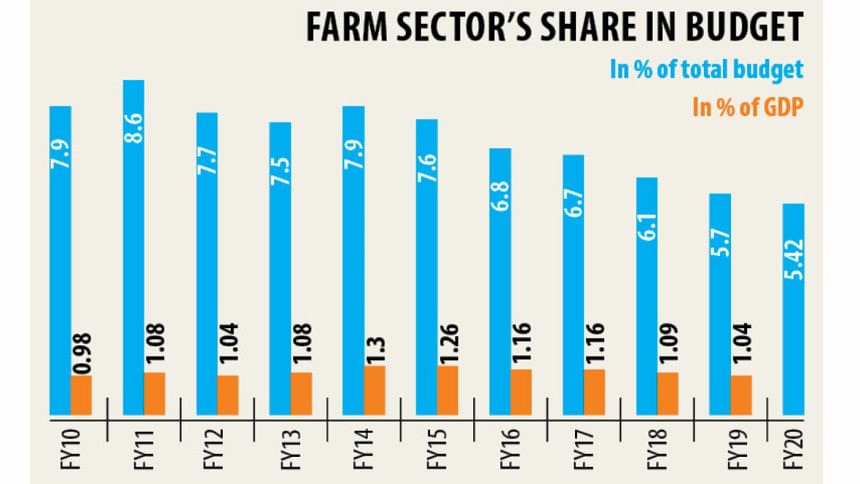 Under the circumstances, higher investment is required in the farm sector, especially on research and development of new crop varieties that give higher yields, said Akhter, also the chief of party of USAID-funded Bangladesh Policy Research and Strategy Support Programme. 
"Huge investment is also required for extension. These are the two most critical aspects for agricultural development."
Some 110 rice varieties have been developed by state-sponsored research institutes and yet farmers mainly grow two varieties that were developed 24 years ago.  One of the reasons might be the poor extension system, he said.
From that point of view, the declining share of agriculture in budgetary allocation is not a good sign.
Akhter said agriculture should not be seen from its share in overall GDP. 
"It is a broad based sector and 75 percent of rural population depend on farming. Allocation for agriculture has be increased for greater impact on poverty alleviation." 
Farmers also have to be given price support, he said, adding that paddy should be purchased directly from producers. He went on to cite the West Bengal government as an exemplar on this front. 
The agriculture ministry has recently asked the IFPRI to carry out a study to support farmers, he said, adding that the IFPRI will begin study soon. 
"We should view procurement from the objective of giving price support and incentive to farmers and not from the objective of building public stock," he added.
There should have been some measures in the proposed budget to ensure fair prices for farmers who suffered losses for slumping prices of paddy in the last boro season, said M Asaduzzaman, former research director of the Bangladesh Institute of Development Studies (BIDS).
"No sensitivity was shown towards farmers and farming in the budget speech although they are producing food for the nation." 
The government could have allocated funds to provide interest-free loans to growers during the harvesting season so that they do not have to sell their produce to meet any emergency need for fund, he added.
Rice accounts for more than 70 percent of total cropped area of 1.54 crore hectares, and 77 percent of marginal and small famers depend on rice for food security and their livelihoods, according to Bangladesh Integrated Household Survey 2015, funded by the USAID. 
The initiative to introduce crop insurance is a good move as it will address the risk of crop losses for farmers, said Quazi Shahabuddin, former director general of the BIDS.
The falling share of government allocation in agriculture is not satisfactory.
"We are nearing the exhaustion of our technological frontier, the high-yielding varieties. The HYV rice are grown on 90 percent of Boro area, and nearly 70 percent of Aman acreage. We need second green revolution to ensure food security of future generation."
Since cultivable land is shrinking, the only way to expand production is to increase productivity, he said, while suggesting exploiting modern biotechnology for increased food production.  
The biggest risk for agriculture is climate change and steps should be taken to address the risk, Asaduzzaman said.
Rice production is unlikely to grow after 2021, but there is lack of concern for that, said a senior agricultural scientist working at a public research institute. 
As production is increasing every year, it may be that all are thinking that there is nothing to worry about, he said
"Massive investment is needed. Farmers also have to be ensured profitable prices for their produce so that they feel encouraged to grow and improve their living standards," he said.