Advance-deposit ratio now within regulatory limits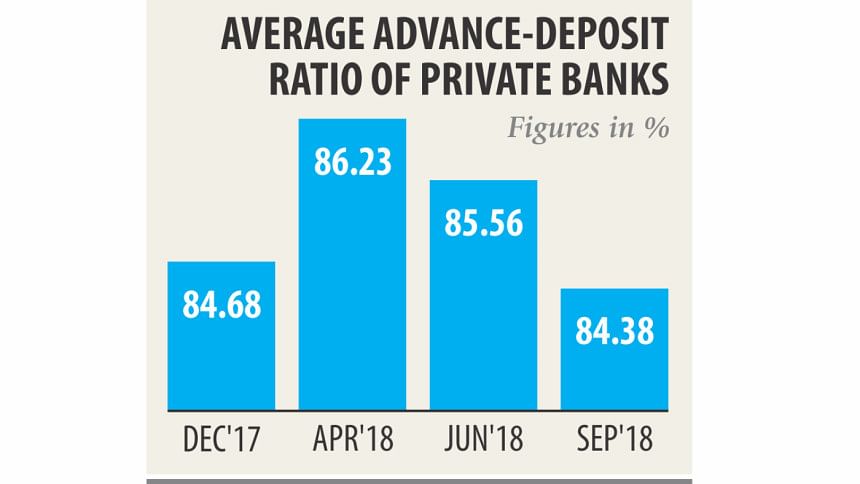 The average advance-deposit ratio (ADR) of private banks came down within the regulatory limit in September last year after going past the ceiling in April, thanks to adequate liquidity.
The ratio came down to 84.38 percent in September from 86.23 percent in April, according to Bangladesh Bank data.
Currently, banks are required to maintain an ADR of 85 percent, meaning they can lend Tk 85 against a deposit of Tk 100.
In January last year, the BB slashed the ADR by 1.5 percentage points to 83.5 percent in a bid to tighten banks' capacity to lend. The ratio for Shariah-based banks was cut to 89 percent from 90 percent.
The new rate comes into effect from March this year.
Eleven private banks had their ADR above the authorised limit in September, against 22 lenders in April, central bank data showed.
The number of the non-compliant banks dropped after the central bank cut down the cash reserve requirement (CRR) by 1 percentage point to 5.5 percent – a move that has freed up about Tk 20,000 crore for banks to lend.
Bankers have recently urged the central bank to give them more time to adjust to the new ADR or withdraw it as the liquidity pressure started to deepen after the election.
The demand was placed at a consultation meeting of the BB with the stakeholders over the next monetary policy to be unveiled tomorrow for the January-June period. "We have requested the central bank to extend the time as it will be difficult for us to maintain the new limit amid a huge liquidity pressure," said Anis A Khan, managing director of Mutual Trust Bank. He said the lending rate has moved upward after the December 30 election due to the rising credit demand amid expanding business activities.
"Private banks are now in a liquidity crunch because of an imbalance in deposit distribution," he said.
The major portion of deposits has remained with state-run banks whereas private banks are in the driving seat when it comes to lending, according to Khan. The liquidity pressure had eased for several months from June last year due to the availability of funds after the CRR relaxation.
But the market has been facing a tight liquidity from the beginning of January, said Rahel Ahmed, managing director of Prime Bank.  "Maintaining the new ADR will be a challenge for banks this year as the credit demand from both private and public sectors will be high."
Ahmed said the ADR came down because of a sharp fall in the credit demand before the election.
The credit growth for private banks fell to 14 percent in September from 19 percent in April, according to BB data.
The 11 private banks whose ADR remained above the authorised limit were AB, Exim, Farmers, First Security, Modhumoti, Mercantile, National, NRB, Social Islami, Shahjalal Islami, and Union Bank.