ADB cuts growth projection for second wave
GDP growth may fall to 5.5-6pc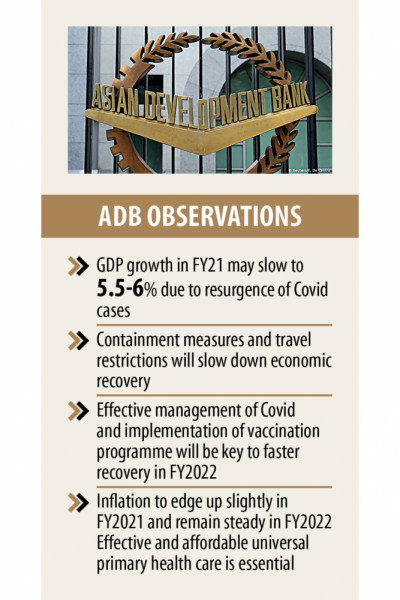 The Asian Development Bank (ADB) has downsized its projection about the Bangladesh's GDP growth in the current fiscal year of 2020-21, considering the second wave of Covid pandemic and fresh lockdown that restricted economic activities.
The ADB in its annual flagship publication titled 'Asian Development Outlook (ADO) 2021' released yesterday had projected that Bangladesh's GDP growth would pick up to 6.8 per cent in 2020-21 with stimulus package implementation and recovery in global growth and trade.
However, ADB Country Director Manmohan Parkash in a virtual press briefing on the launch of the flagship report yesterday said, "As the second wave of Covid-19 is ongoing and the situation is still fluid, these impacts were not considered in our outlook."
"These impacts could possibly shave off at least one percentage point from our current projection…it may be in the range of 5.5 to 6 per cent, which is also quite enviable in the circumstances," he said.
The economy was showing signs of recovery with higher remittances, exports and other indicators, but the recent surge of the pandemic and lockdown are likely to trim the growth projection, he said.
The current outlook was based on data prior to March, he said.
According to the ADB outlook, Bangladesh's GDP growth in fiscal 2021-22 is expected to edge up further to 7.2 per cent as both exports and imports were picking up under sustained global recovery.
The government also on Sunday for a second time revised down the GDP growth forecast to 6.1 per cent for FY21, reflecting the devastating impacts of the second wave of the coronavirus pandemic on the battered economy.
It had initially targeted to achieve an 8.2 per cent expansion of the gross domestic production (GDP) in the current fiscal year and later the target was reset at 7.4 per cent.
Earlier in March, World Bank projected that Bangladesh's GDP might grow as high as 5.6 per cent in FY21.
International Monetary Fund (IMF) in its latest World Economic Outlook on April 6 forecast that the country would achieve a GDP growth of 5 per cent in FY21.
"We are now experiencing the second wave of the pandemic with increased number of infections and deaths. The healthcare system has been stretched again to its limit," said Parkash.
Mentioning that the government has imposed a lockdown and travel restrictions to control the spread of infections, he said these necessary measures would save lives but have led to a disruption in economic activities which could adversely affect livelihoods and slow down economic recovery.
A potential slowdown in vaccination due to supply related issues may further exacerbate the already adverse situation, said Parkash, adding that the impact of the second wave in countries exports were destined for could also undermine economic recovery.
The Asian Development Outlook (ADO) 2021 stated that a continued strong remittance inflow was likely to support domestic demand with growth in private consumption.
Pointing out that a move towards universal healthcare is critical to ensure inclusive and sustainable development, the ADO said healthcare in Bangladesh could improve with more public funding and effective administration.
A contributory public social health insurance scheme could help achieve universal healthcare, it opined.
The ADB country director said the ongoing pandemic was an opportunity to undertake further reforms in social protection and the healthcare sector, improving competitiveness of the private sector, reducing cost of doing business, diversifying exports and developing skills.
Expanding social safety nets, enhancing investments, creating employment, ensuring mass vaccination and improving the healthcare sector are critical actions for achieving the Eighth Five Year Plan goals, he opined.
He said the financially insolvent and vulnerable people were impacted the most during the pandemic.
Mentioning that 85 per cent of the country's employment is in the informal sector, Parkash said livelihoods of these people have largely been affected during the ongoing lockdown.
He stressed on the need for programmes that could support these people with access to finance, which would give a kind of immediate relief in terms of cash support.
"Short-term unemployment will increase and poverty rates will go up, but the challenge is how quickly we can bring them back to normalcy...And for that we need to take certain affirmative actions," he said.
"…we need to skill people, we need to provide them livelihood opportunities, we need to provide them easy access to finance…"
"…and we also need to make sure that we are able to create a certain environment where these people are brought back to their normal livelihood opportunities," he said.
The ADB has already provided $650 million in loans and $7.23 million in grants to Bangladesh for managing socio-economic impacts of the Covid-19 pandemic and supporting quick recovery, said a press release.
The ADB is also processing two programme loans of $500 million each and a $940 million loan for the government's Covid-19 vaccination programe.
For 2021-2023, the ADB has programmed $5.9 billion firm and $5.2 billion standby project assistance for Bangladesh, it stated.
FINANCE MINISTER'S REMARK
Regarding the ADB's revised projection, Finance Minister AHM Mustafa Kamal said, "Their forecasts are often close to our actual attainment."
"Though our expectation is to achieve more growth, if we can achieve as they (ADB) have projected that will be a good achievement," he said.
"If we can achieve according to their projection, then we will be on top of all in the South Asia and Southeast Asia," he said in a virtual briefing following the meeting of cabinet committee on purchase.
Mentioning that the government has projected a bit more growth, the minister said it cannot be fixed until the fiscal ends.
Their (ADB) projection about the country's growth is however much higher compared to what wasstated for other countries, he said.