Academia not preparing youths rightly for job market: executives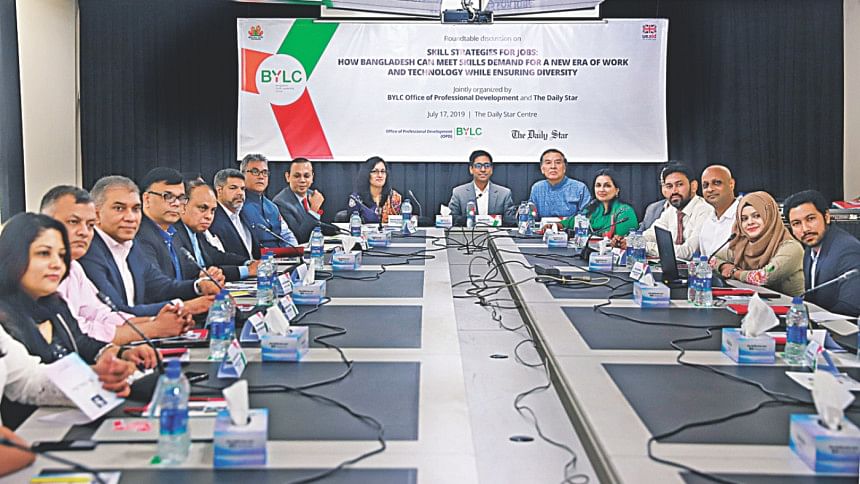 Academic grading like CGPA has become a tool to reduce the number of jobseekers against the high demand because such achievement does not necessarily reflect the competency sought by companies, top private sector officials said yesterday. 
There is a gap between students' learning from universities and what the companies look for in jobseekers.
As a result, companies have to put in additional effort like arranging skills training programme or recruiting from abroad to meet their requirements, they said in a roundtable.
The Office of Professional Development of the Bangladesh Youth Leadership Centre (BYLC) and The Daily Star organised the discussion styled "Skill strategies for jobs: How Bangladesh can meet skills demand for a new era of work and technology while ensuring diversity" at The Daily Star Centre in Dhaka.
"Young people who are entering the job market have huge incapacity to learn," said Mominul Islam, managing director of IPDC Finance.
The financial sector is rapidly changing around the world and Bangladesh may fail to keep pace because of lack of skills, he added.
Shaheen Khan, CEO of supermarket chain Meena Bazar, said during hiring they look for people with skills in supply chain management.
"But these things are not taught at universities."
Khan said they tried to collaborate with some private universities to overcome the issues but could not succeed.
"So, what we had to do was recruiting people as management trainee and teach them from scratch," he said.
Quazi Mohammad Shahed, CEO of Partex Star Group, said in his career he has seen people coming out of universities "with no clue on how work gets done".
He recommended that business houses offer students part-time job at different stages of their university education so that they can graduate with some practical knowledge.
As a local business group they want to ensure diversity and for this they recruit from different universities and not only from Dhaka, Shahed added.
The nature of jobs is changing, which the academia does not take into account, said Eleash Mridha, managing director of Pran Group.
For example, basic knowledge on accounting and bookkeeping is no longer required because accounting software now takes care of it.
"I think day-to-day accounting, what we learnt during academic life, is gone now. What we need is someone who can design the software," he said.
Hossain Khaled, managing director of Anwar Group, said in some of their recent recruitments they did not include CGPA (cumulative grade point average) as requirement but preferred experiences.
Organisations like the BYLC that work on skills development can collaborate with private companies on what kind of skills are being developed among students at present and what kind of job they can do.
A significant amount of remittance is going overseas because of a lack of middle management in the country.
"It's because we cannot find people here," Khaled added.
Maliha M Quadir, managing director of Shohoz, said as a new sector in Bangladesh they found it difficult to find people who could "think and adapt to new things".
Employees of start-ups like Shohoz have to face new situations every day, she said.
"So people need to be very agile in their way of thinking, adapting and doing things," she added.
"As a journalist I have learned over the many years that there is a part where many jobs are actually going after few people," said Mahfuz Anam, editor and publisher of The Daily Star.
"But that's at one level. But at a larger level that too few jobs are beingchased by three, four, five, ten times multiple of that job. So, that is a mismatch."
The youth unemployment rate in Bangladesh is 12 percent, in contrast to 3.5 percent in India and 4.05 percent in China, according to the World Bank.
Digital journalism is the field where media houses like The Daily Star will find their future growth, he said.
"So those who want to be journalists in the future will have to be digital or multimedia journalists and they need to have digital skills as well as the ability to write," he added.
The country's education system does not equip the youth with critical thinking capacity, which is required for the 21st century, said Ejaj Ahmad, founder and president of the BYLC.
And this is where the BYLC comes in: it offers world-class curriculum to overcome such challenges, he said.
Syed Farhad Ahmed, managing director of Aamra Companies; Rashed Noman, country director of Augmedix Bangladesh; Manjur Mahmud, director and chief operating officer of DataSoft; and Rahel Ahmed, CEO of Prime Bank, also spoke, among others.